A Christmas Carol, Dominion Theatre review - brash and bustling and snowy, too
A Christmas Carol, Dominion Theatre review - brash and bustling and snowy, too
Dickens redux, noisily but with brio
Tuesday, 15 December 2020
Bah, Brian (Conley) as Ebenezer Scrooge
The twelve days of Christmas have nothing on the flotilla of Christmas Carols jostling for view this season, each of which is substantially different enough from the next so as to give Dickens's 1843 story its prismatic due.
Hailing from Broadway, where it was a seasonal perennial for a decade, this
adaptation
from Disney regular Alan Menken,
Ragtime
lyricist Lynn Ahrens, and the late, much-missed Mike Ockrent puts the emphasis squarely on the big and the brash. If you want quiet moments of revelation, Shaun Kerrison's musical staged concert is not for you. On the other hand, I all but felt a matinee audience nodding as one when an agreeably growly Brian Conley, playing Scrooge, called near the start of the show "for this year to be over".
Not that the venerably crusty Scrooge, the miser whose road to an emotional reckoning is the raison d'être of the occasion, takes centre stage throughout. Boasting by some measure the largest cast I've seen in this COVID-defined year of solo plays aplenty and easily produced two-handers like Love Letters, this Carol gives equal time to a busy parade of supporting characters, almost all of whom bring to mind an entirely unrelated musical.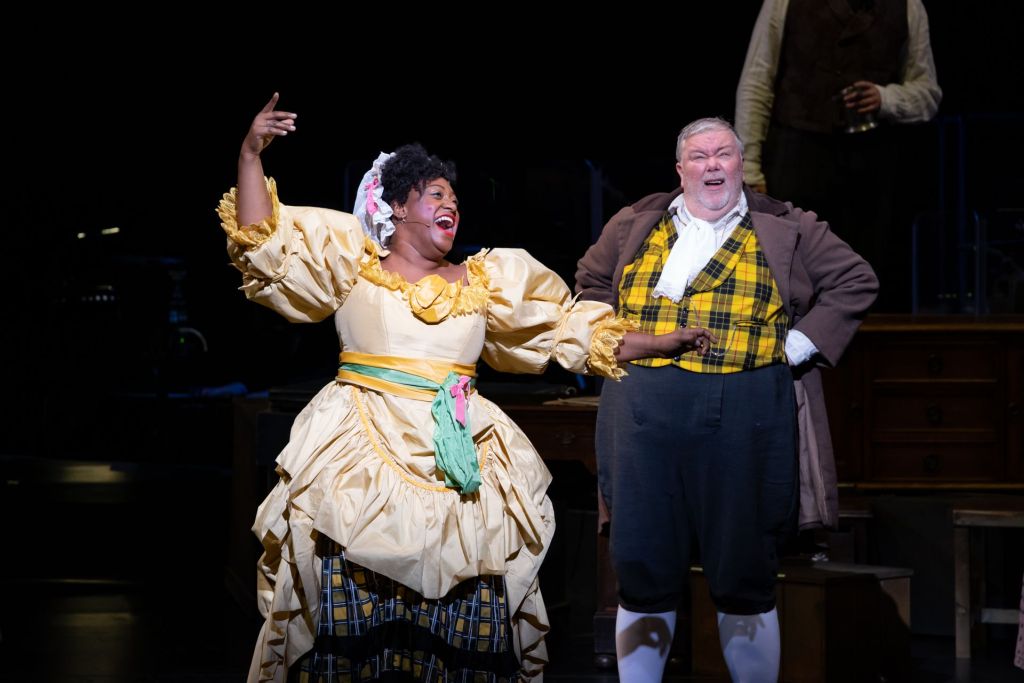 Sandra Marvin and Martyn Ellis (pictured above) play the Fezziwigs as if they were distant cousins to the Thenardiers in Les Mis, whilst Lucie Jones's shimmering Ghost of Christmas Past gives off a sweetly self-aware Glinda-esque vibe reminiscent of Wicked. There's an air of Sweeney Todd's Beggar Woman to the blindfolded Ghost of Christmas Future (one of three roles taken by TV name Jacqueline Jossa), while the scampering of the younger company members put one in mind, inevitably, of Oliver! At the performance caught, seven-year-old Osian Salter, playing Tiny Tim, was graciously afforded multiple moments to bask in the adoration of a cheering crowd and seems a Billy Elliot waiting to happen should that show be revived any time soon.
This is the only London Carol this season to be a full-fledged musical, and one to which the protean Menken brings a gift for a breadth of composition that ranges from roisterous ensemble numbers to questing, hymnal interludes and more pro forma anthemic duos like "A Place Called Home" that possess a Lloyd Webber-esque directness. (One particular Ahrens lyric – "let us love till we die" – could be married to many a Lloyd Webber tune as well.) Along the way, we see the young Ebenezer being urged to save his pennies, even as his adult equivalent fields a trio of ghosts that, in addition to Jones and Jossa, includes a strong-voiced Cedric Neal in jazz hand-happy form as the Ghost of Christmas Present.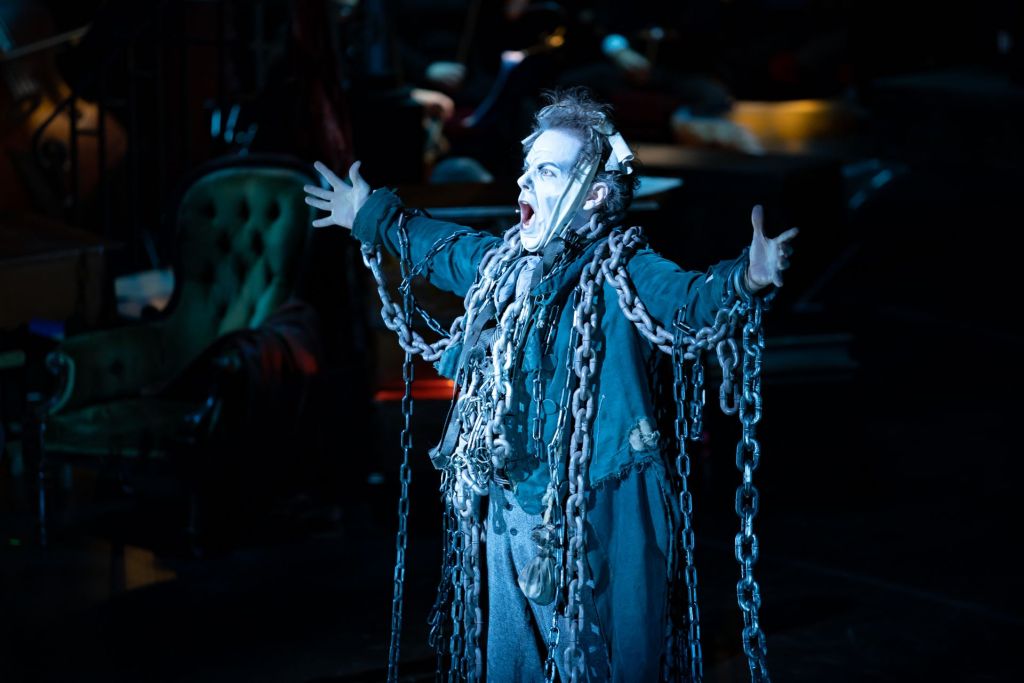 Conley to his credit never pulls focus from the gathering clamour and agreeably talk-sings his way through the score until such time as he lets rip with a money note to remind you that this silver-haired termagant must "live to be another man from what I was". Jeremy Secomb (pictured right) cuts an ominous, chainmail-clad presence as the admonitory Jacob Marley, leaving Matt Jay-Willis's Bob Cratchit to shoulder a sentimental encounter or two with Tiny Tim on the way to a curtain call that comes with dollops of snow: a Dominion specialty if their recent productions of White Christmas are any gauge.
If I wasn't particularly moved by this Carol, and certainly not compared to the emotionally pole-axing version just opened at the Bridge, the sheer conviction of all involved is itself quite affecting, not least amidst the adverse circumstances of an imminent tier 3 that are about to end the run within a day of opening. A special shout-out, too, to Freddie Tapner's lustrous-sounding London Musical Theatre Orchestra, who are arrayed onstage in full view and deserve all the kudos that come their way. We live for now in socially distanced times, but the collective skills of these musicians, not to mention their cast, prove capable of crossing even the most pandemic-intensive divide.