Babs review - Barbara Windsor's playful screen therapy |

reviews, news & interviews
Babs review - Barbara Windsor's playful screen therapy
Babs review - Barbara Windsor's playful screen therapy
Tricksy theatrical retelling of a starlet's dramatic life on BBC One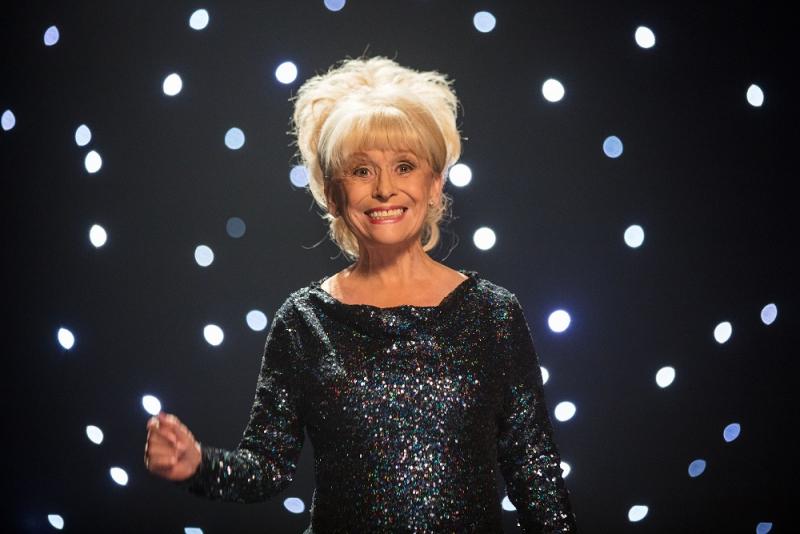 No longer in the where are they now file: Dame Barbara Windsor
Barbara Windsor's laugh belongs in the National Sound Archive. It's a birdlike chuckle that wavers between innocence and dirt. We all know Babs's laugh. But what about her tears?
There have been plenty of those too according to
Babs
,
BBC One
's feature-length
drama
which sifted through the jigsaw pieces of a tumultuous life spent in the public eye.
Any fans of EastEnders hoping for a straightforward soup-to-nuts account of Windsor's story may well have been thrown for a loop by Tony Jordan's playful, metatextual script. Jordan made his reputation of EastEnders, before going on to flirt with more daring forms of storytelling in Life on Mars, Hustle and the audacious compendium that was the Victorian soap Dickensian. He went several steps further in Babs.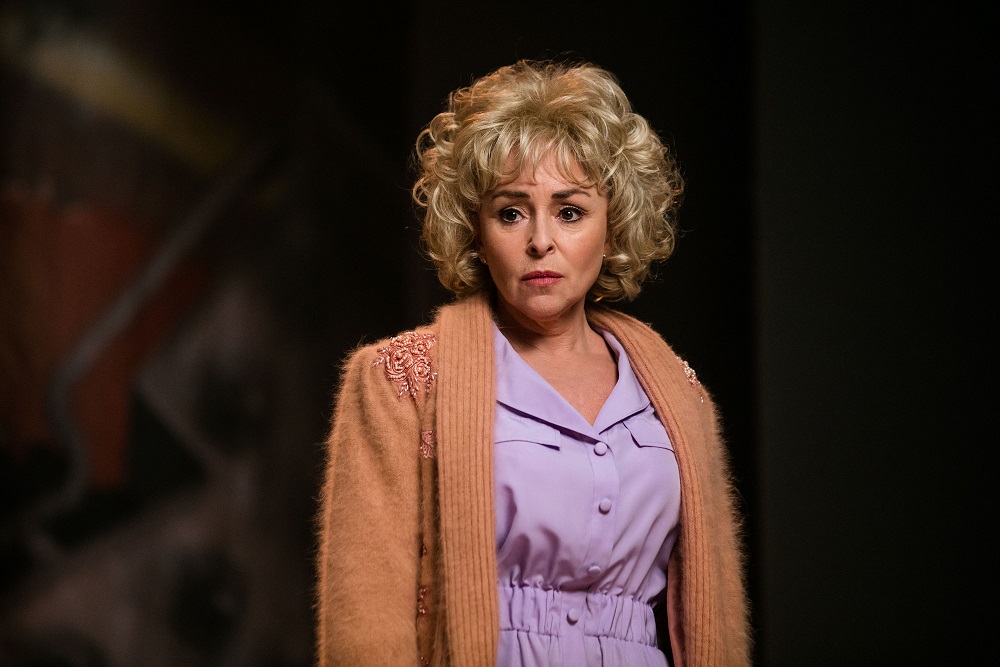 The idea was to short-circuit the problem which bedevils regular biopics: that life is essentially not structured tidily like a drama. We first encountered Windsor in a sparse dressing room in a seaside town in the early Nineties. With a new young beau at her beck and call, she was putting a brave face on a fall from grace. Skint, depressed, and residing in the where-are-they-now? file, she wondered where it all went wrong. Then in strode her old man John (Nick Moran), dressed like a gumshoe from a cheap film noir. "Go back over everything," he recommended, "work out what you did wrong, and don't do it again."
Samantha Spiro (pictured above) has now played Windsor as often as Michael Sheen's been Tony Blair (her other two turns were in Terry Johnson's Carry On play Cleo, Camping, Emmanuelle, Dick at the National and ITV's subsequent adaptation Cor, Blimey!) She's got the look, the laugh and the pathos down to a tee. But she wasn't the only Windsor on screen here. There were five Barbaras in all: the tiny blonde evacuee, the precocious prepubescent stage talent, the pneumatic little Sixties starlet, and then there was Windsor appearing as herself.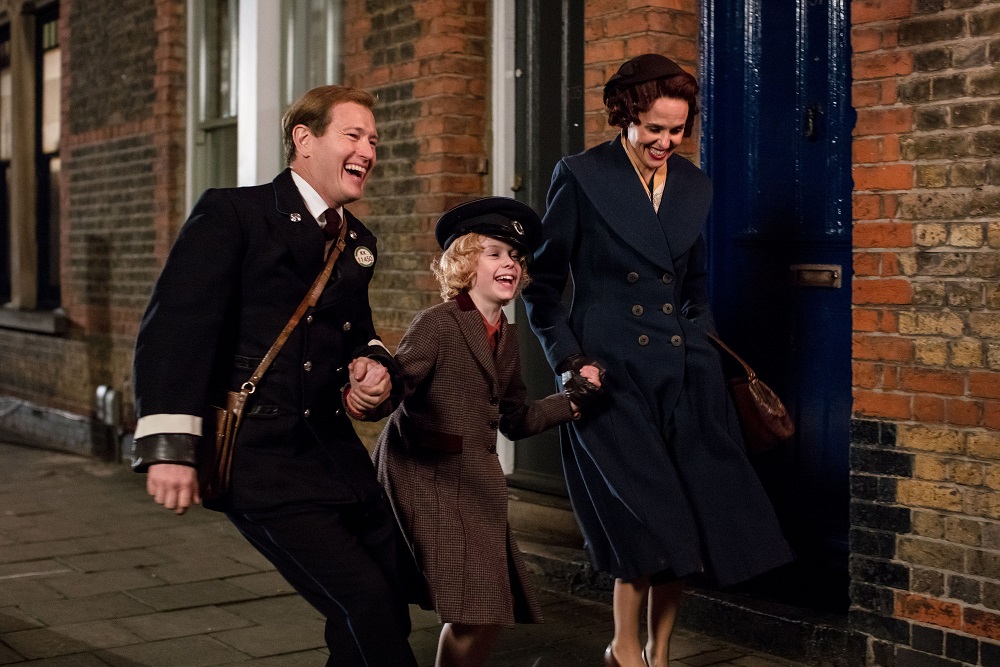 Thus in an empty theatre the ghosts of Windsor's past were summoned into being like characters from A Christmas Carol: among them her mother Rose (Leanne Best, pictured left with Nick Moran and Honor Kneafsey), her first husband Ronnie Knight (Luke-Allen-Gale, pictured below with Jaime Winstone), her agent (Alex Mcqueen), but above all her younger selves.
At 90 minutes the construct – essentially a memoir filmed onstage - could soon have swamped the narrative, but it was interspersed with scenes of a more conventional stripe. In these the highs and lows were allowed to speak for themselves: little Barbara testifying against her father in the divorce court; the nymphette star being discovered by Joan Littlewood (Zoë Wanamaker) or doing her first ever take with Kenneth Williams (Robin Sebastian).
The storytelling was often caught speeding through the big moments of wartime and the Swinging Sixties. There was a lot of telling not showing, and much shameless namedropping - cameos for the Krays and Warren Beatty were there mainly for colour before the story hurried on, while there was nothing about her second husband, her long relationship with Sid James nor four of her five abortions. Perhaps these elisions were at Windsor's insistence. At one point, when it was suggested she was promiscuous, she stepped in from the wings like a Shandyesque commentator. "That's not funny, sorry," the real Babs admonished sourly. (She didn't censor plentiful allusions to the famous chest. "Gawd knows where you got them from," said her father. "Wasn't yer mother.")
Babs shared some of the DNA of other low-budget dramas about Windsor's contemporaries – Williams, Shirley Bassey, Frankie Howerd – but it also had the flavour of a public session on the psychotherapist's chair as Windsor explored the deep and lasting damage caused by her father's rejection. With almost any other entertainer – other than possibly Cilla Black, who had her own life posthumously more conventionally dramatised on ITV – the conceit could have sunk like a lead balloon. But it was buoyed by Honor Kneafsey, Jaime Winstone (who has also perfected the giggle) and Spiro in the title role, and Moran as the authentic voice of the old East End. Meanwhile director Dominic Leclerc and his design team commuted gamely between the theatre, regular film sets and outside locations.
The mistake Windsor made was to ignore Littlewood's advice and carry on playing the little blonde hottie, a shadow she only finally escaped when cast as Peggy Ramsay. Nothing would have been lost by continuing up to that first appearance in EastEnders, but the story wisely concluded with Babs herself onstage singing "The Sunny Side of the Street", the signature song associated with her father. Three cheers for Babs, and a couple for Babs.