Tao of Glass, Royal Exchange, Manchester review - brilliant, enchanting tales fascinate |

reviews, news & interviews
Tao of Glass, Royal Exchange, Manchester review - brilliant, enchanting tales fascinate
Tao of Glass, Royal Exchange, Manchester review - brilliant, enchanting tales fascinate
Phelim McDermott's show about the bits that were left over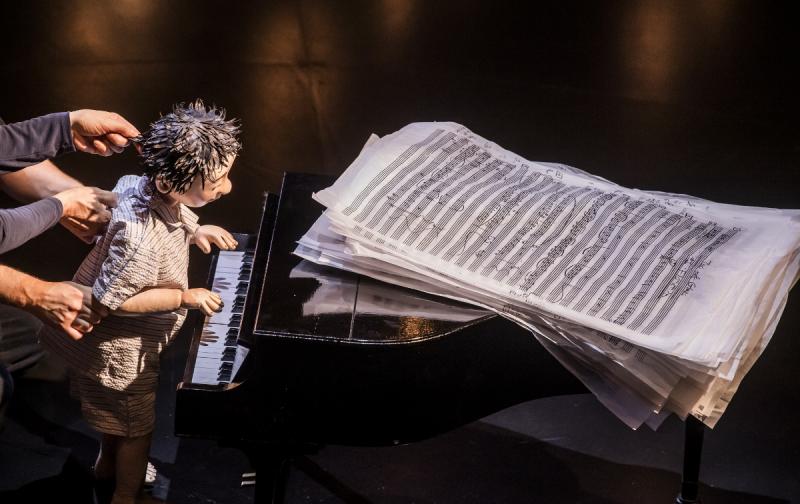 A boy and the music: 'Tao of Glass'
Who would have thought that a one-narrator show, mainly about projects that never got off the ground, would turn out to be such a satisfying evening's entertainment?
Phelim McDermott, writer, co-director and performer in Tao of Glass, is undoubtedly the star. He tells us about growing up in Blackley, Manchester, and his early experiences of showbiz – some in the very place where we are sitting, the Royal Exchange Theatre. (The Norman Tebbit test of being a true Manc, incidentally, is whether you know how to say "Blackley" correctly: Phel's the genuine article and we love him for it.)
He says the original idea for a show with puppeteers, a band, and Philip Glass's music was going to be a version of Maurice Sendak's In The Night Kitchen. "But that's not happened," he explains – Sendak died too soon, though he offers some extended, hilarious impressions of the man.
But obviously something like it is happening, as we have the puppeteers of Improbable (pictured above), the hugely inventive theatre company that's collaborated with Glass before, on his "opera for babies" BambinO, created for Manchester International Festival in 2017. And we have Manchester Collective's Rakhi Singh with Jack McNeill, Katherine Tinker and Chris Vatalaro making up a band.
McDermott talks about Kintsugi, the Japanese art of ceramics with cracks 'mended' by gold. He talks about dreams and dreaming… about the Tao and the wisdom of Lao Tzu… about his attempts to make an old garage into a studio and an expensive coffee table that got smashed in the process – the metaphor for his dashed dream of "a perfect Broadway career", apparently.
The stories, occasionally looping back on one another to remind us of ideas and tie them together in new ways, are told with a variety of illustration. There's a little boy doll, at times McDermott's son, Ridley, who comes out with some very deep ideas – including the fact that he likes Glass's music "because it's calm and dangerous at the same time".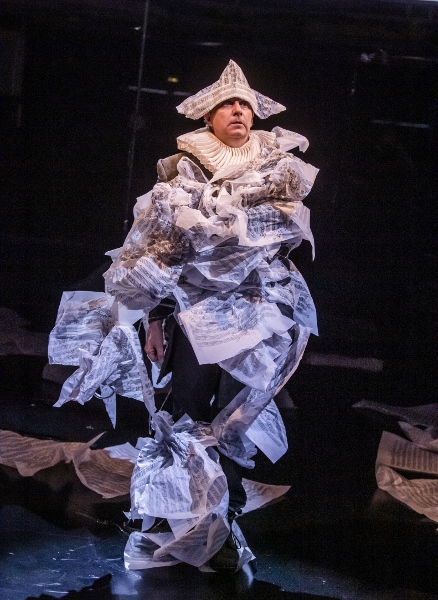 There's a lot of paper covered with musical manuscript, which can be bundled to make life-like figures, or thrown around the theatre space, or used with Sellotape like a giant spider's web to entrap and enclose our narrator.
Then McDermott (pictured left) talks about meeting Glass and sharing thoughts on creativity and what fires it, and Arnold Mindell's ideas about the consciousness of people in a comatose state. Which resulted in a whole set of pieces of music being written – as we've been hearing, on and off, throughout the performance: the crew even bring on an electronically guided player-Steinway to render one of them.
And just as we're thinking "Pity they couldn't have got Philip Glass to come over and at least make an appearance", there he is, the man himself, sitting at the piano to play the last piece. It's a great coup de théâtre, and earns the two of them a standing ovation.
McDermott may be starry-eyed about the greatness of Glass as a composer, but he's also down-to-earth enough to make a joke about the style the man is renowned for. Describing the day the idea of Tao of Glass was finally conceived, he says: "I bored Philip Glass – the man who's put more people to sleep in concert halls than anyone else!"
What's it about? It's about one man and his journey of life… it's about his adulation of a living composer whose music speaks eloquently to millions. It's about how ideas in one genre spark ideas in another – and it's about how to tell a tale in a theatre: brilliant, fascinating and enchanting.
And just as we're thinking 'Pity they couldn't have got Philip Glass to come over and at least make an appearance', there he is, the man himself, sitting at the piano to play the last piece
rating
Explore topics
Share this article