True West, Tricycle Theatre |

reviews, news & interviews
True West, Tricycle Theatre
True West, Tricycle Theatre
Sam Shepard's tale of sibling rivalry and the sad underbelly of the American Dream prevails against almost too much mayhem
Wednesday, 10 September 2014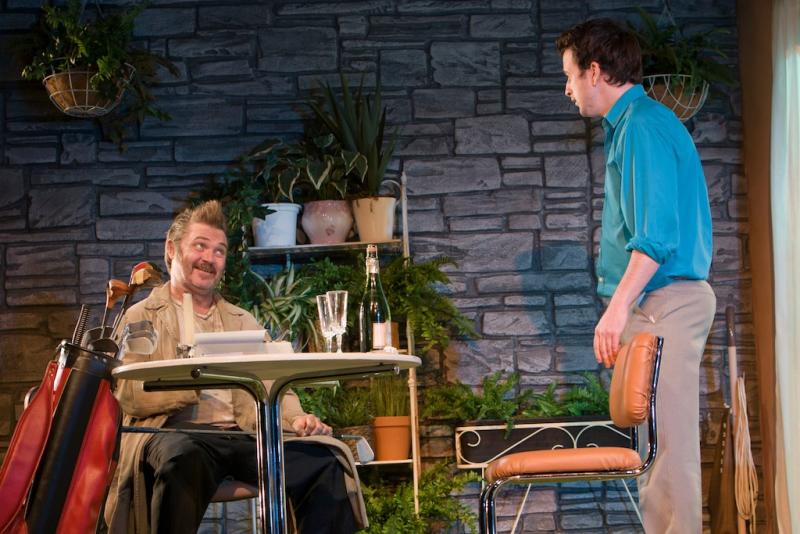 Who's typewriter is it anyway? Alex Ferns and Eugene O'Hare, True West
Time doesn't take any of the edge off Sam Shepard's rollicking reflection on the dichotomy of America, the tussle between the myth and the dream, represented by two warring brothers trapped with an idea for a bad film in a sweltering California condominium. Written in 1980, it's still brilliantly strange, raucously funny, rippling with resonance.
Directed by Phillip Breen, this production first aired in Glasgow's Citizens Theatre last year. It's a very good fit for the Tricycle, whose intimacy heightens our sense of eavesdropping on one helluva sibling spat.
Austin (Eugene O'Hare) is a Hollywood screenwriter working on a screenplay while house-sitting for his mother. He is rudely interrupted by the arrival of his older brother Lee (Alex Ferns), a drifter and petty crook, who claims to have been living in the Mojave desert. The pair haven't seen each other for five years and there's no love lost; in fact, Austin is positively terrified of his brother, whose physical intimidation gives him an early, upper hand as the Ivy Leaguer and the bum appear to be sharing the same home.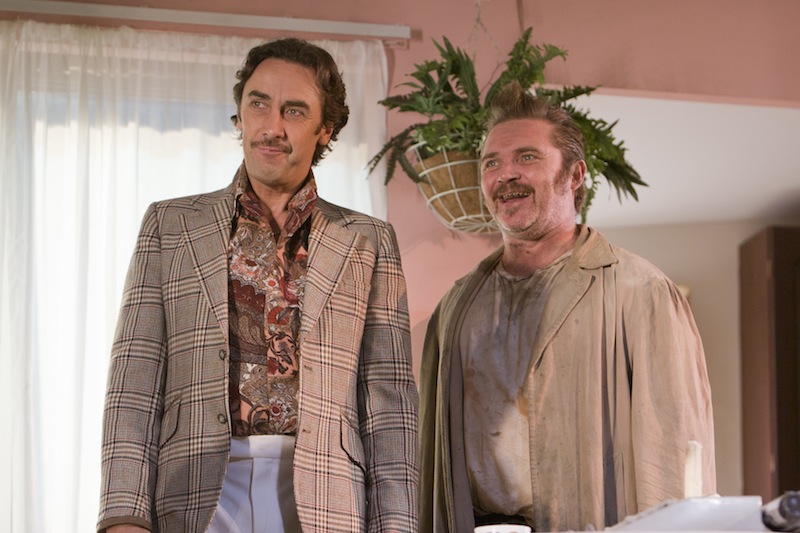 With the volatile Lee guzzling beer, threatening to break into the neighbours' houses and waxing lyrical about his adventures in the desert, Austin's attempts to write are entirely thwarted; worse, when his producer Saul Kimmer (Steven Elliot, pictured left, with Ferns) comes calling, Lee starts pitching his own idea for a film. A round of golf later, Lee is the one with the advance. If only he could type, or spell, or indeed write. Without a hint of irony, he seeks his brother's help.
Shepard shapes his play around conflicted desires and role reversals. Each brother is lured by the other's life, Lee now desiring the goldmine that he sees available in the film business, Austin's suddenly frustrated aspirations in that direction giving way to the absurd notion that he must rediscover himself in the desert. And as Austin hits the bottle, it's his turn to be the thorn in the side of someone trying to write; he also becomes a dab hand at thievery, the kitchen suddenly awash with toasters.
The scene in which the two battle over whether to collaborate on Lee's "authentic Western", while drunkenly destroying the house, is uproariously well executed. The famous destruction of the typewriter with a golf club is finessed by Ferns with the inspired addition of a fish slice, while O'Hare plays the toasters like an orchestra, the smell of burning toast filling the auditorium, the carnage played against a soundtrack of crickets and howling coyotes.
There's a danger of this being so funny, of the production enjoying its controlled mayhem so much, that one will lose sight of what's at stake – the identity, sanity, even lives of these two men, soaked in booze and desperation, each perhaps destined to end up the same wreck as their oft-mentioned father. It doesn't help that Ferns's comically fixed stare tends to convey gormlessness rather than threat; while hilarious, he doesn't always, quite ring true.
And yet Breen ensures that the writing never loses its grip, turning down the volume for lines and passages that evoke pathos and mystery, and presents these men as the victims of a country torn between old values and new, the romantic myth of the desert and the hollow American Dream represented by Hollywood; it's not by accident that neither of them really starts their script, let alone finishes it.
Designer Max Jones has performed some sort of magic trick in constructing a vivid set that can destruct with such aplomb, and lighting designer Tina MacHugh's calibration of the California light outside the window – a crucial anchor for the brothers during their benders – is quite beautiful.
Written in 1980, it's still brilliantly strange, raucously funny, rippling with resonance
rating
Share this article