Trueman and the Arsonists, Roundhouse Studio review - new warnings in old lessons |

reviews, news & interviews
Trueman and the Arsonists, Roundhouse Studio review - new warnings in old lessons
Trueman and the Arsonists, Roundhouse Studio review - new warnings in old lessons
When Simon Stephens' take on Max Frisch's classic play hits, it hits hard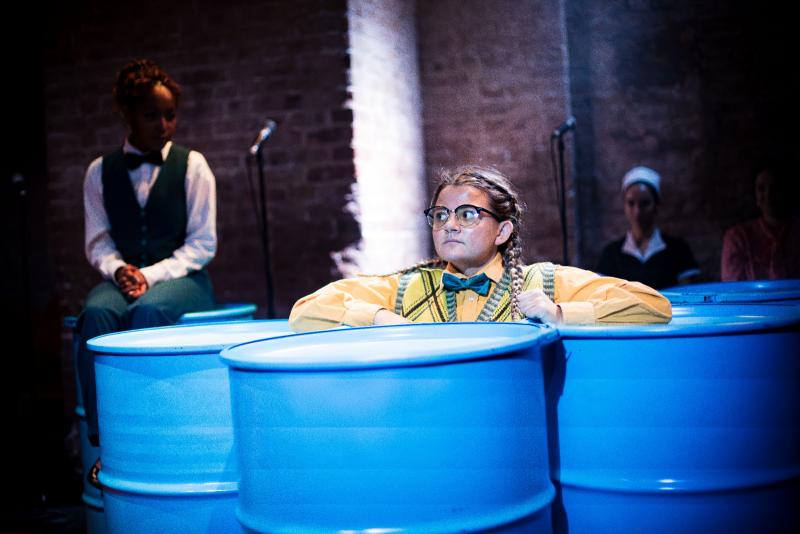 Playing with fire: Charlotte O'Leary in 'Trueman and the Arsonists'
A dystopian present. Sirens ring out across the city. Firefighters rush to the wrong locations. A man insists on entry to a big house.
He's not selling anything, so he can't be an arsonist can he? His friend turns up and she's pretty upfront about her intentions – and the barrels of petrol in the attic rather give the game away. But the wealthy homeowner, so ruthless at work, is so polite at home, the coming conflagration all but accepted as a matter of… manners, social convention, apathy?
Max Frisch's 1950s play started as a radio production that has moved to theatres around the world, its ambiguous allegory shaped and reshaped for its specific time and place. This new version by Simon Stephens, with songs by Chris Thorpe, is produced by represent., a company that "provides an accessible platform for those with barriers to entry" and aims to "shake conversation after the curtain call". Whilst I am not privy to the socio-economic status of the cast and creatives, I can tell you that such conversations were started and continue inside my head even as I write!
Adam Owers is initially hard to fathom as Trueman, the man who knows the risk he is taking in inviting the stranger, Smith (a seductive combination of charm and passive aggression from Tommy Oldroyd, pictured above with Thara Schöön and Angela Jones) into his home. But as Trueman becomes more manic, more nervous, more (literally) accommodating, the character, and director Abigail Graham's take on him, makes more sense. In public, he's all for hanging the arsonists, submitting fraudulent accounts and driving an ex-employee to take his own life; in private, he's weak, a personality that buckles under the slightest pressure. Wilhelm Reich wrote about such individuals a decade or so earlier in Listen, Little Man, which, like Frisch's play, stands as a warning against the dangers of passivity in the face of ideologues.
Another political playwright in exile is never far away either. Inevitably there's a strong flavour of Bertolt Brecht running through the production with its bleak humour, its epic theatre vibe and its critique of accepted social norms.
Chris Thorpe's songs break up the action, which can feel a little relentless at 90 minutes all-through, offering, with the chorus of ineffectual firefighters, a commentary on the chaos of bad decisions we witness. That's both a nice nod towards the heritage of the venue, home to so many bands who have commented on the state of the nation from at least the punks' howls of the late 70s, and also an underlining of Trueman's status as a victim of a Greek tragedy, the engine of his own inevitable downfall.
Much has happened since the play was staged at the Royal Court in 2007, so how does (or, rather, how might) it speak to audiences of today?
In real time, I felt uneasy echoes of the ideology of the likes of Tommy Robinson, railing against migrants and refugees, screaming online that crime had been invited into "left-behind" towns. There's also Trump, of course, with his characterising of migrants crossing the USA's southern border as gang members (and worse).
Reflecting further, I saw something a little more palatable to my tastes. Is Smith a Dominic Cummings figure, an entryist into the ruling Conservatives that David Cameron (Trueman) allowed to gain a grip on a party that could not see the danger of his lust for disruption until it was too late and the house was already burning (and just look at the polls now tosee the flames). Did Cameron hand Cummings and his Vote Leave cronies the match of a referendum as willing as Trueman hands his matches to Smith?
Or should we simply look to fire and heat invading our cities as the climate crisis flood of problems laps ever closer to our very doorsteps? And still complacency and expediency drive decisions on high and fine words not difficult deeds characterise the public's response?
Such political musings lie in the eye of the beholder because Smith and his accomplice, Ironside (a reliably wild-eyed Angela Jones) assert that they have none of the anarchists' desire to effect social change – they're just having fun. That said, they're smart enough to have learned the biggest political message of the 21st century: "Joking is the third best disguise. The second best is sentimentality. But the best disguise… is always the absolute bollock naked truth… Nobody believes it."
Put the effort in, though, make the lie big enough, and plenty will – enough to get their way if the rest sit idly by and watch, matches in hand.
Much has happened since the play was staged at the Royal Court in 2007, so how might it speak to audiences of today?
rating
Explore topics
Share this article