The Victorian in the Wall, Royal Court Theatre Upstairs |

reviews, news & interviews
The Victorian in the Wall, Royal Court Theatre Upstairs
The Victorian in the Wall, Royal Court Theatre Upstairs
Will Adamsdale's new musical comedy-drama is touching, quirky and deliciously daft
Three-way bromance: Matthew Steer (Elms), Will Adamsdale (Guy) and Jason Barnett (Fortunately Maybe)
The past: it's etched into the fabric not just of our lives, but of the architecture that surrounds us – the streets we tread, the buildings where we work or make our homes. In this whimsical, winning 90-minute piece by Will Adamsdale, the past has a niggling habit of leaping out from the places where it should lie buried, rubbing up cheekily against the present, and sticking its nose into the future.
Sweet and slyly clever, the show blends the literary, the historic and the anecdotal to tell two London love stories, separated by over 100 years. Its ambitions are not, perhaps, vast. But with its shrewd awareness of the swift slipperiness of time, of the tiny moments of procrastination, foolishness or failure of nerve in which our happiness so often hangs in the balance, it is curiously penetrating. And it's executed with an open-hearted charm that it would be pointless even to attempt to resist.
Away on her business trip, Fi is wondering whether the roof's falling in on their relationship
Adamsdale has a reputation for making work that defies categorisation, hovering between theatre and comedy. This Royal Court/Fuel co-production, which he directs with Lyndsey Turner, has the easy, fluid delivery of stand-up, but a sturdy structure ensures that it's dramatically sound too. And it's as playful as a puppy – albeit one that occasionally nips your ankles. Designed by Michael Vale, it's performed on a floorplan marked out with white tape. This is, if not the dream-home of Adamsdale as a rudderless writer-guy – later known simply as Guy – and his more focused girlfriend, Fi (Melanie Wilson), then at least a significant step on the all-important property ladder. It's in the right London area – edgy but not scary, gentrified but not too twee – and it's got great potential. What's more, buying a place together signifies commitment – doesn't it? Fi's not so sure – but they're embarking on a knock-through, to expand the living space and accommodate a breakfast nook, where they can sip the lattes they make with their shiny Gaggia. The only trouble is, Fi has to go away for work, which means Guy's in charge of supervising the builder. Still, there's nothing to it really. "All you have to do is be in," she reassures Guy. "You're good at that."
Naturally, it's not quite that simple. When the builder (who, in cliche-defying style, has a taste for good coffee and Pina Bausch) gets busy with power tools so alluring that they make Guy's idle fingers itch, he uncovers a period feature no one was expecting: Mr Elms (Matthew Steer), an affable Victorian clerk, perfectly preserved inside a wall. Released into the 21st century, Elms quickly settles down to Guy's box sets of The Wire, in between telling his own colourful tale of his passion for the music-hall star who used to live upstairs (Wilson again, pictured below). That's enough of a distraction from the CBeebies script Guy is supposed to be finishing – but when Fortunately Maybe (Jason Barnett), the creatively named African orphan he's been sponsoring through a charity, arrives on the doorstep, a fully grown adult calling him Daddy, there's no way he's going to meet his deadline. Meanwhile, away on her business trip, Fi is beginning to wonder whether the roof's falling in on their relationship.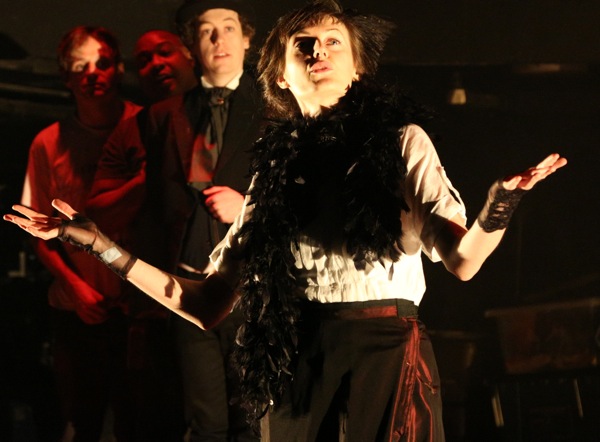 There are any number of beguiling moments: a chorus of droll old East Enders who once owned the housing they're now selling on to the well-heeled middle-class newcomers; the startled delight with which Elms, formerly a British subject at the height of rampant imperialism, contemplates Fortunately Maybe; and the latter's appropriation of the plot of Dickens's Nicholas Nickleby, in order to furnish himself with a romantic past. It's all studded with songs, played by Chris Branch on piano and some low-key electronica, and by the rest of the multi-tasking cast on everything from bicycle bells to recycling bins. The gentle, pin-sharp lampooning of aspirational home-owners is married to a touching evocation of Guy's confused helplessness; his nostalgia for the certainties of rigid 19th century social convention is coupled with an exhilaration in the freedoms and possibilities of now.
It's affecting, quietly thoughtful, and often just plain daft: one sequence sees Wilson, in the guise of a troublesome wasp, wandering po-faced through the house wearing wings before bashing her nose repeatedly against the invisible glass of an imagined window. But if the piece can be deliciously silly, it's also subtle: a quirky, absorbing affirmation that home, in the end, is where the heart is.
When the builder gets busy with power tools so alluring that they make Guy's idle fingers itch, he uncovers a period feature that no one was expecting
rating
Explore topics
Share this article