Vieux Carré, Charing Cross Theatre |

reviews, news & interviews
Vieux Carré, Charing Cross Theatre
Vieux Carré, Charing Cross Theatre
Tennessee Williams esoterica is flawed but fascinating
Samantha Coughlan and Paul Standell stir it up in little-seen Tennessee Williams play
An erstwhile Broadway flop provides late-summer theatrical fascination in the form of Vieux Carré, the self-evidently flawed Tennessee Williams play from 1977 that nonetheless is worth seeing for anyone attuned to this playwright's singular articulation of abandonment and loss.
Robert Chevara's production may be as variable in its casting as is Williams's play in both focus and tone, but when its characters give voice, collectively or otherwise, to the abrasions of life, one is drawn anew into the vortex of an artist acquainted at every turn with psychic pain.
Williams scholars will have a field day sorting through the references - some obvious, others not - paid by this play to the fertile canon of a writer who died six years after Vieux Carré flamed out in New York, following a five-performance run. (That, alas, was the general fate of late-career Williams in his home country.) The poet beaten back by the philistines? That's one way of looking at it, though, to be fair, one can't imagine Williams's plaintive voice accommodating itself to the play's original Broadway home at the St. James, a capacious musicals house given over more recently to the likes of The Producers and Patti LuPone in Gypsy.
Sure, this isn't Williams at his airiest or his most subtle; indeed, a lot of the language is unexpectedly blunt. (The play's equivalent Stanley Kowalski figure often says "fuck", an expletive not spoken on stage when A Streetcar Named Desire premiered on Broadway 30 years earlier.) But the fact is, Vieux Carré as a piece of writing needs care and protection in much the same way as its inhabitants, who are seen converging on a New Orleans boarding house in an attempt, however abortive, to connect: in Williams's world, it was ever thus.
Chevara's staging, first seen last month at the King's Head, comes most alive in the Streetcar gloss dominating the multiple plot strands that never really cohere, the play's putative centre - Tom Ross-Williams (pictured above, typewriter at the ready) as an authorial stand-in known, helpfully, as The Writer - qualifying as a comparative cipher by contrast. While The Writer breaks the fourth wall to set the scene (and at one point is given a hand job, a pleasure denied the kindred figure of Tom in The Glass Menagerie), Williams devotes most of his energies to the cut-and-thrust between the vaguely Blanche-esque society girl, Jane (Samantha Coughlan), and the Bourbon Street stripper, Tye (Paul Standell), with whom she shares a bed. An incipient bruiser inclined toward cheesy double entendres on the order of "can't you see I am up?", Tye embodies Williams's quintessential bit of rough veering once again between the terrifying and the tender, and Coughlan and the pec-perfect Standell (pictured below) bring a vivid physicality and some ace American accents to their roles. (It doesn't hurt that the Canada-born Coughlan trained at the Circle in the Square in New York, an address that has known its fair share of Williams plays.)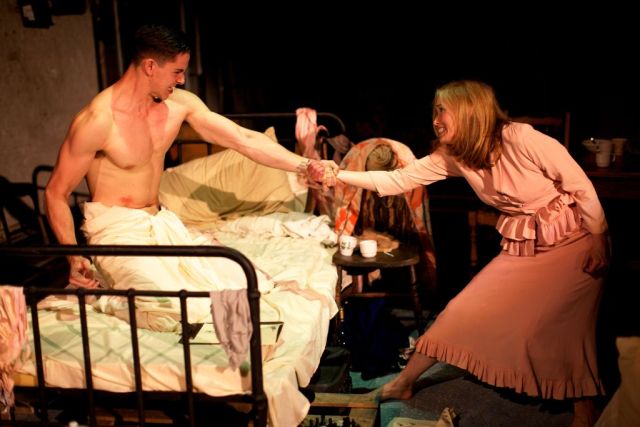 The establishment's denizens further include cast newcomer Helen Sheals given the Mrs. Madrigal-like assignment of the watchful landlady Mrs. Wire (Sheals is still finding her way in the role, which seems fair enough), who offers herself as a surrogate mother to a Writer otherwise embarked upon his own separate project of sexual self-discovery, and Hildegard Neil and Anna Kirke pop up now and again as a ghostly pair of "scavenger crones". Coughing blood up on the stage floor of Nicolai Hart Hansen's set is David Whitworth in terrific form as a tubercular figure of longing who has made his way to the "future" that, Williams makes clear, is not everybody's lot. Those who do live to see another day get to know the "sound of loneliness" that in Vieux Carré rings out loud and clear - a lament, by turns brutal and lyrical, that for all the play's baroque extravagances is nonetheless worth hearing.
This isn't Williams at his airiest or his most subtle; indeed, a lot of the language is unexpectedly blunt
rating
Explore topics
Share this article