The Winter's Tale, Shakespeare's Globe review - clever concept never quite catches fire |

reviews, news & interviews
The Winter's Tale, Shakespeare's Globe review - clever concept never quite catches fire
The Winter's Tale, Shakespeare's Globe review - clever concept never quite catches fire
Two theatres, one concept, but no lasting sparks from Shakespeare's tragi-comedy
Dinner is served: Sean Holmes' fine-dining Sicilia collides with the festival vibes of casual Bohemia
As course after course of Noma-style creations are served up to Leontes and his guests – curious mouthfuls with their accompanying spoons, edible branches as though straight from the tree, elaborate miniatures ritually revealed from beneath a cloche – it's clear that, in Sicilia, eating is scarcely the point. When you dine among sleek Swedish interiors, surrounded by a military drill-team of waiters, it's hardly going to be about anything so vulgar as appetite, is it?
Director Sean Holmes has pulled off a coup: the first director to use both of the Globe's theatres in a single evening. It's an obvious response to The Winter's Tale's two contrasting kingdoms, and – in practical terms – it works brilliantly. The claustrophobic interiors of Sicilia in the Wanamaker Playhouse (pitch perfect from designer Grace Smart) give way to the breezy openness (those "winds of March" right on cue) of the Globe itself, and Bohemia's riotous sheep-shearing celebrations.
All the ingredients are here, but Holmes' dish doesn't fully satisfy
But this is a play about what unites as much as what separates, and Holmes runs his dramatic thread taut between that sterile opening dinner and the ramshackle trestles of Bohemia, where all are welcome to pull up a chair, knocking back too-potent moonshine while neighbours in animal hides and skulls dance wildly.
Undercutting any twee yokelry is a persistent sense of menace. There's more than an echo of Midsommar to a festival stalked by a bear (the bear), whose quiet threat spreads all the way to Sicilia. He haunts the action, holding the door open for the boy Mamillius to go to his death, still clutching his stuffed teddy, later killing Antigonus not with roaring and a chase, but silent stalking. The veneer of civilisation, of continence and control, is thin indeed.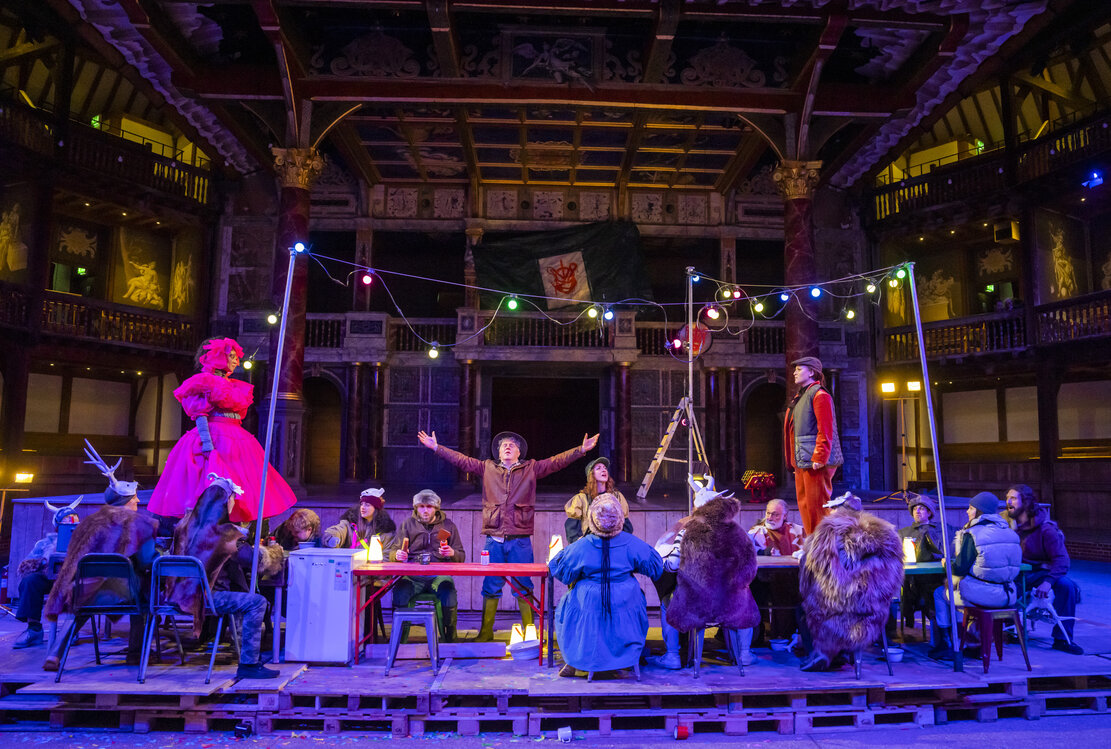 All the ingredients are here, but Holmes' dish doesn't fully satisfy. The novelty of the two spaces pushes us into summer territory, weighting the show towards the song and dance and riot of Bohemia's comedy. That Ed Gaughan's Autolycus – a cockney wide-boy out for the main chance, picking a pocket or two while billowing clouds of Lynx Africa – is so zestily sure only adds to the imbalance.
There's not enough in Bea Segura's sweet but slight Hermione, nor in Sergo Vares's under-projected Leontes (pictured below) – stiff in his regression from patriarch to quivering man-child, curled up in vest and pants – to give us a real stake in the Sicilian tragedy. John Lightbody's Polixenes, heavy with charisma and ambiguity, nearly sways it, and the courtroom scene takes an interesting turn. But big cuts to the final act, streamlining the discovery of Perdita's identity and her reunion with her father into a nifty bit of solo exposition by Autolycus, only dials up the sense that the director is keen to get back to lighter ground. There's a twist in the final scene – a chink opening up in the happy ending – but it's not quite enough.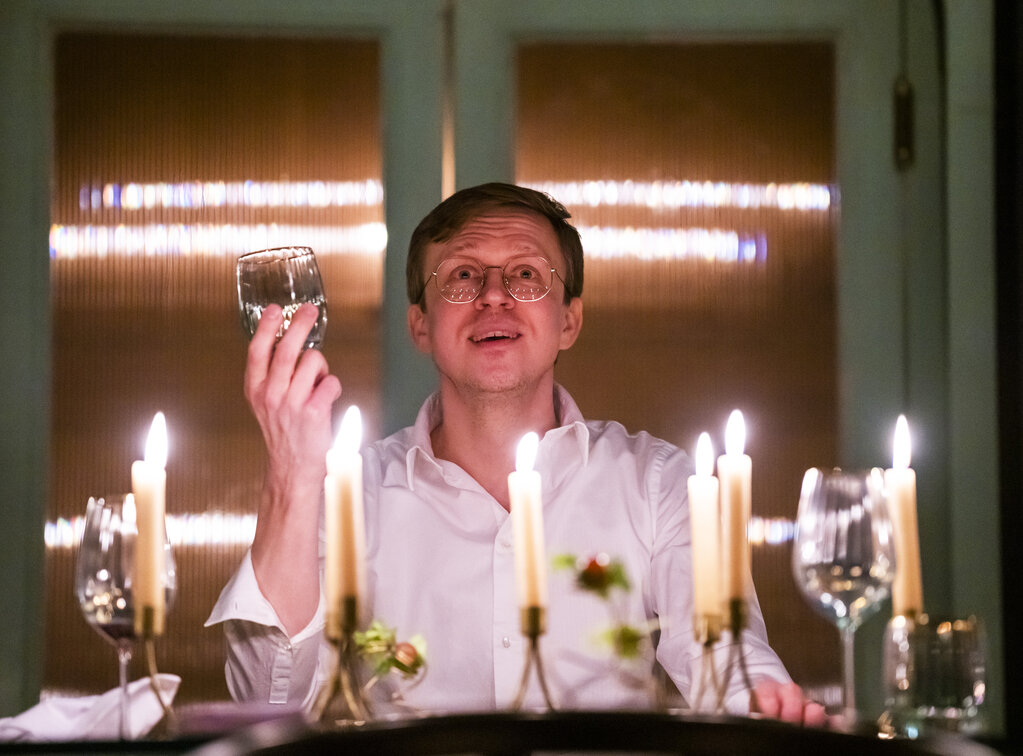 Bohemia fares better, with Colm Gormley and Samuel Creasey supplying matching mullets and plenty of broad laughs as the two shepherds, helped along by plenty of music and audience participation. Jacoba Williams is an earthy Perdita, battling through a cloud of hot-pink tulle, but there's no chemistry to speak of with Sarah Slimani's inscrutable Florizel – underplayed to the point of absence.
Merry or sad? This Winter's Tale wants it both ways, and almost gets it. It's a good night out, a canny way of extending the Globe's summer spirit out of season. But maybe Mamillius was right after all: a sad tale is best for winter.
There's more than an echo of Midsommar to a festival stalked by a bear whose quiet threat spreads all the way to Sicilia
rating
Explore topics
Share this article