Yes, Prime Minister, Gielgud Theatre |

reviews, news & interviews
Yes, Prime Minister, Gielgud Theatre
Yes, Prime Minister, Gielgud Theatre
Old-school satire and contemporary politics produce classic comedy
Tuesday, 28 September 2010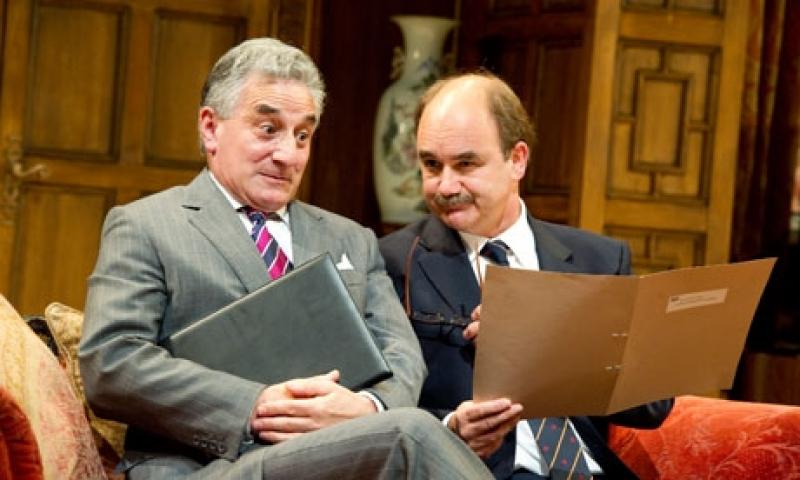 Henry Goodman and David Haig: 'The classic master-servant interplay of Hacker and Sir Humphrey remains fresh'
The business end of 1980s BBC sitcom, the Yes, Minister and Yes, Prime Minister series delivered political body-blows while sporting a dapper suit – satire with a gracious smile. In today's era of muscled political heavies like The Thick of It, the Jay/Lynn brand of PG humour seems as antiquated as a blunderbuss – particularly when translated to the stage – but with just a few tweaks proves to be surprisingly effective.
Global warming, the financial crisis, terrorism, the decline of the BBC – in the years since Jim Hacker and his staff last paced the carpets of No 10, Britain has only sunk further into the political mire. Oozing with noxious scandals and toxic international relations, our most current of affairs are ripe for the return of satirical wits Antony Jay and Jonathan Lynn. In their new play, a transfer from the Chichester Festival Theatre, they prove that the old-school Whitehall wiles of Sir Humphrey and blustering pomp of the Prime Minister still have what it takes to triumph in the age of technology.
Facing "The biggest disaster this side of Dunkirk", the symbiotic trio of Prime Minister Jim Hacker (David Haig), Cabinet Secretary Sir Humphrey (Henry Goodman) and put-upon Principal Private Secretary Bernard (Jonathan Slinger) return together with new addition Claire (Emily Joyce), a euphemism-spouting Special Policy Advisor. Together they must navigate the institutional politics of the EU, preserve peace in Central Asia, and somehow cater to the extreme sexual proclivities of the Kumranistani Foreign Minister ("If you can't ignore the facts, you've no business being in government") without losing either face or their jobs.
The shadows cast by the impeccable Nigel Hawthorne and his colleagues are long indeed, but the current cast make no attempt to ape them. Goodman's Sir Humphrey is both self-consciously smoother and more waspish than Hawthorne's, though perhaps more effortful than feels authentic. Amping up their performance from the delicate levels of sitcom to the altogether broader comedy of the theatre, the cast pay physical homage to the farce that always lies just over the edge of the political horizon. Slinger's Bernard is far from the impassive original, all rubber features, Latin epithets and cringing moral scruples, and is matched contortion for contortion by Haig's ineffectually eager Prime Minister – "The only top job that requires no previous experience."
You get the feeling that this show has been fermenting for a while, with the pent-up satirical outpourings of several decades crammed into the confines of its two acts. Without losing track of its tangled narrative thread, the script manages to incorporate a series of set-pieces, including an extended attack on the "optical chewing-gum" of the BBC, a send-up of Jeremy Paxman (played with convulsive intensity by Tim Wallers), and an elaborate episode on the uni-purpose phrases beloved by political PR experts.
Cutting into the flesh of politics and exposing its hollow, euphemistic core was always the strength of Jay and Lynn's writing, and their humour flourishes on the richly absurd circumlocutions of contemporary policy: "enhanced interrogation" for torture, "leverage" for blackmail, and their own newly coined "Eurojob" – providing the sexual services of an underage schoolgirl to a foreign dignitary in order to grease the wheels of EU politics.
In amongst the shinier, more risqué new material are enough familiar gestures to keep purists happy. Sir Humphrey's legendarily obfuscatory rants are preserved (drawing applause on each occasion, though surely as much for the polish of Goodman's delivery as the ingenious content), and the classic master-servant interplay of Hacker and Sir Humphrey remains fresh, heightened by the newly threatening presence of rival puppet-master Claire.
There is little reason for Yes, Prime Minister to take place in a theatre rather than its conventional television habitat, but it's a transposition that does little harm to its material. Long-time devotees will enjoy the chummy atmosphere of a theatrical context, and newcomers will find it hard to resist the home-crowd enthusiasm of their fellow audience members. Politics may have moved on, but political satire, it seems, remains evergreen.
Watch a clip from the original Yes, Prime Minister (YouTube):
The pent-up satirical outpourings of several decades crammed into the confines of two acts
Share this article
Subscribe to theartsdesk.com
Thank you for continuing to read our work on theartsdesk.com. For unlimited access to every article in its entirety, including our archive of more than 10,000 pieces, we're asking for £3.95 per month or £30 per year. We feel it's a very good deal, and hope you do too.
To take an annual subscription now simply click here.
And if you're looking for that extra gift for a friend or family member, why not treat them to a theartsdesk.com gift subscription?