1899, Netflix review - Atlantic voyage turns into cosmic nightmare |

reviews, news & interviews
1899, Netflix review - Atlantic voyage turns into cosmic nightmare
1899, Netflix review - Atlantic voyage turns into cosmic nightmare
Another mind-bending trip from the creators of 'Dark'
Thursday, 24 November 2022
Daniel Solace (Aneurin Barnard), Maura Franklin (Emily Beecham) and Eyk Larsen (Andreas Pietschmann)
Baran bo Odar and Jantje Friese won delirious acclaim for their previous Netflix series Dark, a labyrinthine and fantastical account of children vanishing from a small German town. Anyone familiar with its baffling events and leaps across different timelines will probably feel at home with 1899, the duo's similarly mind-bending follow-up.
The story this time pivots around the disappearance of an ocean liner, the Prometheus, which has been missing at sea for four months. When a strange, constantly-repeating telegraph message is received, apparently coming from the vanished vessel, it prompts captain Eyk Larsen (Andreas Pietschmann) of its sister ship the Kerberos, en route to New York loaded with emigres from all over Europe, to investigate.
They find the Prometheus, but it's dark and derelict, floating spectrally on the empty ocean. Inside it's a wreck, with all the fixtures and fittings trashed, but more alarmingly, its 1600 passengers and crew are nowhere to be seen. The only sign of life is a young boy (Fflyn Edwards, pictured below) who's been hiding in a cabinet. He seems to have been struck dumb with fear, and is clutching a mysterious black pyramid.
Is it going to be Titanic revisited, or a new take on the legend of the Marie Celeste? Well not really, though there traces of both (Prometheus and Kerberos somewhat resemble the Titanic and its twin ship, the Olympic). But bo Odar and Friese have thrown much more into the mix, from echoes of Alien and Solaris to JJ Abrams's Lost and more than a pinch of Frankenstein, with maybe a twist of X-Men. And the rest.
The plot grows steadily more incredible as the eight episodes progress. We flit between multiple universes linked by bizarre intra-dimensional trapdoors while the characters detour into vividly-realised visions and flashbacks (episodes tend to open with somebody awaking with a gasp from some hyper-real alternative reality). But the constant shuffling of interchangeable worlds eventually becomes mildly farcical, eroding any sense of a narrative core the viewer can cling to while they're dragged across the finishing line. Indeed, the creators seem to have taken a sadistic relish in luring the audience to what resembles some sort of resolution, only to then fling back the digitally-conjured scenery to reveal landscapes even wilder and more credibility-stretching.
Still, there is a beating human heart in there somewhere, and the ocean voyage affords plenty of scope for exploring the lives and backgrounds of the diverse characters on board. There's a back-story adventure featuring two soldiers from the French Foreign Legion, for instance, which becomes a macabre instructional warning from fate, while the experiences of a star-crossed Danish family could make an epic drama serial in their own right. The on-board captive audience is grist to the mill of the brothel madame Mrs Wilson (Rosalie Craig), who has ensnared the gamine Chinese girl Ling Yi (Isabela Wei) in her web of vice, and it is Mrs Wilson who expresses one of 1899's guiding principles: "With every calamity comes opportunity." (Pictured below, passengers suffer a sense of humour failure).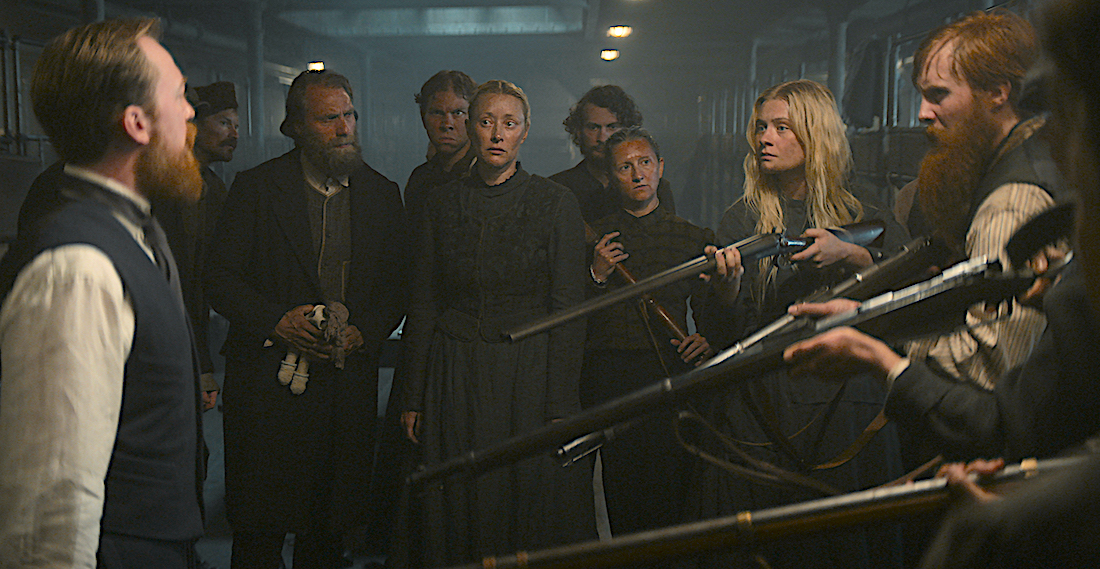 At front and centre is Maura Franklin (Emily Beecham). She's a young-ish women disillusioned by the chauvinistic boorishness of a world which denies her the scope to put her expertise in the workings of the human brain into practice, though as the story progresses her influence grows steadily more powerful. Anything we think we know about the characters at the beginning has been spun through a psychedelic plot-blender by the end, which is quite literally out of this world.
As an incidental treat, they've lobbed some pretty good music into the mixture, from Jefferson Airplane's "White Rabbit" to "The Killing Moon", "Don't Fear the Reaper" and Jimi Hendrix's version of "All Along the Watchtower". Like the man sings, "there's too much confusion, I can't get no relief".