All Creatures Great and Small, Series 2, Channel 5 review - familiar formula continues to satisfy |

reviews, news & interviews
All Creatures Great and Small, Series 2, Channel 5 review - familiar formula continues to satisfy
All Creatures Great and Small, Series 2, Channel 5 review - familiar formula continues to satisfy
More gentle dramas in the Dales as World War Two looms
Tristan and Siegfried Farnon, James Herriot and Helen, Jenny and Richard Alderson
Channel 5' s decision to remake James Herriot's much-loved Yorkshire vet stories was an inspired one, and this second series has effortlessly carried on the mood of gentle observation, nostalgia and slapstick comedy amid scintillating Yorkshire Dales scenery.
A teeming cast of dogs, cats, horses, cows and chickens is permanently on call to provide fuel for the adventures of Herriot and the Farnon veterinary dynasty.
Much of the time, the second series has merely rung a few changes on the formula perfected last time around, but fans of the show (and of Herriot's original books) won't mind. Sometimes the vets are beset by curmudgeonly Yorkshire farmers, frequently they're to be found in a prone position sticking an arm up, for instance, a pregnant mare's uterus, and Tristan Farnon (Callum Woodhouse) blunders through an assortment of farcical misadventures. Siegfried Farnon (Samuel West) may be summoned by the lordly Mrs Pumphrey to attend to her Pekingese, Tricki Woo.
Though, despite the fact that the late Diana Rigg has been supplanted in the Pumphrey role by the estimable Patricia Hodge, the tangential visits to her home, Broughton Hall, tend to feel arbitrarily stuck on and surplus to requirements (pictured below, Nicholas Ralph as James Herriot with Amy Nuttall as Phyllis Dalby).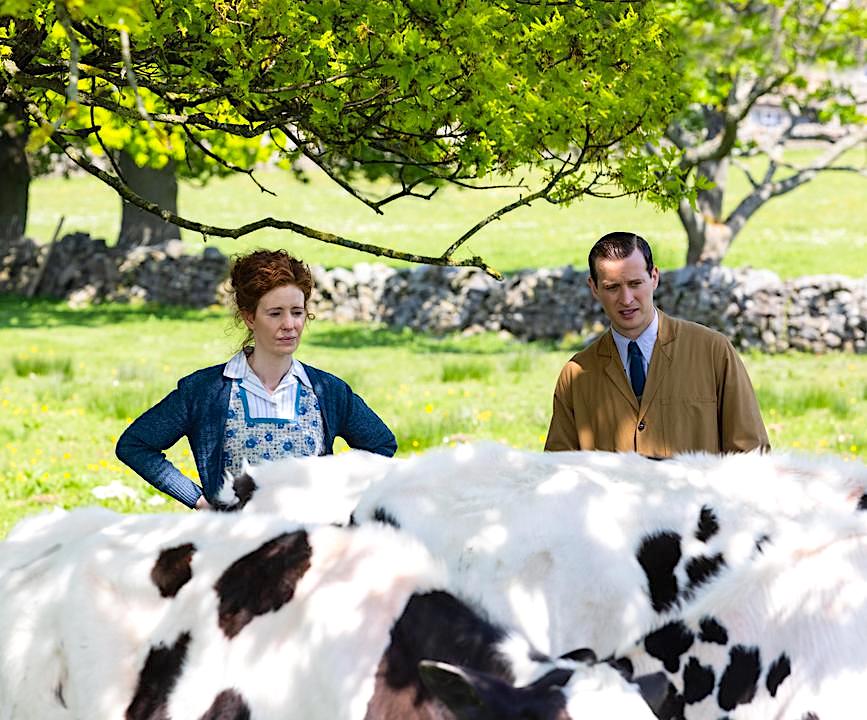 However, Mrs P did come into her own in the penultimate episode, as she bossed the arrangements for the annual cricket match between the local toffs and the good folk of Darrowby. This was given some extra dramatic bite by the fact that the posh team was skippered by Hugh Hulton (Matthew Lewis), the potential husband abandoned at the altar by Helen (Rachel Shenton), who ended series two engaged to James Herriot.
A bit of contorted plot-manipulation found Herriot, a Scotsman who'd never played cricket before, trying to survive the final over of the match to achieve a draw. He then deliberately allowed himself to be bowled out by Hugh because, as he put it, "I felt I owed him a win". Tarring-and-feathering by his teammates surely ought to have been his reward, but nobody seemed to mind. Weird.
Anyway, Hugh, the acme of bumbling Wooster-ism, made a fine display of good-eggishness of his own when he effectively gifted the lease of their farm to Helen and her sister Jenny (Imogen Clawson), and even tried to donate them a prize bull. On the personal front, then, everything's going swimmingly for James and Rachel, even though Nicholas Ralph's James is, with the best will in the world, a bit of a drip. He could barely summon up the courage to tell his Glaswegian parents that he was going to stay in Yorkshire rather than going back to take up a job in his home city, so he's going to be reliant on his wife-to-be's decisiveness and good sense.
As the series closed, rumblings of approaching war were beginning to reach the Dales, as newscasters relayed Neville Chamberlain's wildly optimistic claim of "peace for our time" after his meeting with Hitler. Of course, it'll take more than the Luftwaffe to put the wind up these stoical Yorkshire folk.