American History's Biggest Fibs with Lucy Worsley, BBC Four review - rewriting history in the Land of the Free |

reviews, news & interviews
American History's Biggest Fibs with Lucy Worsley, BBC Four review - rewriting history in the Land of the Free
American History's Biggest Fibs with Lucy Worsley, BBC Four review - rewriting history in the Land of the Free
Shining a light on the dark underbelly of America's founding myths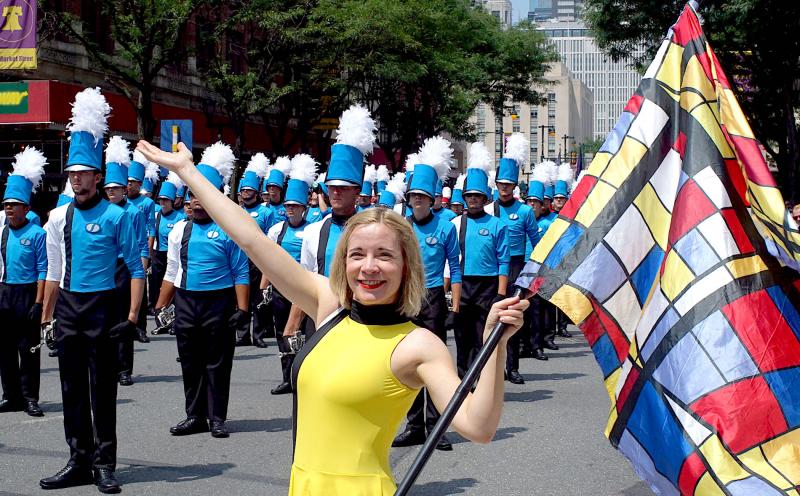 A typically modest Worsley shows Philadelphia how to celebrate Independence Day
The multi-costumed Lucy Worsley is television marmite, loved or loathed: her gesticulating enthusiasm can grate, as can her stream of bland platitudes. Typically the title is Worsley-twee, evoking fibs instead of lies and falsehoods; are we in the nursery, as smart Nanny Worsley seems to think?
Ms Worsley's thesis was that history is the knitting together of rival interpretations. But every assertion where the viewer might flinch was accompanied with startling facts, in a narration filled with enough surprises and new emphases to be worth your time. The underlying theme emerged at the climax, taken from the rousing end of Hamilton! the musical: who lives, who dies, who tells your story.
In the era of acknowledged fake news, it could not have been more timely. Here was Worsley throwing bags of tea into Boston harbour, not to mention marching in a Fourth of July parade for the Declaration of Independence and tramping the fields of the Battle of Yorktown. These were enactments to underline her narration of various versions of the actual episodes, asking what of the many historic tales on offer do we accept as authentic, and what is myth and what is fact? (pictured below, Declaration of Independence by John Trumbull).
The most popular versions of American history were indeed presented as fake news. Spoiler alerts: Philadelphia's Liberty Bell did not ring to announce the Declaration of Independence. On his ride from Boston to Concord, Paul Revere was accompanied by two others who more successfully warned the amateur American militia that the British were coming. The contentious 300-foot Statue of Liberty gifted by the French and unveiled in 1886 was to honour a successful Republic. It was based on an unbuilt design for a statue to honour progress at the head of the Suez Canal. Emma Lazarus's poem – "Give me your tired, your poor, your huddled masses, yearning to breathe free" – was not conecieved as a welcome to immigrants, but was actually written to fund-raise for the statue's cost.
How a British colony won its freedom (itself a myth) from the world's biggest empire has been for more than two centuries an inspirational story. Subliminally, it's based on emotions evoked by a typical trope, the underdog winning against seemingly insuperable odds. Who really won the American War of Independence? Spoiler alert – those pesky colonialists had indispensable help from Britain's traditional opponent, the French. Military hero and first President, George Washington, champion of liberty, owned more than 300 slaves. And he treated them meanly.
The special destiny inculcated in "Americans" as fact and fiction are blurred. On December 16 1773, what many thought of as criminals disguised as Mohawk Indians threw the tea off three ships into Boston harbour, jolly japes in fancy dress. This episode only became known in 1820 as the Boston Tea Party (pictured below), as the incident morphed into an act of patriotism rather than one of thievery and destruction. And in the 21st century the radical right called itself The Tea Party.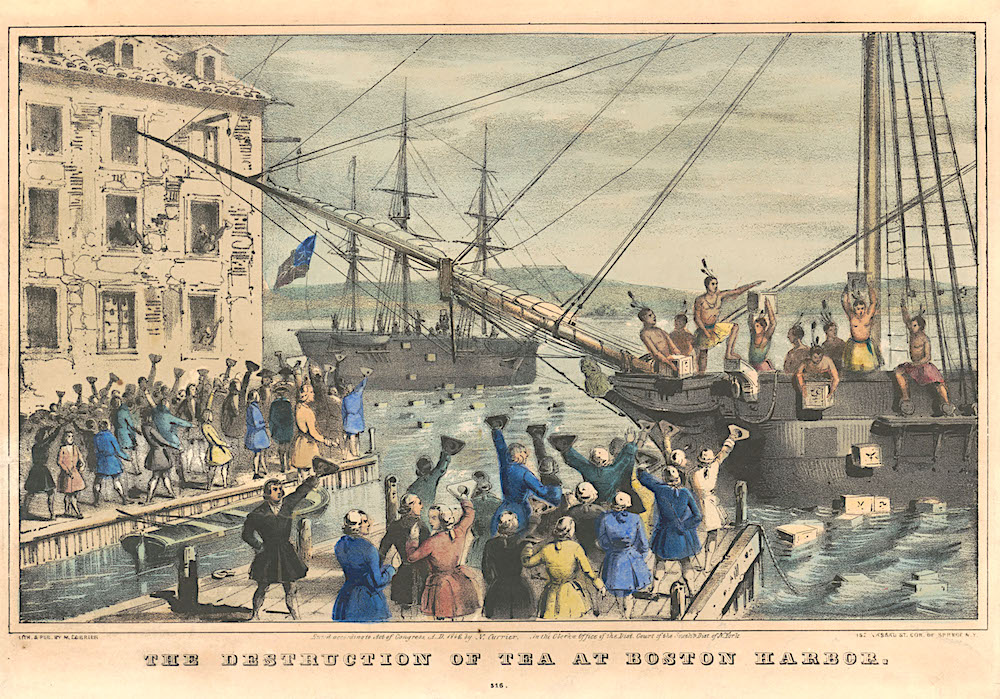 Myths piled up throughout the 19th century. Paul Revere's ride through the night to warn that the British were coming was memorialised in 1860 in Longfellow's poem Paul Revere's Ride. Those embattled farmers fired the shot heard round the world, in the phrase of Ralph Waldo Emerson, but when Congress created the Continental Army, the recruits were trained as professionals. After the War of Independence the Continental Army was disbanded, but the ideal citizen would own his own means of defence, as a citizen solder. The Second Amendment enshrined the right to bear arms, the unintended consequence of which is an intractable problem today.
The Declaration of Independence was underlined by film clips of Clinton, Obama and Reagan quoting from what was in fact then and now a very difficult document reconciling different points of view, dependent on its very ambiguity. Slavery was buried under the notion of the pursuit of happiness; everyone could look at the document and see what they wanted to see. In practice, white men with property (as in Europe) controlled power, although the phrases were open to myriad interpretations.
Worsley's irrefutable premise was that you can't keep a good story down, and it was the inaccuracy and embellishments characteristic of legends, myths and stories that her programme illuminated. A side effect was that while these histories captivated, they could also harm.