Meet the Trumps: From Immigrant to President, Channel 4 |

reviews, news & interviews
Meet the Trumps: From Immigrant to President, Channel 4
Meet the Trumps: From Immigrant to President, Channel 4
Donald Trump's dodgy morals were inherited from his forebears. Here's how
Wednesday, 18 January 2017
Fred Trump with the pre-orange fruit of his loins
Tom Lehrer famously declared satire dead when the Nobel Peace Prize was awarded to Henry Kissinger not long after he'd bombed Cambodia back to the Middle Ages. Lehrer never wrote another song. Meanwhile other satirists battle on. Every day delivers fresh material to work with.
This
documentary
supplied a little more by rummaging around on
Donald Trump
's family tree.
Put succinctly, Meet the Trumps: From Immigrant to President reported that the rise and rise and rise of the Trump dynasty is a tale of brothel-keeping, horsemeat burgers and much rapacious trousering of federal handouts. Trump's draft-dodging grandfather Friedrich Drumpf arrived in the US from Germany, which by the way is absolutely an overrated country, and set about walking the line between legal and not legal as a restaurateur in the Klondike. He supplied gold-diggers with horse burgers and hookers, only to be killed by the Spanish influenza epidemic. (Nothing good ever came out of Spain. Sad!)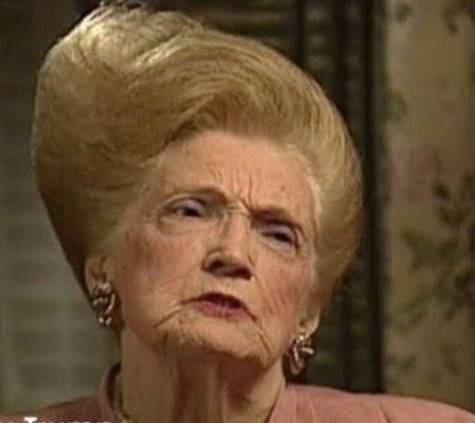 Trump's father Fred took over the family business at the age of not much, capitalising at key moments on the needy generosity of the federal government. After the crash of 1929 it was forcing money on developers to get the economy moving again. Then US soldiers required new homes after they did a great job defeating Germany and Japan, which remain terrible countries to this day. On both occasions Fred asked for more than he needed and secreted the balance about his person, perhaps to pay for round-the-clock upkeep of his attention-seeking eyebrows.
And then there was Mary Anne MacLeod, whose mother tongue was Gaelic, which is totally not a language. She arrived from Scotland, a pathetic failure of a country with the worst sand dunes and horrible offshore wind turbines, and set about establishing a family template of wearing her hair bigly (pictured above). Her first-born, Freddy, drank himself to death. Her second was a hooligan – a friend at military academy was struck by his essential emptiness – but he steered clear of alcohol and duly inherited the family business. He soon entered into a moral clinch with a sulphurous lawyer called Roy Cohn (pictured below with Trump), who had the face of a serpent and made sure Trump was on friendly terms with all New York's leading Italian families (Italians are fantastic people to do business with by the way). Cohn was a criminal lawyer in the sense that he was basically a criminal.
The rest is known. Three marriages, two to immigrant Slavs with boob jobs. There wasn't anything on Trump itching to bone his own daughters or dispatch his sons as peace envoys to Africa or wherever to wipe out the Rothschild's giraffe or southern white rhino. There was no mention of crotchgrabs or fake journotards or brown-tongued trogspawn Limeys photo-opped gurning in gold-plated elevators with their red, white and blue thumbs aloft.
And so we hover on the threshold of a new paradigm. A man who barely knows any polysyllables styles himself, in this telling by Matt Frei and sundry biographers, as some sort of Nietzschian übermensch genetically programmed to suck on the blood of his victims, who are all total losers. Here's a modest proposal: that the moniker of POTUS #45 be changed from The Donald to A Donald. He is hardly the definite article in a field which also includes the Donalds Sinden, Sutherland, Pleasence, Fagen and Duck. Plus all those Italian Dons he used to be so friendly with.