Britain's Bloodiest Dynasty, Channel 5 |

reviews, news & interviews
Britain's Bloodiest Dynasty, Channel 5
Britain's Bloodiest Dynasty, Channel 5
Horrible history and medieval mayhem as the Plantaganets get the soap treatment
Thursday, 27 November 2014
Journey through the past: Dan Jones delivers history lite
Dan Jones has turned up to narrate the dramatised story of the Plantagenets in history lite mode, perhaps aimed at capturing a young audience. In Plantagenet country, as shown on TV, we witness a medieval version of soap opera family sagas where all hinges on an overbearing father, a conniving queen, murder, and general mayhem.
The tale, we were informed, was shocking, brutal, more astonishing than any fiction, and this ruling family, from its inception with Henry II of Anjou, became the greatest English dynasty of all time. (Tell that to the Hanoverians.)
Who knows what marketing guru decided this was the bloodiest dynasty, but there was very little blood on view. The notorious murder of Thomas Becket was presented as simply the result of an angry throwaway line by Henry II, taken all too seriously by the four knights who rode down to Canterbury to do the deed. And we were reminded that the consequences of this verbal accident meant that Henry lost his only true friend, and was in serious trouble too thereafter. He paid penance by walking barefoot in pilgrimage to the murder site in the cathedral (turbulent priest cops it, below).
There were some fascinating facts along the way; we were reminded by clever mumblecore dialogue among courtiers and royals that the élite spoke French and Latin rather than any form of English, for then as now the kings of England were not English. Henry's Eleanor of Aquitaine was 10 years older than her husband, and married him just a few weeks after her marriage to the French King Louis VII was annulled. She bore him six children, including four sons, and finally returned to France and aided two of her sons in their unsuccessful rebellion against their father who had so adamantly refused to share either power or property with his progeny.
England and France were mostly connected by Dan Jones gesticulating in a small motor boat, which we assume was bouncing about in the English Channel. Atmosphere was provided by a lot of mounted soldiers jostling about, their armour glinting in the pale light and silhouetted against a livid sky. We had a sightseeing tour of various ruined castles, and a commentary that fearlessly deployed as many clichés as possible. For starters, here was a date with destiny, Henry forged England as a nation, he was an empire builder, Becket found God in his corner, Henry's sacrilege "went viral", and finally Henry, at a point when he had defeated all of those out to end his reign, from the Scots to his own sons, was described as being "on a roll".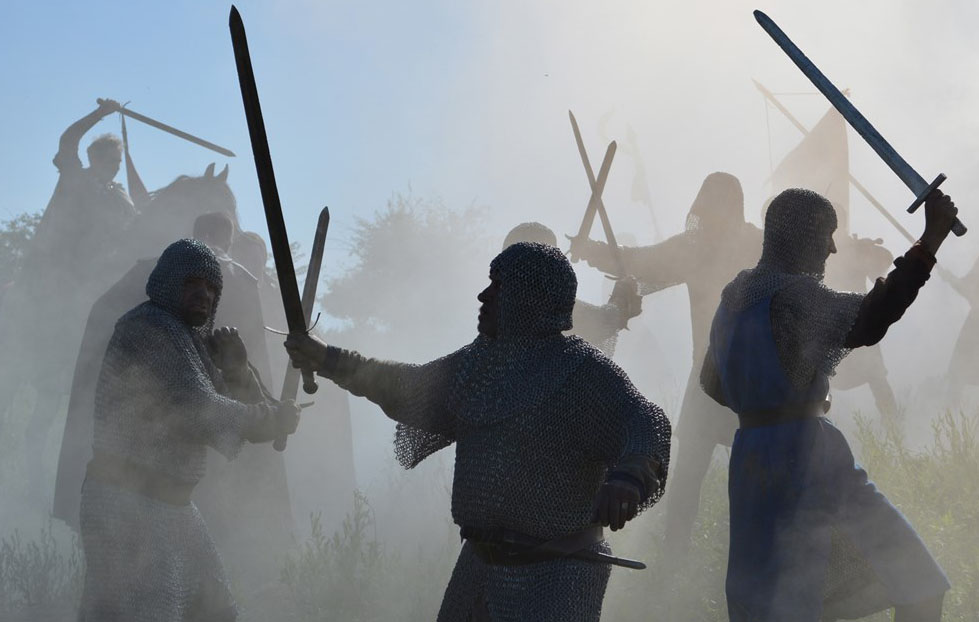 However painfully inelegant all this might be, the programme had some saving graces. The inhabitants of the court looked pretty rough and ready and would not have won any beauty contests. The views of landscapes and ruins were alluring, although there was too much galumphing through forests on horseback to show how people got around. The sites of long-ago sieges and battles were threaded through the visuals to show us where Henry defeated the barons who for decades had had their way, burning, looting, raping and killing, and defying royal rule in the process. He more or less invented a civil service, with a whole cadre of clerks, as he was also a control freak with everything written down in an excess of micromanagement. It was fascinating to see on screen several of the actual documents of the reign, now housed in the National Records Office.
This first instalment ended on a poignant note. When Henry at long last surrendered to the demands of his son Richard, he was so ill he had to be strapped to his saddle, and died a couple of days later, in his mid-fifties. We have here though a tale of 12th century carry-on told all too simply. A gaggle of ruddy-faced knights, lit by candlelight, and muttering incomprehensibly, did not make for a gripping historical saga.