Broadchurch, Series 3, ITV |

reviews, news & interviews
Broadchurch, Series 3, ITV
Broadchurch, Series 3, ITV
Odd-couple cops tackle their final case on the Dorset coast
Tuesday, 28 February 2017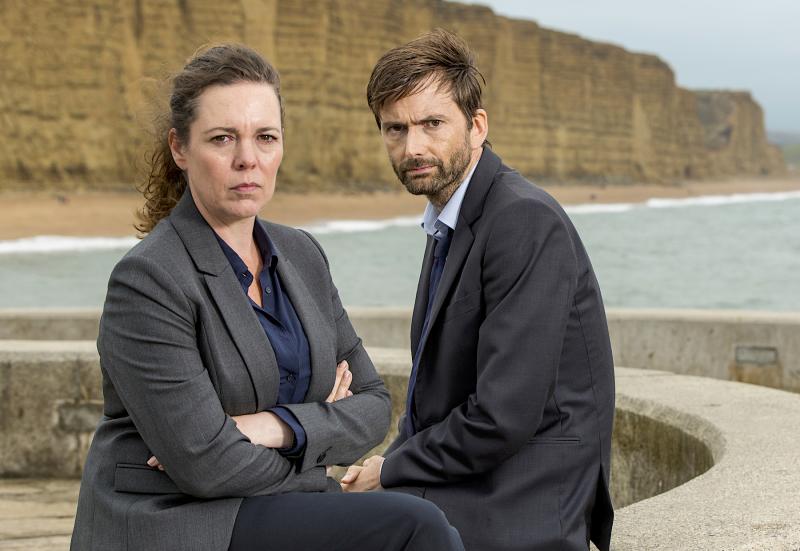 Oh, cheer up for heaven's sake. DS Ellie Miller (Olivia Colman) and DI Alec Hardy (David Tennant) back on the Broadchurch beat
The first series of Broadchurch was a gigantic hit four years ago, though 2015's follow-up suffered a bit of a slow puncture. Can this third and supposedly final outing restore the show to its former glories?
Episode one made a tidy and reasonably tense starter, though with seven more to go, you knew that whatever happened here was merely slapping on the undercoat for the (presumably) astounding and stunning revelations scheduled for later on by writer Chris Chibnall. Also, revisiting the same picturesque Dorset coastal town for the third time inevitably means its original freshness and idiosyncratic character now look a little faded, since much of the first series' allure depended on that crime happening in this place.
But here we are. Trish Winterman (Julie Hesmondhalgh, pictured right) was the slightly unlikely victim of a violent sexual assault, being a careworn middle-aged mother separated from her husband and living in suburban anonymity with her daughter. Broadchurch's star duo, DS Ellie Miller (Olivia Colman) and DI Alec Hardy (David Tennant), painstakingly tweaked out morsels of information from the traumatised Trish, and the script went to almost pedantic lengths to spell out how caring, considerate and sympathetic the various victim support services were. Nonetheless, Ellie and Alec were slightly nonplussed when it transpired that the victim had waited a couple of days before phoning in to report the crime.The trail had inevitably cooled, and the crime scene was surely compromised.
But, despite the victim's fragmented recollections, at least they managed to find the crime scene, which turned out to be a stately home called Axehampton House, now used as a venue for weddings and parties. Trish had been attending the 50th-birthday knees-up of her friend Cath, a co-worker at a local farm shop owned, as it happened, by Lenny Henry (alias Ed Burnett). Unfortunately she had no idea of what her attacker looked like, and there had been 50 men at the party. Always assuming she was attacked by a party-goer, of course (Sarah Parish and Mark Bazeley as Cath and Jim Atwood, pictured below).
So we don't know much, though we've learned that Trish was tied up with fisherman's twine and the attacker wore a condom – and what a strange coincidence that Cath's husband Jim should have a packet in his glove compartment – but once again there was melancholy and menacing background music by Ólafur Arnalds, and the Dorset scenery can't help being easy on the eye. Colman and Tennant have evolved an amusingly peevish and impatient banter between themselves, though maybe it's just as well Broadchurch is ending before they can turn into Dempsey and Makepeace.
As for shoehorning in Broadchurch veterans Mark and Beth Latimer (Andrew Buchan and Jodie Whittaker), it felt more like a contractual obligation than a dramatic necessity. And they seem to have condemned poor Buchan to a condition of permanent one-dimensional misery.
Colman and Tennant have evolved an amusingly peevish and impatient banter between themselves
rating
Explore topics
Share this article