The Child in Time, BBC One review - lost in translation |

reviews, news & interviews
The Child in Time, BBC One review - lost in translation
The Child in Time, BBC One review - lost in translation
Ian McEwan's novel doesn't feel entirely comfortable in this TV dramatisation
Monday, 25 September 2017
Kelly Macdonald and Benedict Cumberbatch as bereft parents Julie and Stephen
Apparently this is the first time an Ian McEwan novel has been dramatised for television, but whether The Child in Time was the best choice for that singular honour is open to question.
It's watchable enough, but this version (made by
Benedict Cumberbatch
's production company SunnyMarch) feels like a precis of the book with a lot of the original's resonances and nuances only glimpsed from afar.
Maybe a three-part serialisation might have worked better than this 90-minute one-off, but if you're unfamiliar with the book (which won the 1987 Whitbread Novel Award) you may find yourself scratching your head and trying to work out how it gained its lustrous reputation. Its central story of a missing four-year-old girl, Kate, and the destructive effect her disappearance has on the marriage of her parents Stephen and Julie could hardly not be heartrending, and Cumberbatch and Kelly Macdonald handle the lead roles with an anguished restraint which is far more eloquent than outbursts of furniture-chewing hysteria would have been.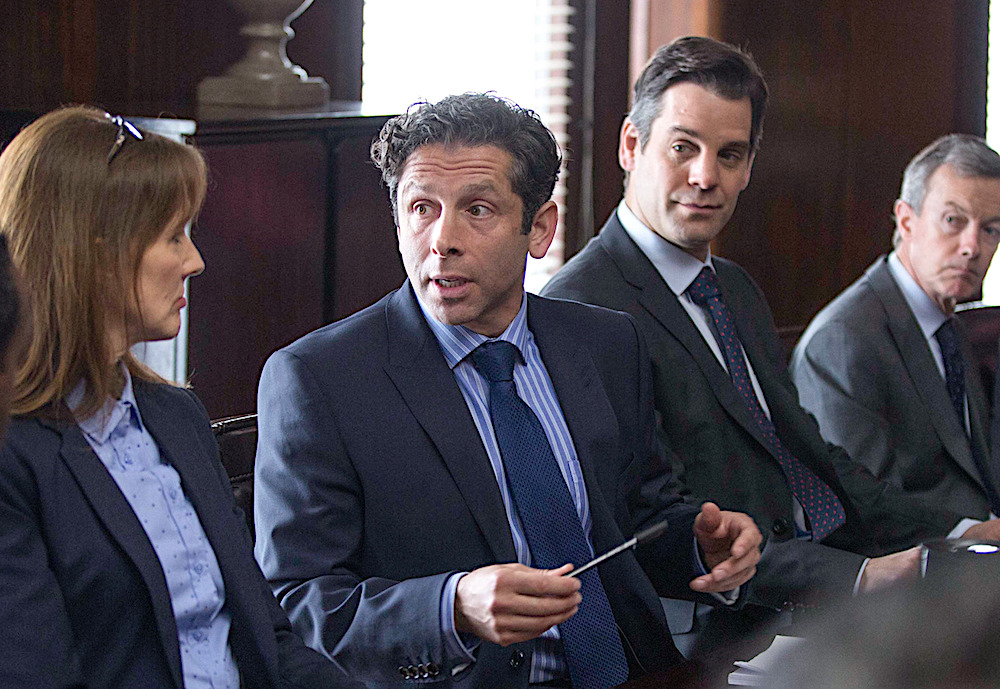 Some of the other strands feel less persuasive. The book dates from the Thatcher era, from which McEwan extrapolated a barren and authoritarian free-market Britain devoid of public services and ill served by a media browbeaten into compliance. In this 2017 telly version, however, all we get is a sneaky, untrustworthy PM (Elliot Levey) and his Dracula-like sidekick, the Home Secretary (John Hopkins, both pictured above), who are obsessed with writing their Authorised Childcare Handbook. This seems to prescribe notions of bringing up kids derived from Victorian workhouses or the Hitler Youth, where children have no right to childhood but should be raised in the service of the nation. Where this government came from and why it thinks in this way we're given no idea.
Meanwhile Cumberbatch's character, a successful author of children's books, attends meetings of the Child Education Committee whose deliberations will supposedly help to form the government's approach to the topic, though in fact the PM has already made his mind up. Integral to the mix is Stephen's closest friend Charles (Stephen Campbell Moore, pictured below), whose insights and encouragement as a publisher have made Stephen the successful writer he is.
It's typical of the somewhat smug metropolitan-elite world where the drama takes place that multi-tasking Charles is also a cabinet minister closely involved in developing the Childcare Handbook. However, despite his high achievements, he has suddenly decided to retire to his country home. Here, he pursues the childhood he feels he was denied by morphing into a demented hybrid of Christopher Robin and Bear Grylls, running through the forest playing war games and climbing trees. Curiouser and curiouser.
The story explores mystical dimensions of childhood, parenthood, grief and some kind of evolutionary destiny, though screenwriter Stephen Butchard has just planted a few signs and left us to work it out for ourselves. For instance, when visiting Julie, who has moved to the Kent coast in the aftermath of their daughter's disappearance, Stephen has a kind of post-dated premonition shared with his mother of his conception and birth. The child being father to the man, the boyhood version of Stephen makes a couple of hallucinatory appearances, which match the imagined glimpses of the lost girl which haunt him.
You can get the idea, but these assorted fragments feel like loose add-ons rather than integral parts of a unified whole. Still, there is never going to be a magic formula for transposing the allusive, imaginative world of fiction into screen drama.
The Authorised Childcare Handbook seems to prescribe notions of bringing up kids derived from Victorian workhouses or the Hitler Youth
rating
Explore topics
Share this article