Clickbait, Netflix review - fiendishly cunning thriller keeps everybody guessing |

reviews, news & interviews
Clickbait, Netflix review - fiendishly cunning thriller keeps everybody guessing
Clickbait, Netflix review - fiendishly cunning thriller keeps everybody guessing
The dark side of social media under the spotlight
Saturday, 04 September 2021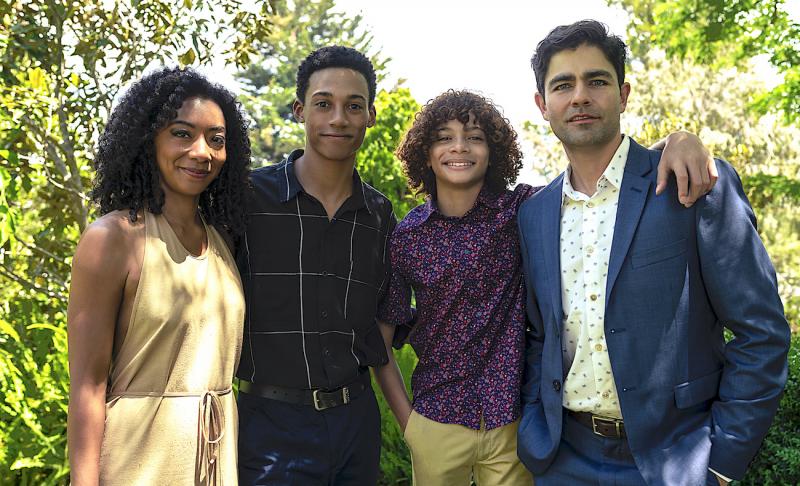 The Brewers in peril: Nick (Adrian Grenier, right) with Sophie, Ethan and Kai
It seems Covid-19 may not be the only plague threatening mankind.
The virus is nowhere to be seen in
Netflix
's grippingly twisty mystery
Clickbait
, but it's the use and abuse of
social media
that drives its tale of malice, murder and deception.
The journey of one of the central characters, Nick Brewer (Adrian Grenier), mirrors the switchback ride of the narrative as it jumps between viewpoints and keeps throwing a new light on aspects of the story. Nick is a physical therapist at a school athletics department, apparently a popular guy with a perfect wife and two kids. Imagine everybody's horror when a video of a bloodied, battered Nick appears online, holding up placards saying "I abuse women", "I killed a woman" and "At five million views I die". Welcome to snuff-clickbait, and while Nick's wife Sophie (Betty Gabriel), pugnacious sister Pia (Zoe Kazan) and the cops race desperately to find Nick, seemingly the whole dumb, titillated world keeps clicking on the video, thus bringing Nick's threatened death hurtling closer.
So Nick is the victim, but if the placards he's holding up are true, is he also a villain? When evidence begins to emerge that seemingly-saintly Nick has been conducting a string of affairs with different women via several online dating accounts, all under different names, clouds begin to gather over his head as his reputation is trampled underfoot. When one of the women, Emma Beesly (Jessica Collins), comes forward to talk about her affair with Nick and her love for him, his goose is seemingly cooked (pictured below, Zoe Kazan as Pia with Phoenix Raei as Detective Amiri).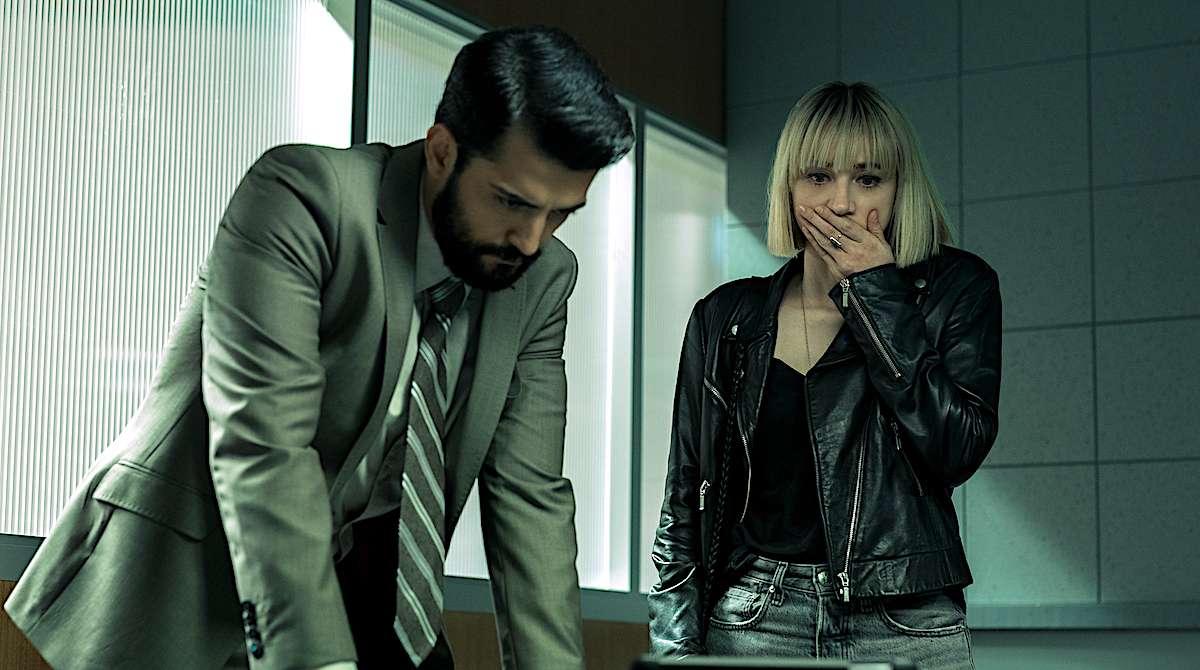 But you ain't seen nothing yet. As the show's eight episodes unspool, creators Tony Ayres and Christian White probe different aspects of the online world and its real-life repercussions. They question the extent to which "real" life is becoming secondary to digitised proxies where it's impossible to separate the facts from the fakes, a space where an idyllic wifi love affair trumps a physical relationship. Social networks seem to be teeming with antisocial individuals, and the obsessive pull of smartphones and tablets is niftily illustrated by the way screen images are interpolated into the live drama, slipped in at various angles so they become integral to the action.
Nick's son Ethan (Camaron Engels) is almost permanently engaged in online messaging with a character known only as AL_2005, whether he's on the sofa, on the bus or at school, and panic begins to mount when he finally decides to confront the person behind the online handle. Events take a tragic turn with the story of Simon Burton (Daniel Henshall), whose sister Sarah is driven to suicide after being "catfished" online. Simon (who's employed, ironically, as an online content moderator) sets out to avenge her, with tragic consequences.
The writers deliver some powerful jabs at the media too, who camp outside Nick's home desperate to wheedle out something salacious for further vicarious consumption, online or off. An especially egregious case is Ben Park (Abraham Lin), a morality-free media shark who sees burglary and emotional manipulation as perfectly respectable, indeed crucial, tools of his trade. Mind you, his cynical editor is no better.
To say more would be to say too much, but the way Ayres and White handle their final-reel reveal is a masterclass in advanced whodunnitry. They even helpfully lob in a subsidiary could-be villain as a decoy. We are left to ponder whether Clickbait is itself clickbait.