Colin from Accounts, BBC Two review - winning mix of great performances, nuanced writing and a cute dog |

reviews, news & interviews
Colin from Accounts, BBC Two review - winning mix of great performances, nuanced writing and a cute dog
Colin from Accounts, BBC Two review - winning mix of great performances, nuanced writing and a cute dog
An Australian screwball romance delivers mature slice-of-life comedy
Harriet Dyer and Patrick Bramall
As Australia's greatest comedic export exits the stage, strewing gladioli, a promising contender for that title makes an entrance, trailing a dog on wheels. The dog is the titular Colin from Accounts, for the few who still haven't tried this exceptional, refreshingly mature comedy.
Why has this eight-parter from a husband and wife team seemingly overnight occupied a place in British hearts that even Canada's Schitt's Creek didn't manage until its last year of transmission? And that show had lockdown blues to speed it along. They aren't unalike: both have a core of geniality cut with a perky naughtiness, as well as great writing and winning performances, though one has a cute dog. (Colin is in fact played by two seriously gifted border terriers.) But really…?
Watching the series a second time is a revelation, not least because you get more out of the screwball dialogue, which is often so rat-a-tat fast that you can miss some of its gems at the first pass. This quality is at the heart of the show's appeal: it doesn't seem to be trying that hard, while actually accomplishing more in one scene than other comedies strain to achieve in a whole episode.
The show's creators/lead actors, Patrick Brammall and Harriet Dyer, have avoided sitcom tropes in favour of a kind of natural comedy-drama. There is no overt buildup to punchlines; one-liners are lobbed in almost casually, often delivered deadpan; and the romcom element is kept buoyant but never cloying. It's sort of slice-of-life comedy, like Detectorists, This Country and We Are Lady Parts, not a studio-bound confection.
For the newcomer, the conventional-sounding setup here is that fortysomething bachelor Gordon "Flash" Crapp (an ancestor removed the final acute-accented E, he insists) and Ashley, the twentysomething trainee doctor who cheekily flashes her right breast at him as he's driving, causing him to hit a runaway dog, dislike each other at first sight. Naturally, this changes as they are obliged to help with Colin's recovery and start getting to know each other.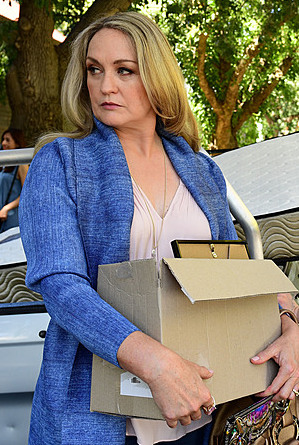 Brammall has an athletic build but a soft, ultra-flexible face reminsicent of the young Albert Finney's that's built for comedy, the upward flick of his eyebrows accenting his lines. Dyer's Ashley is slightly scruffy, and only her work hairdo, blonde Germanic tight plaiting (also worn like armour to a dinner party at her mother's), suggests she isn't always ditsy. What you don't notice at first is her deadpan-dry wit. She's slightly out of control off-duty, swigging on a tequila bottle stashed in her shoulder bag, yet clearly a conscientious doctor.
Gordon is secretly insecure in all departments, yet serious fun (in a great scene, the two of them impishly conjure up, impromptu, a shared family, to try to hoodwink Gordon's app date into believing Ashley is his sister. Is this what their script meetings looked like?). Gordon's tendency to be feckless, even selfish, is offset by his innate kindness and sense of humour; ditto Ashley, who is a tough feminist in some lights, an unhappy dumped girlfriend in others, klutzy and practical by turns, and always to be relied on for an apposite quip.
While the will-they-won't-they strand is motoring along (clearly they will, it's just when-and-how that's the audience bait), Brammall and Dyer's script peoples the scenario with a crew of characters who are almost worth series of their own, each one a gem: the roly-poly, sex-obsessed Samoan who works at Gordon's microbrewery and his angular female boss, whose bossiness has a soft underbelly, as Ashley's saturnine fellow doctor Megan discovers; Gordon's proctologist, a hammy old cove who watches golf during a cystoscopy and eats "biccies" as he delivers diagnoses over the phone; Ashley's slimy ex, James, and her creepy stepfather, Professor Lee. Not forgetting a vet called Yvette.
Best of all the secondary characters is Ashley's mother, Lynelle (Helen Thomson, pictured above), a glorious confection of coquettish cougar, New Age woo-woo and spoilt brat, whom Ashley has to parent. The scene where Lynelle tries to crash the deathbed gathering for Megan's grandmother, to give the old lady's spirit a good sendoff, is a classic, part of it played off-camera, which makes it even funnier.
There are too many great scenes and quick-fire exchanges to mention, and not to spoil. Let's just say Brammall and Dyer have given themselves some plums, variously involving turd-throwing, somnambulist incontinence, dick-pics, episiotomies and a cytoscopy. This sounds more like the kind of grungey, combative material Sharon Horgan might write, but it's weirdly charming. These two characters are so finely nuanced that a gratuitous gesture from either of them would stand out a mile.
What I particularly love is that the series embraces all the minor mishaps and indignities of our daily round, yet never descends into the comedy of embarrassment, whose casual cruelties can be taxing (am I alone in being able to stomach only one Curb episode at a time?). Yet when it needs to dig deeper and find serious values in among the detritus of Gordon and Ashley's lives, it does, poignantly, without making the move feel unearned. More, much more, please.