Deutschland 83, Series Finale, Channel 4 |

reviews, news & interviews
Deutschland 83, Series Finale, Channel 4
Deutschland 83, Series Finale, Channel 4
Reverse take on spy drama fraught with family upsets keeps the interest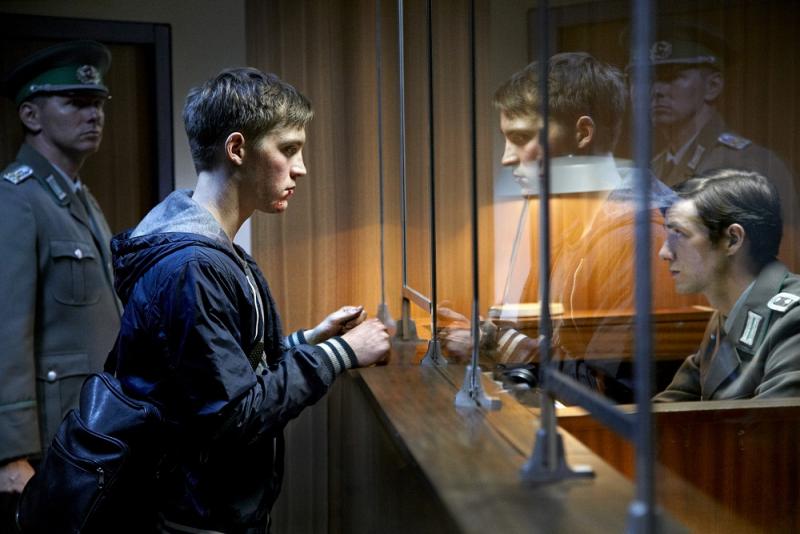 'Someone has to make sure that there's an East Germany to go home to': Jonas Nay crosses the border, again
Martin Rauch-stroke-Moritz Stamm, the reluctant spy who by the end of the final, double episode of this eight-parter had achieved more than most in that profession, managed the ultimate last night: he came in from the cold. In a series whose refrain could almost have been "You can't go home again", there he was back at the domestic hearth as if nothing had happened (except that his mother Ingrid was healed). Idyllic ending?
The irony heavy in the air, of course, was that five years or so later the home he had come back to – East Germany – would itself cease to exist.
If we became absorbed in Deutschland 83 – and viewing figures seem to confirm that we did – it was surely our engagement with Martin (to stick with his original name) that kept us going, as we followed his journey from innocence to experience, rather than the sometimes clumsy story structure he was caught up in. That's not so much an imprecation on the script from husband-and-wife team Anna and Jörg Winger, though: "fiasco" may have been the word of choice for some of the situations encountered along the way, but we came to believe that the trade of espionage, especially when it's being learnt on the hoof by an ingénu like Martin, can easily become a catalogue of narrowly averted disasters. (Though how General Jackson managed to maintain any composure in Alex's company after what happened at Lady Lola's is anyone's guess.)
As for Lenora, we'd hardly have been surprised if she'd started skinning dalmatians
The wide eyes of Jonas Nay in the lead role were ambiguous, the actor's slightly puppy dog face hard to read: there was both fright and innocence there, though a mask of concealment began to appear as he started to learn his tricks. We started liking him because he was awkward when confronted with life in the West, we were with him as he started to adapt; then we agonised as he learned to be duplicitous, questioning whether he'd become as bad as the rest of them (alas, poor, unlucky Linda). But his singularity returned when the final test came, and it was time for him to follow his conscience.
Because the implication was clear that, if he hadn't, Europe would have become the theatre for a pre-emptive Soviet nuclear strike, the consequences of which would have considerably reduced the likelihood of any of us being around to watch Deutschland 83 some three decades later. If for a moment we forgot that, we lost the urgency: those demonstrations for peace weren't just happening because of some insider machinations from the twitchy Lenora (Maria Schrader, pictured with Jonas Nay, below) or the controlling Tischbier (Alexander Beyer).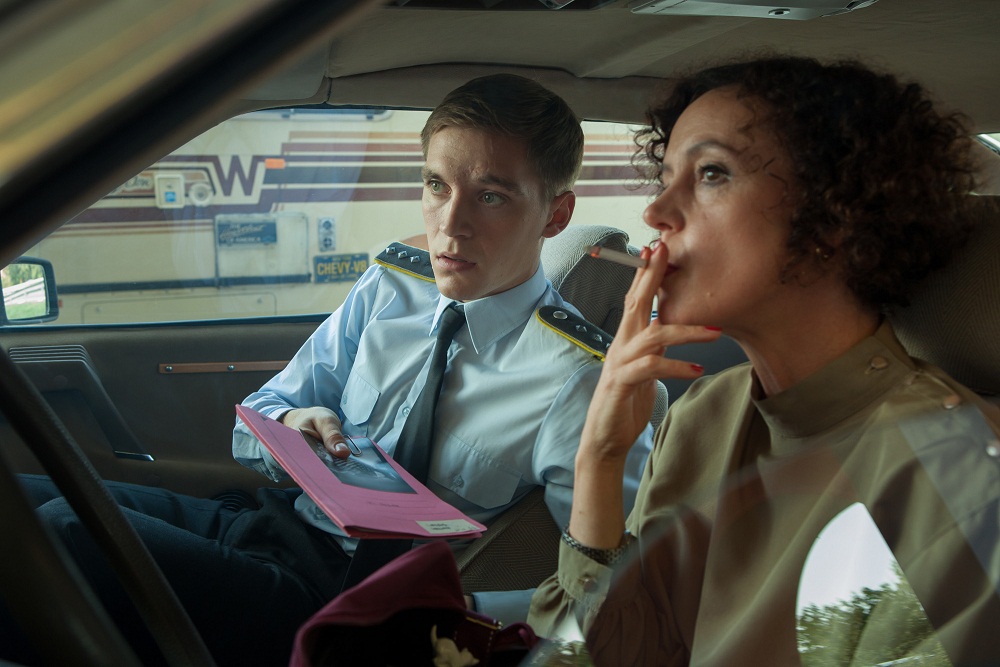 In the same way, we had to put those two schemers to one side when we considered East Germany itself. It provided the sometimes contradictory background fabric of life that Martin, Ingrid, Annett and the rest of them existed in, and believed in to the lesser or greater extent that everyday citizens anywhere believe in things as they get along with their everyday business. That's not getting misty-eyed about life under Communism: the specifics of health care choices for our central trio made it clear that getting by was rather more complicated for them than might be considered usual elsewhere.
We had to take it seriously, otherwise we couldn't appreciate what was changing. Episode six opened with Annett (Sonja Gerhardt) visiting Martin in hospital as he recovered from the transplant. She went through the standard Socialist promises of life for a newly married couple with first beby – we'll get a new apartment, a modern one, maybe a car too, she practically crooned, all thanks to your having served our country so selflessly over there. The ironies were rich: her innocence was compromised already, and he was more engaged in the walkman that was surely the thing in the West that had fascinated him most. He was right there: the musical choice of slightly past-their-best pop numbers from the period was glorious.
The top echelons of East Germany were harder to take on their own terms from the beginning, however, from the moment when Scweppenstette (Sylvester Groth) slipped Martin a Mickey Finn and broke his finger (we'll have to reconsider the Oedipal dimension of that after final-act revelations, as well as why the issue of Moritz's piano talents never surfaced again). After his dance improvisation last night there was no more taking Scweppenstette seriously, even as he did his damnedest to play out the Tom Lehrer scenario, "We'll all go together when we go." As for aunt Lenora, we'd hardly have been surprised if she'd started skinning dalmatians, so the revelation that she had a deus ex machina African lover and was hotfooting it southwards didn't shock (the fact that she'd managed to get herself a British passport, of the new burgundy variety, some years before they started being issued, remains to be saluted).
Compared with that, things in the West proved that tragedy and farce can come along concurrently after all, with the complete implosion of the Edel family illustrating history's first element in acceleration. They deserved something grander, you might have thought, more along Eugene O'Neill lines, rather than all that distracted driving between Bonn and Cologne allowed ("the security of the free world is at stake and your mission is to find Yvonne": lovely). Sobering that it wasn't only the nuclear mushroom but also the shadow of AIDS that hung over proceedings.
As writers the Wingers kept the bigger issues charged and family dramas stoked, but Deutschland 83 also excelled in its details and smaller, dafter plot elements. From the travails of East German intelligence trying to open a new format computer disc (pictured above) through their subversion by Worcester sauce, not to mention those Mata Hari-style high-kicks way back, at their best they were priceless. Whether they caught all the nuances of the bigger picture or not, the Wingers certainly got the texture of their time, and many are hoping they will be commissioned for a second series. Even if averting nuclear catastrophe will be a hard one to follow.