Disenchantment, Netflix review - Matt Groening show has promise after poor start |

reviews, news & interviews
Disenchantment, Netflix review - Matt Groening show has promise after poor start
Disenchantment, Netflix review - Matt Groening show has promise after poor start
Fantasy animation from the creator of The Simpsons lacks the quality of his best work
Princess Bean, Luci and Elfo form the series' protaganists
It's an event that only comes around once a generation: a new Matt Groening TV series. The Simpsons is rightly regarded as one of the greatest shows ever made. It changed the face of American television, and 10 years later was followed Futurama, a series that may lack the cross-demographic appeal of its predecessor, but consistently produced satirical masterpieces.
Now, with a vastly changed viewing landscape, Groening makes the jump to streaming giants
Netflix
with his new show
Disenchantment
. The question is, can lightning strike thrice?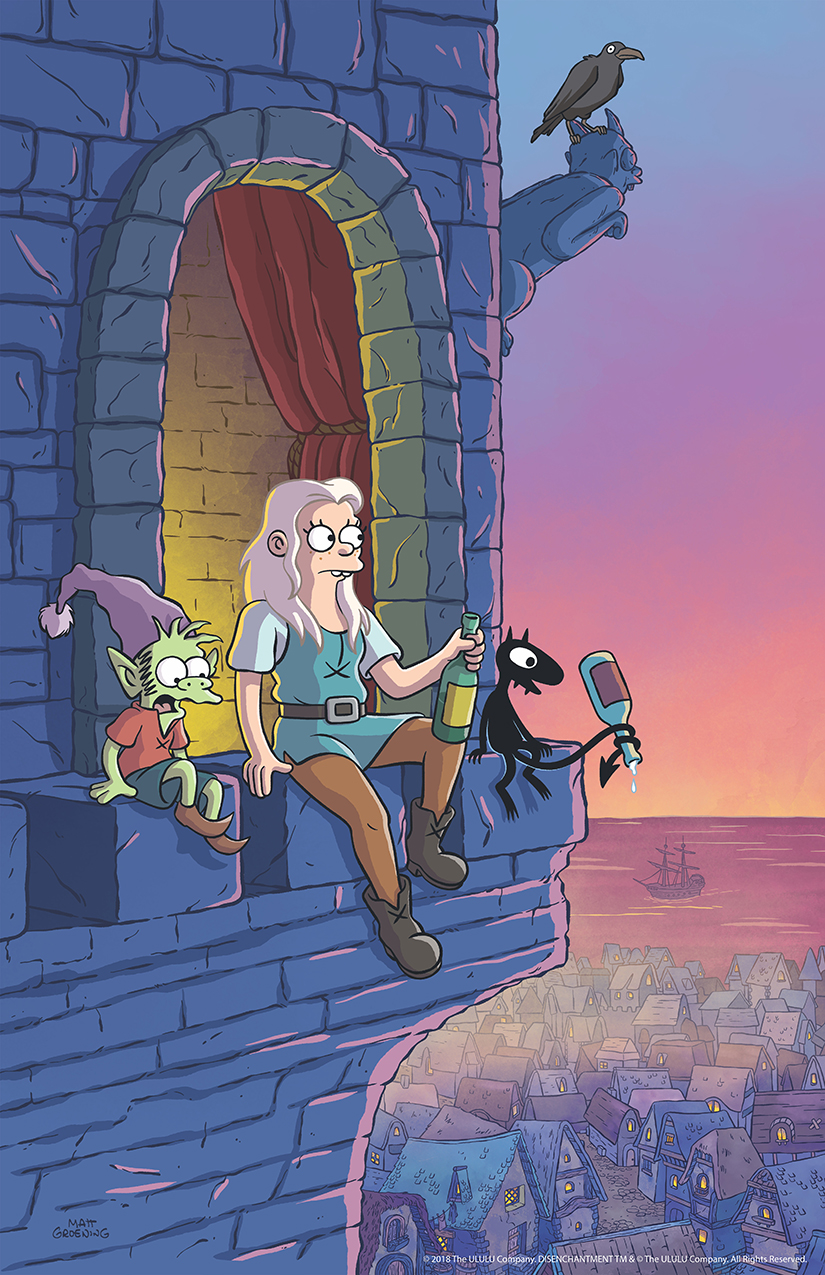 On first appearances, probably not. Disenchantment is a parody fantasy set in the imaginatively titled "Dreamland". Princess Bean (Abbi Jacobson) is arranged to marry a prince from a valuable ally nation, the only issues being her reckless drinking and complete disinterest in settling down. As her wedding day approaches, she meets her personal demon Luci (Eric Andre) and a happy-go-lucky elf named Elfo (Nat Faxon), and together they set out to avoid matrimony at all costs.
The first episode, written by Groening and co-creator Josh Weinstein, sets out Disenchantment's stall with character introductions and world-building. The only issue is: it's just not that good. Many jokes fall flat, the animations are uninspired and the music sits incredibly awkwardly. There are several chase and action scenes, but absolutely no tension in either the movement or the uninspired soundtrack. Even the characters lack engagement, whether it's the petulant Princess Bean or the inconsistent Elfo, who jumps from randy rebel to simple idiot between scenes. It is, in truth, a slog.
However, episode two is left in the hands of Futurama co-creator David X Cohen, and things start to settle into place. The fantasy setting is the graveyard for many comedies because it's so unrelatable (see Krod Mandoon and the Flaming Sword and Zapped); it takes an extra level of genius and stupidity to bring genuine laughs (Monty Python and the Holy Grail and Yonderland, for example). By the time you see an animated Matt Berry surfing his hareem of choral singing walruses into battle, those brilliant, ridiculous giggles start to come.
Disenchantment has potential, and occasionally strikes gold, but there's something it lacks from Groening's previous series. Both The Simpsons and Futurama cut to the heart of life in America, whether through its portrayal of working-class families or outlandish parodies of corporate and political greed. Disenchantment lacks that connection to the real world, and doesn't even take specific shots at our current cultural obsession with the genre, such as Game of Thrones or Outlander. It's fun and inconsequential, the very thing Groening's original shows changed about animation.
And television has moved on. Netflix is now home to the shows that picked up Groening's mantle: Big Mouth is a risky and heartfelt look at growing up, while Rick and Morty studies philosophy through sci-fi in ways Futurama only occasionally touched upon. By episode three of Disenchantment, it's clear the show has potential. However, there's a lot of development to be done if it's going to reach the same level as its predecessors, or indeed its contemporaries.