DVD: Dead Head |

reviews, news & interviews
DVD: Dead Head
DVD: Dead Head
Howard Brenton's mordant 1986 serial plumbs the depths of British establishment malfeasance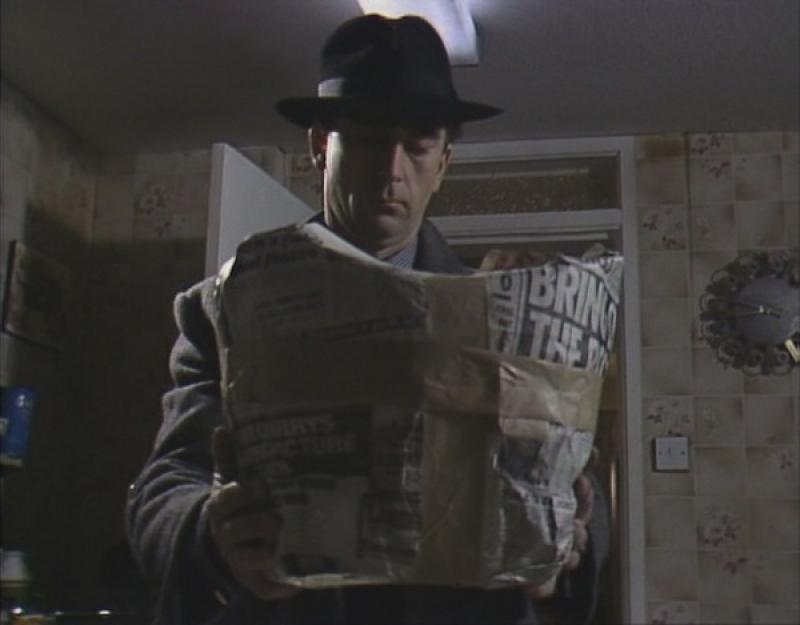 Gotcha: Eddie Cass (Denis Lawson) holds a Sun-wrapped Pandora's box in 'Dead Head'
British film noir followed two courses in the 1980s. Whereas the American neo-noir revival of the 1970s prompted such contemporary crime thrillers as The Long Good Friday, Mona Lisa, and Stormy Monday, three superior BBC drama serials, though also neo-noirs, drew more rigorously on Hollywood's classic noir era.
Troy Kennedy Martin's Edge of Darkness (1985) and Dennis Potter's The Singing Detective (1986) were acknowledged as masterpieces. Howard Brenton's Dead Head (1986) was admired but not lauded to the same extent. The red tops' predictable reaction to a sex scene that showed the woman's pubic hair and involved some mild S&M explained why the Beeb only aired the four-parter once.
Brenton and Walker subvert all the genre conventions
Dead Head's first-time release on DVD a week after Margaret Thatcher's death couldn't be better timed. The seriocomic conspiracy thriller-cum-picaresque, atmospherically directed on film and video by Rob Walker, uses noir's tropes parodically "to reflect," as Brenton said, "the wretched particularities of Thatcher's Britain," especially racial tensions and the polarizing of the classes.
The protagonist and voice-over narrator is no Chandlerian gumshoe but a dumbly philosophising Sarf London crook and royalist, Eddie Cass (Denis Lawson), who is led deliberately by government goons to believe that he's sought for a series of prostitute beheadings perpetrated by a pillar of the establishment. (Brenton was presumably inspired by the myth that the Duke of Clarence was Jack the Ripper.)
Little realizing he's protected by his estranged wife, Dana (Lindsay Duncan), who's the killer's favourite whore, the hapless Eddie traverses a dystopian Britain of rotting inner-cities and Downton-esque piles owned by corrupt aristos. The cryptic third episode, set in an idealized ghetto retreat, almost slips into abstraction but Richard Hartley's electronic score sustains the menace.
An earringed MI5 archpatriot (Simon Callow) torments and protects Eddie; his shaman-like West Indian best friend (Norman Beaton) revives and betrays him; and two languid upper-class trollops (Tacy Kneale – the "Girl in the Wellies" of Daily Mirror fame – and Leonie Mellinger) seduce him, lust fleetingly overcoming the great divide. Dana is this noir's femme fatale, though Brenton and Walker subvert all the genre conventions, finally obliterating the Expressionistic murk with a blaze of tropical colour. A thing of joy, Lawson's everyman, the "traduced" weasel who exposes and mirrors the general venality, holds it all together. "Queen an' country," he enthuses, his pronuciation of "country" giving pause.
Watch Denis Lawson and Larrington Walker in a clip from episode one