Episodes, Series 2, BBC Two |

reviews, news & interviews
Episodes, Series 2, BBC Two
Episodes, Series 2, BBC Two
Matt LeBlanc, Stephen Mangan and Tamsin Greig return in Golden Globe winning culture-swap comedy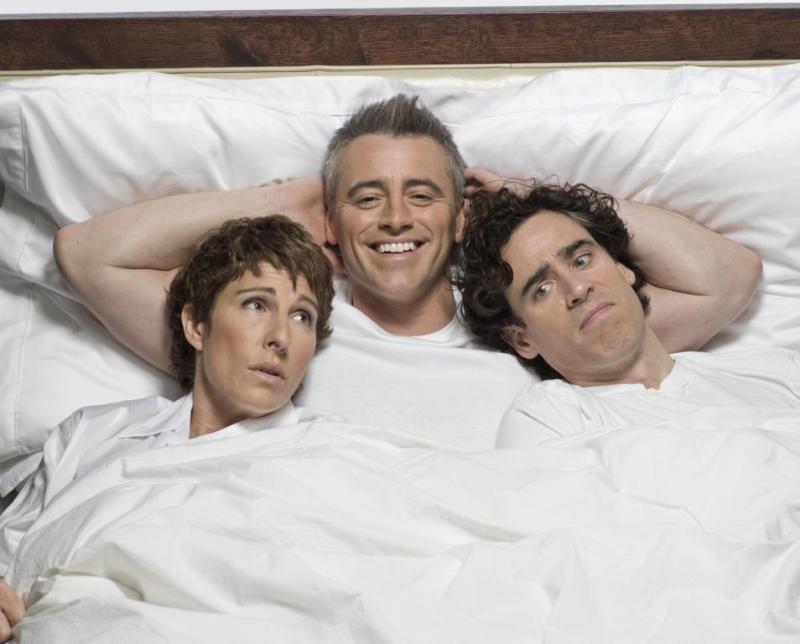 Three in a bed: Tamsin Greig (Bev), Matt LeBlanc and Stephen Mangan (Sean) return in 'Episodes'
There have been some highly unlikely couplings in the long history of television comedy, but the one between Debbie from The Archers and Joey from Friends in the first series of Episodes ranked somewhere near the top of the list. If the viewers struggled to be convinced by that oddly implausible tryst, at least we weren't alone.
It turns out
Tamsin Greig
's character Beverly Lincoln can't quite believe it happened either.
It is Bev's bout of improbable (and – as it transpired – unjustified) revenge sex which is destined to hang like a smoggy sky over series two of Episodes, the Golden Globe-winning BBC-Showtime co-production that first aired in 2011.
Morning gave Sean the kind of birthday kiss that could easily double as a Christmas present
In the first series, husband-and-wife writing/production team Bev and Sean Lincoln (Stephen Mangan) were poached by the Hollywood top brass to remake their thoughtful, BAFTA-winning UK sitcom Lyman's Boys for US television. Fast forward a few weeks and they both had walk-on roles in a grandstand production of Dumbing Down in Beverly Hills: Richard Griffiths' tea-smoked housemaster was replaced by Matt LeBlanc's brash hockey coach; the title became simply Pucks!; at LeBlanc's suggestion, the original's unremarkable lesbian librarian was replaced by a rampantly unbuttoned bi-curious babe. In short, the lofty ideals of Lyman's Boys went swiftly down the pan and the Lincolns' relationship rapidly followed suit.
This opening episode caught up with the action four months later. Following positive feedback to the pilot from test audiences – everyone involved has the good grace to be astonished – Pucks! had been commissioned for a full series. The reviews of the first show were uniformly abysmal ("Pucks! sucks!" "LeBlanc shoots Le Blank!") but the all-important ratings were through the roof.
Episodes hits the mark particularly well when its targets are the tawdry excesses of life in La La Land. There were some very funny industry-related gags, not least network boss Merc (John Pankow) and his PA-cum-mistress Carol (Kathleen Rose Perkins) having sex on his desk while roaring the ratings figures back at one another ("98 per cent retention! YES! YESSSS!"). Reliving the moment when Merc's blind wife (a compellingly odd character) unzipped him during a private home screening of Pucks!, LeBlanc said, eyes still wide with the wonder of it all, "Getting jerked off while you're watching yourself on TV - actors work their whole lives for that."
But because Episodes is paced and pitched just a few revs beyond realism, the test for this series will be whether it can pull off (cue gormless guffawing from LeBlanc) the will-they-won't-they aspect of Bev and Sean's relationship. Tortured by what they have created – "Why didn't we just stay at home?" – and yet still slowly being seduced by the lifestyle, the success of Pucks!, however short-lived, means they are destined – doomed – to prolong their stay in LA.
The fact that the survival of a show they both hate is the only way they can be together is a neat double-edged sword. Working as a unit but living apart, the sense of estrangement and entrapment was poignantly expressed (on Sean's birthday, Beverly got her PA to put his present in his car rather than present it herself). Aside from Sean's lingering hostility, there is a blonde, buxom and bold obstruction to their reconciliation in the form of LeBlanc's co-star Morning (Mircea Monroe, pictured above right), who gave Sean the kind of birthday kiss that could have easily doubled as a Christmas present.
The cast are excellent value – new character Wendy (Scarlett Rose Patterson) looks promising as a terminally distracted PA - but at the moment only Greig seems to be playing for genuine emotional stakes. Portraying an exaggerated version of his on-screen persona, LeBlanc's sweet, sex-obsessed shallowness is all that's required, but Mangan – a terrific comic actor - seems constantly to be toying with a smirk, devaluing some of the emotional currency you sense Episodes is striving for. Together, they've proved they can make us laugh; now - can they make us care?
The cast are excellent value, but only Tamsin Greig seems to be playing for genuine emotional stakes
Explore topics
Share this article