Episodes, Series Finale, BBC Two |

reviews, news & interviews
Episodes, Series Finale, BBC Two
Episodes, Series Finale, BBC Two
Second series of behind-the-scenes television comedy comes to a satisfying conclusion
Matt Le Blanc: possibly fielding a call from Labia
There are a few things wrong with Episodes, the comedy series in which Stephen Mangan and Tamsin Greig play a British scriptwriting couple who take their hit sitcom across the pond, but there's a lot more that's right with it.
Look beyond the horrible title sequence, in which a television script literally takes flight and flaps all the way from London to Los Angeles, and the ghastly parping music which transports you not to a sunny Californian TV studio but a low-rent BBC panel game complete with plywood set, and you'll find a show worth cherishing.
The second series finale provided a satisfying climax to assorted plotlines: the will-they won't-they prospect of reconciliation for Sean and Bev (Mangan and Greig), and the long-running yet doomed affair between their show's married boss Merc Lapidus (John Pankow) and his second-in-command Carol (Kathleen Rose Perkins), the stakes of which were raised since Carol's meeting with the network chief Elliot Salad (a deliciously seamy Michael Brandon) where it was revealed that "Man of the Year" Merc was for the chop (pictured below right). And, of course, Matt Le Blanc, who plays himself playing the star of Sean and Bev's sitcom, and the drunken tryst with his young stalker Labia (yes, Labia) on whom he'd previously taken out a restraining order.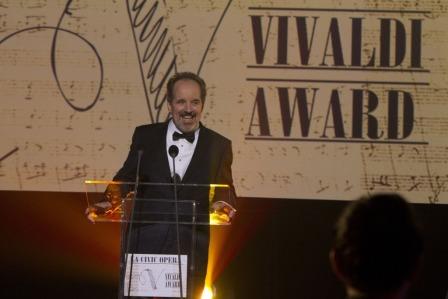 As this final instalment illustrated, the pleasure of Episodes is in the small details that a grander production would almost certainly overlook. There was the camera gliding over the autocue during Merc's speech after collecting his award, flashing up the words "When I had cancer…" In case anyone was getting carried away with Merc's rare burst of eloquence, it was a subtle reminder that this seasoned TV exec is well practised at emotional manipulation, whether with viewing audiences, industry types or his mistress. There was Daisy Haggard as the irretrievably dense script consultant, who, with her arsenal of bewildered grimaces, managed to turn a request for an olive into an inspired set piece of its own.
And, of course, there were the nifty one-liners, which have consistently buoyed the show even when the plot has seemed to flounder. Much of the tension in the final episode was based on the impending showdown between Merc and Le Blanc, after the former discovered that the latter had been sleeping with his wife. What you didn't expect was for it to take place at a urinal, with Merc getting an eyeful of Le Blanc's apparently sizeable goods and gasping: "You put THAT in my wife?"
Somewhat less appealing are the self-reverential gags which plumbed new depths when Andrew, a former associate of Sean and Bev's from London, smugly announced his latest TV creation - a show about a married British couple who bring their hit show to LA and promptly split up. These were the kind of show-within-a-show jokes that did for Aaron Sorkin's Studio 60 on the Sunset Strip.
It's a minor quibble, however, in a comedy that has undoubtedly hit its stride in its second series, and whose characters, with the exception of the cartoonish executives, manage to maintain our sympathies even when they are behaving like idiots.
The pleasure of Episodes is in the small details that a grander production would almost certainly overlook
Explore topics
Share this article