The Escape Artist, BBC One |

reviews, news & interviews
The Escape Artist, BBC One
The Escape Artist, BBC One
It's well cast and slickly shot, but legal drama is tangled up in clichés
Wednesday, 30 October 2013
Bumptious barrister Will Burton (David Tennant) living the high life with wife Kate (Ashley Jensen)
Most of us like a good legal drama, which is why there have been so many of them. By the same logic, finding a fresh spin or a new way of writing and shooting them inevitably grows ever-tougher.
The Escape Artist, a new three-parter written by Spooks veteran David Wolstencroft, has given itself a head start by casting David "Mr Box Office" Tennant in the lead role of the irritatingly clever and successful barrister Will Burton. He has all the usual perquisites that accompany this familiar TV archetype - sparky and adoring wife, photogenic offspring, penthouse apartment with spectacular views of central London, weekend country cottage, a Lexus and an Alfa-Romeo - and it's no wonder he sometimes feels a frisson of antagonism from jealous colleagues. From his jurisprudential rival Maggie Gardner (Sophie Okonedo, pictured below) for instance, who has been in too-clever Will's shadow since law school and would love to drag a screwdriver along his paintwork.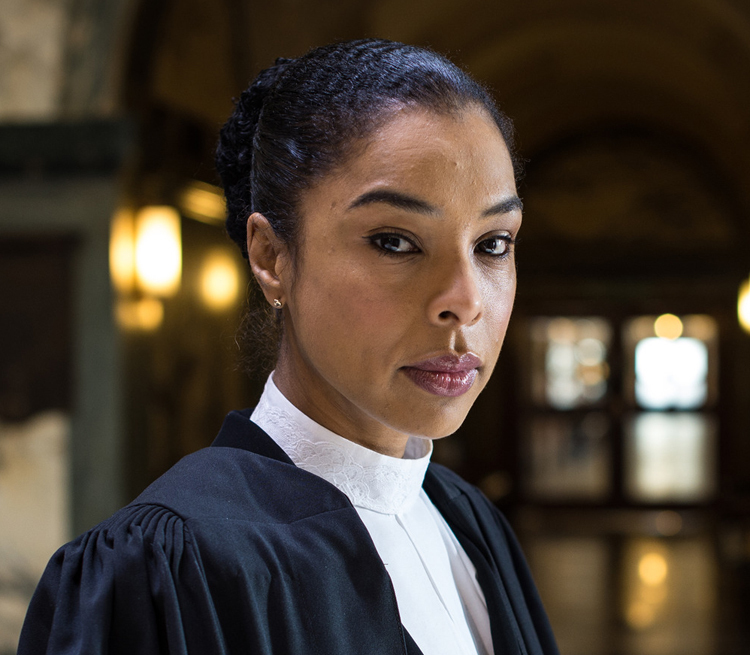 If our leading man is hardly an unfamiliar species, nor is our villain. He's Liam Foyle, played with gurning malevolence by Toby Kebbell. Will agrees to defend him when he's being tried for the rape, torture, mutilation and strangulation of a female victim, despite being barely able to keep his supper down when he peruses the photographs and nauseating details of the crime. Why would he defend such a person, asks Maggie? Because everyone deserves a defence, says Will glibly, but we can tell he knows full well that Foyle is guilty.
Will is able to play the system successfully enough to get the case thrown out on a technicality, and the episode seems to represent yet another step towards his goal of becoming a QC. But not so fast, Mr Burton. It seems that for this client, winning isn't good enough. He wants to drag Will through disciplinary procedures and have him stripped of his licence to practise. He'll stalk his wife and young son and maintain a steady threat of violence. And it seems as if he's perfectly willing to risk putting himself on trial all over again.
It's all stylishly lit and lensed, and there's a steady throb of menace, which rose abruptly as this opener whooshed to a climax. There's a rock-solid cast too. Tennant's etched, trapezoidal features may suggest that his face was designed for opening tins or slicing bacon, but he's about as plausible as it's possible to be as Burton. Okonedo smoulders with thwarted ambition, and there's seamless support from the likes of Anton Lesser, Roy Marsden and Ashley Jensen, the latter as Mrs Burton, perhaps not quite the permanent fixture we fondly supposed (below left to right, Toby Kebbell, Roy Marsden, Tennant).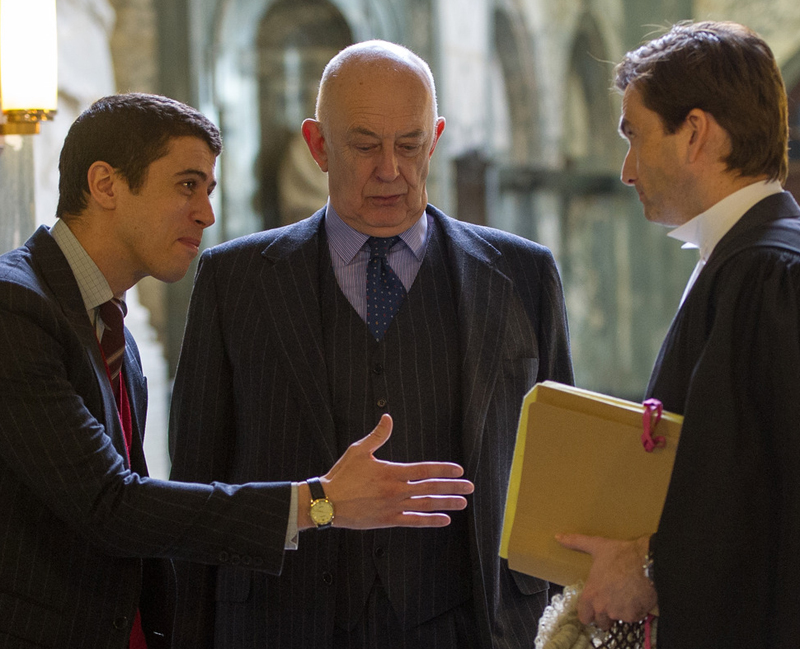 Yet I could take none of it seriously. Burton's climb seemed to have been engineered merely to have him fall off the top of it. His perfect family have obviously been designed to have a bomb chucked into their midst. We know the perp will keep on deplorably keeping on until about five-eighths of the way through episode three. One has to wonder, yet again, how on earth revolting murders and sadistic killers have been reduced to by-the-numbers schedule-filler.
Will Burton has all the usual perquisites that accompany this familiar TV archetype, and it's no wonder he sometimes feels a frisson of antagonism from jealous colleagues
rating
Share this article