Friday Night Dinner, Channel 4 review - predictable but fun |

reviews, news & interviews
Friday Night Dinner, Channel 4 review - predictable but fun
Friday Night Dinner, Channel 4 review - predictable but fun
Welcome return of the family sitcom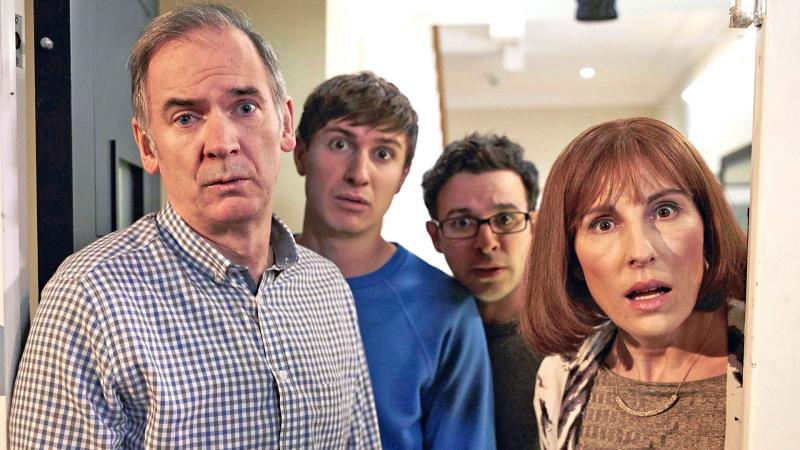 The Goodmans just want to enjoy their family meal in peace, but never quite manage it
The Goodmans are back - for a fifth (and rumoured possibly to be the last) series of Friday Night Dinner, Robert Popper's deliciously daft comedy set in a secular Jewish household in north London and based on the Peep Show producer's own upbringing.
Adult sons Adam (Simon Bird) and Jonny (Tom Rosenthal) instantly revert to their childhood selves when they return home to parents Martin and Jackie each week for a family supper. Martin (Paul Ritter) likes to stroll around shirtless while Jackie (Tamsin Greig) is obsessed with MasterChef and indulges her sons' unremitting sparring and pranking. And supper wouldn't be the same without an unscheduled and unwelcome appearance from creepy neighbour Jim (Mark Heap, pictured below) and his dog, Wilson.
Last night's opener, "The Other Jackie", started with Adam and Jonny arriving for dinner to discover Mum and Dad, glass of champagne in hand, enjoying their new hot tub in the garden, or rather, the "hot toilet" as the sons quickly dubbed it. It turned out the spell in the tub was a prelude to later "nippy nippy" – the parents' name for conjugals, which disgusted the boys no end.
The humour of each episode follows a well established pattern that the Goodmans just want a nice family evening in – last night with a takeaway that Mum and Dad insisted had to be ordered over the phone and then picked up by the boys as Martin "can't eat that internet food" – and it will fall apart with a lot of bickering and a fair amount of physical comedy as one calamity or other befalls them.
So Jim, as ever, threw a spanner in the works by asking the Goodmans to babysit Wilson, because he was going out on a date (there's a shocker) with Rosie Cavaliero's Jackie (pictured above), the kind of woman who laughs at things for no reason with a weird chuckle that goes on for too long. Cue furniture-eating dog and the family being lumbered with the dating couple after they had been drenched by the restaurant sprinkler system Jim had accidentally set off and he had locked himself out.
Some of the comedy was laugh-out-loud funny (Jim wearing a too-tight shirt Martin had lent him that restricted his breathing), but much that was telegraphed a mile off – although the rather dark twist about girlfriend Jackie was not and worked a treat. There's nothing groundbreaking or edgy about Friday Night Dinner, but like a favourite meal it always satisfies, even if it does repeat.
Jim, as ever, threw a spanner in the works
rating
Share this article