The Philanthropist, Trafalgar Studios review - 'Simon Callow's direction is underpowered' |

reviews, news & interviews
The Philanthropist, Trafalgar Studios review - 'Simon Callow's direction is underpowered'
The Philanthropist, Trafalgar Studios review - 'Simon Callow's direction is underpowered'
Revival of Christopher Hampton's academic satire lacks energy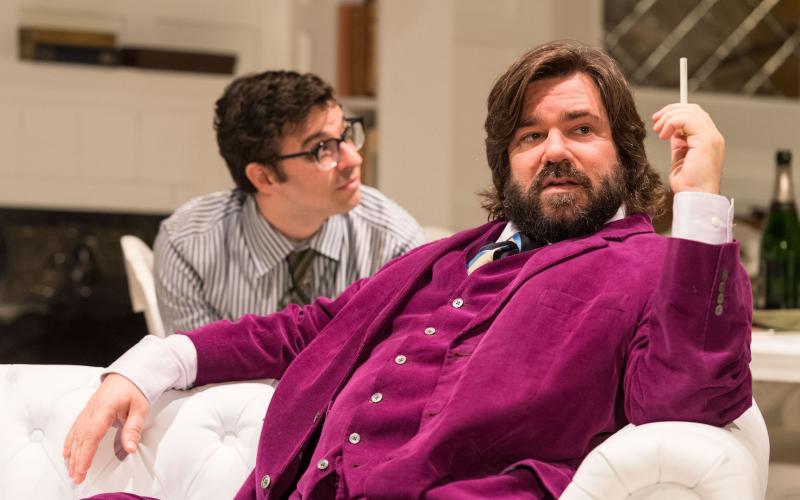 Simon Bird as anxious don Philip and Matt Berry as egotistical writer Braham
Christopher Hampton's witty comedy, first performed in 1970, ingeniously inverts Molière's The Misanthrope, centring as it does on a man whose compulsive amiability manages to upset just about everyone.
At the heart of the play is Philip, the polar opposite of Molière's Alceste, the man who turns scathing hatred into an artform. Here Philip is a anxiety-ridden bachelor don who seemingly likes everyone and who teaches philology because, he gaily offers, he lacks the critical faculty needed to teach literature. He's incapable of other things, too: he may be a man in love with words, but despite his witty anagrams, he's emotionally illiterate.
The first act centres on a dinner party given by Philip in his sterile all-white Oxbridge rooms; his guests are his brittle fiancée Celia (Charlotte Ritchie), sellout Lefty writer Braham (Matt Berry), and his friends the rather more cynical Donald (Tom Rosenthal), the silent Elizabeth (Lowenna Melrose) and the sexually voracious Araminta (Lily Cole).
The second act is about the evening's aftermath, as we see the seismic effects of everybody having ended up in bed with the "wrong" person the night before; two disastrous sexual encounters, and the start to one rather sweet love affair. The play is neatly bookended by two suicide scenes, one of which is a fantastic coup de théâtre.
The play starts as academic satire, as the supper party guests prattle on about nothing terribly much, cocooned in this particular echo chamber, barely referencing the murderous attacks on the Prime Minister and half the Cabinet earlier that day, while Braham's rampant ego is offended that he is not one of the 25 writers being targeted for execution by a terrorist group.
As the play darkens, however, we see Philip realise that his affability – the thing that he believes propels him through life – has cut him off from actually experiencing it in any meaningful way: "My trouble is, I'm a man of no conviction. At least I think I am." As he eventually, painfully, gives voice to his loneliness, he says if liking people is half the battle, in his case he chose "the wrong half".
Sadly, Simon Bird's Philip does not convince, and the last two scenes – which should cut like a dagger through the audience's hearts – have little emotional heft. Meanwhile, I was aching for Berry to go into full foghorn mode as the braying Braham, but his performance was frequently outshone by his purple suit. Ritchie (pictured above), however, is the best thing about the evening, making the most of an underwritten part.
What is already a wordy play seems longer than its 140 minutes and the cast perform with little conviction. Simon Callow's direction is seriously underpowered, and at times Libby Watson's gorgeous set holds one's attention rather more than it should.
The plays starts as academic satire, as the supper party guests prattle on about nothing terribly much
rating
Explore topics
Share this article