Great Continental Railway Journeys, BBC Two |

reviews, news & interviews
Great Continental Railway Journeys, BBC Two
Great Continental Railway Journeys, BBC Two
Portillo offers further evidence of life beyond the Westminster bubble
Thursday, 06 November 2014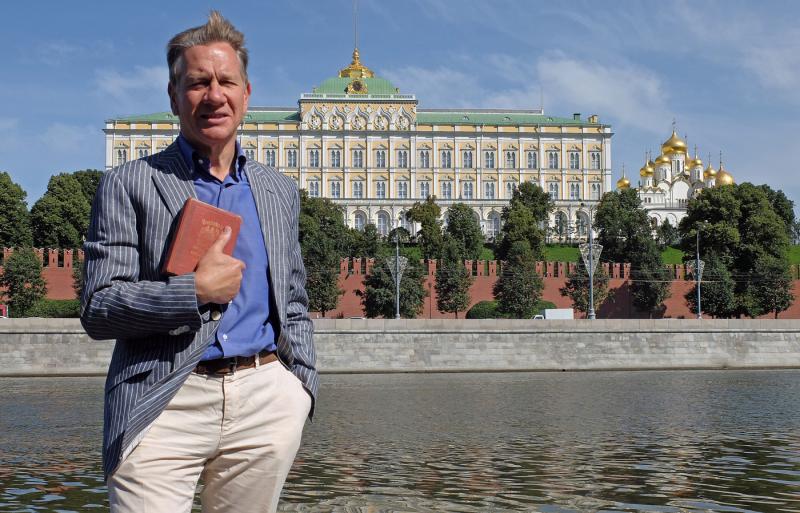 The new-look Portillo, wildly enthusiastic about everything (Moscow, in this case)
How odd to recall that Michael Portillo was the Thatcherite brat they loved to hate, the man whose 1997 defeat at Enfield Southgate would have caused a Twitter meltdown had the 140-character phenomenon been invented in time. Today's repackaged Portillo has blossomed in all directions, from being a stalwart on The Moral Maze and Andrew Neil's This Week to documentaries about capital punishment and mental health.
You could almost suspect he had something of the Lib-Dem about him these days, Euroscepticism aside of course.
And then there's his ongoing infatuation with railways. After four series of Great British Railway Journeys, here he is fronting the third incarnation of Great Continental Railway Journeys, which kicked off with this jovial perambulation around the rolling stock of Mother Russia ("Tula to St Petersburg", as it was subtitled). Portillo kept his disintegrating copy of Bradshaw's Continental Railway Guide from 1913 at the ready, which enabled him to highlight some piquant contrasts between Romanov Russia and the current model.
As a presenter, Portillo is wildly uncool and fanboy-like in his determination to be enthusiastic about everything. Yet it works, because he looks as if he genuinely is interested in the people he meets and the daft things he throws himself into doing. In Moscow, for instance, fortified by a glass of something pale and sparkly, he attended a display of traditional ethnic folk dancing and seemed delighted to be dragged up onstage for a rustic hoedown (personally I'd have fled from the room, screaming).
He flung himself whole-heartedly into a visit to the baths (or "banya"), where he was flayed with birch twigs, doused with a bucket of freezing water, and then energetically soaped by a chap called Yuri. "We will teach you, British man, how to wash," said Yuri disturbingly. On the train to Moscow, Portillo got the chefs in the very pleasant restaurant car to show him how to make a stuffed pancake/ravioli thing the way they do it in Dagestan. Apparently it was quite tasty.
There was a lot of historical stuff about Tolstoy and the Tsars, and many eager displays of Portillo's more-than-serviceable Russian, but it was his sartorial choices which provoked the raised eyebrow and the sharp intake of breath. As if to emphasise how far he has travelled from the days of the identikit dandruff-spattered Westminster dark suit, he burst into view in a canary yellow jacket and brick-red trousers, as if throwing down a challenge to the director of photography. Before long he was bounding into action in a grey striped jacket and white chinos as he went to view "some of Russia's most iconic edifices" – how disappointing that Portillo should have succumbed to the curse of "iconic" – though this was only to soften us up for the lime green jacket over pink shirt. There was a time when people were frogmarched to the gulag for less.
But times have changed. "I feel I've explored a new Russia!" he enthused, by way of conclusion. "I've had many surprises, received a warm welcome and had fun." Mr Putin didn't get a look in anywhere, but I suppose if he had, Portillo might have felt that he'd explored a slightly less new Russia.
'We will teach you, British man, how to wash,' said Yuri disturbingly
rating
Explore topics
Share this article