Imagine Rachel Whiteread: Ghosts in the Room, BBC Two review - making memories solid |

reviews, news & interviews
Imagine... Rachel Whiteread: Ghosts in the Room, BBC Two review - making memories solid
Imagine... Rachel Whiteread: Ghosts in the Room, BBC Two review - making memories solid
A revealing encounter with the shy artist who has so often made the headlines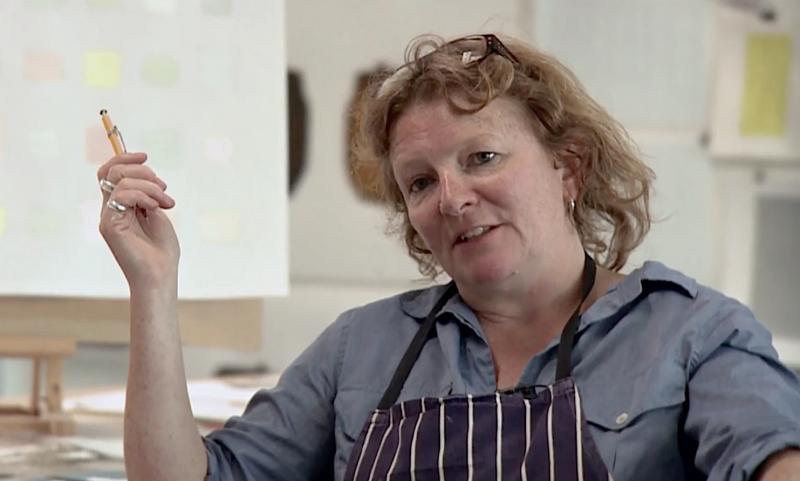 Rachel Whiteread: 'It takes a lot out of you and can leave big scars'
Eureka! A programme about a woman artist that doesn't define her as a wife and mother first and an artist second.
In fact, Rachel Whiteread's husband and two sons were mentioned only briefly in this excellent
documentary
that followed her career from 1988, when she began making plaster casts of furniture, through to the monumental public
sculptures
that have attracted so much controversy over the years.
The beginning was horribly predictably, though. First we saw footage of the Turner Prize ceremony in 1993, when Whiteread became the first woman to win the £20,000 award. Earlier that year she made a concrete cast of a house in Bethnal Green, that was earmarked for demolition. House (pictured below right) sparked a media frenzy; cue television coverage of its unveiling and the man who had lived in the house denouncing the sculpture as "a waste of money... just a load of concrete."
Return to the moment in the Turner Prize ceremony when Whiteread was summoned outside to receive a protest prize of £40,000, awarded by the K Foundation (which she gave away). At this point my heart sank; yet another shock-horror doc, I thought, about contemporary art and the war of words whipped up by the media.
But the mood quickly changed, with Whiteread sitting in her studio with Alan Yentob. I know from experience how difficult she is to interview because of her reserve; Yentob made her laugh, though, by pointing out that she won twice as much for being designated the worst artist in the world as for being the best artist in Britain. "I'm surprised you're still with us," he quipped. The comment turned out to be remarkably apposite, since Whiteread revealed she had a mini breakdown once House was demolished and the fuss had died down.
What followed was a sympathetic and insightful look at the work and Whiteread's motivation for making it. In 1988 she made a plaster cast of the interior of a wardrobe and covered it in black felt to evoke the comforting darkness she remembers from when, as a child, she hid in her parents' wardrobe. "It felt right," she explained of the work. "I'd found my place; I'd somehow managed to make memories solid."
And, in one way or another, she has been making memories solid ever since. Among the childhood recollections that feed into her work are helping her father lay a concrete floor in her mother's studio – she has since made casts of various floors. When her father lay dying, by way of a memorial she made a cast of the underside of a bed titled Shallow Breath (pictured left: Untitled (Amber Bed), 1991). Then came Ghost, the plaster cast of a room like those in her childhood home, followed by House, which turned an entire dwelling into a memorial.
Soon after, Whiteread was invited to create a holocaust memorial for Judenplatz in Vienna. Concrete casts of hundreds of books created an impenetrable library; but the design provoked opposition both from the far right and the Jewish community, and it took five years of wrangling before the sculpture was completed. "I never intended to become an artist that made public monuments; it just happened that way," Whiteread remarked ruefully. "You have to be emotionally equipped to do something like that. It takes a lot out of you and can leave big scars." Not surprisingly, when she created a sculpture for the fourth plinth in Trafalgar Square in 2001 (pictured below), it was resolutely devoid of content. A resin cast of the empty plinth, it questioned what or whom we might collectively agree to celebrate.
Meanwhile, she continued to make sculptures that were deeply personal. In Embankment, an installation created for Tate Modern in 2005, she paid tribute to her mother Pat, who was also an artist. Hundreds of boxes cast in white polythene occupied the Turbine Hall; their sepulchral presence recalled the mountain of boxes that she filled with possessions from the family home after her mother died.
Whiteread's most recent work memorialises her own career. To produce the papier maché used in Wall/Door, for instance, she shredded the morass of correspondence generated by House. Wall/Door was cast from a shed and refers to a series of concrete sheds located in out-of-the-way places, which she refers to as Shy Sculptures. In a sense they are self-portraits, and it is no surprise to learn that the artist has recently left London to live in an undisclosed location a long way from the hassle her work has often provoked.
The programme ended with Whiteread wistfully standing in the spot once occupied by House. Yentob was nowhere to be seen; thankfully, he remained relatively unobtrusive throughout, only putting in one gratuitous appearance – peering through the glass wall of New York's Museum of Modern Art at a rooftop sculpture by the artist. Maybe he, too, has learned that it's better to stay out of the spotlight.
I never intended to become an artist that made public monuments; it just happened that way
rating
Explore topics
Share this article