The Jihadis Next Door, Channel 4 |

reviews, news & interviews
The Jihadis Next Door, Channel 4
The Jihadis Next Door, Channel 4
Hair-raising investigation of Britain's home-grown Islamic extremists
Wednesday, 20 January 2016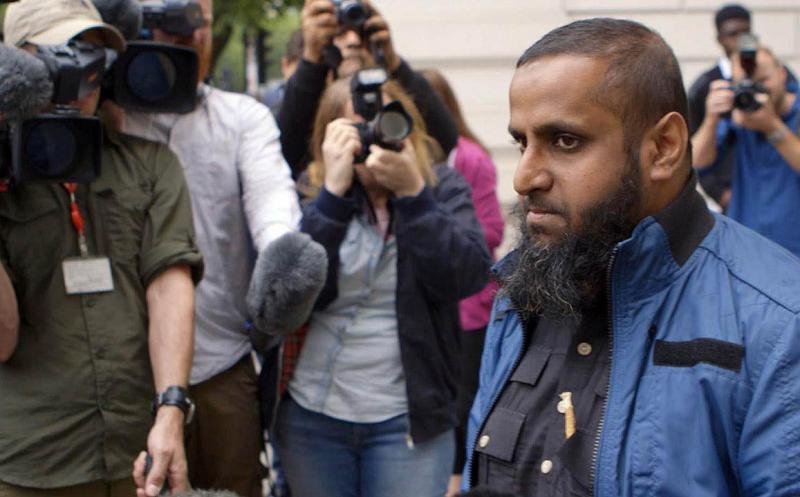 Mohammed Shamsuddin: 'We're going to arrest every single member of the Conservative party'
A year ago, Channel 4 aired Jamie Roberts's documentary Angry, White and Proud, the result of a year Roberts spent getting to know members of far-right splinter groups. Now here's the follow-up, this time the result of two years' research into Islamic extremism in Britain.
Amid the mountain of hair-raising material he came away with was the revelation he kept until last (except it had already been trailed fairly heavily, but never mind). This was that the man he'd come to know as Abu Rumaysah, who lived in Walthamstow and used to make a living by renting out bouncy castles for children's parties, is now "Jihadi Sid", the new masked executioner for ISIS. His identity hasn't quite been officially confirmed, but when Roberts saw "Sid" in action in the recent ISIS multi-murder video he had no doubt. Besides, as he reveals in the film, he'd been tipped off to watch it by Mohammed Shamsuddin, an ally of Rumaysah who's carrying on the radicalising work in London.
There used to be a smug assumption that the scare stories about "hate preachers" were all fictions whipped up by the Daily Mail, but unfortunately that isn't the case. These people – I should say men, since oddly enough they all are – are right here, right now, on a street near you, pouring scorn on our Great British democracy and proclaiming that we'll all (as in the entire planet) be under sharia law before long. Rumaysah was fond of holding up a placard saying "Democracy = Hypocrisy" (pictured above).
Shamsuddin was seen with his acolytes ouside the Regent's Park mosque, yelling that they were going to arrest everyone in the Conservative party and put them on trial "for their crimes against Muslims". It was an impressively energetic performance from a man who, according to Roberts's commentary, "has suffered with chronic fatigue syndome since he was 18 and lives on benefits". At least there was a glimmer of hope in the way that worshippers and imams from the mosque came out and angrily berated Shamsuddin's bunch of troublemakers.
Then there was Abu Haleema (pictured above), apparently an ex-bus driver and another person of interest to the security services. He's become a kind of celebrity for the radical recruitment videos he puts up online, and we saw young Asian men rushing up to have selfies taken with him when he was out ranting on Oxford Street. Strangely, Haleema came across as quite likeable, but then he'd go and spoil it by saying things like, "The aim of these videos is to radicalise people, it's to brainwash people, to clean their brain of the filth of the kuffar." He cheerfully predicted that when sharia law came, we'd be seeing public punishments of gay people or insufficiently-covered women, perhaps on Haven Green in Ealing where he happened to be at that moment. "If he's committed adultery then obviously he'll be stoned to death," he explained, of some hypothetical offender.
If people weren't being slaughtered in droves by ISIS and their global networks, all of this would have sounded too ludicrous to be true. A sequence where Shamsuddin and Haleema sat eating a take-away and chuckling at ISIS murder videos on a laptop could have come out of a Tarantino movie. However, they were careful to avoid proclaiming their outright support for ISIS, since careless talk could mean a 10-year stretch, though as Roberts said to Haleema, as far as he could see he was recruiting for ISIS, radicalising for ISIS and supporting ISIS. Despite the government's lumbering attempts to launch an anti-radicalisation strategy, western Europe looks about as able to defend itself against this wave of insidious, unfathomable horror as a tranquillised sheep being savaged by wild dogs.
Subscribe to theartsdesk.com
Thank you for continuing to read our work on theartsdesk.com. For unlimited access to every article in its entirety, including our archive of more than 10,000 pieces, we're asking for £3.95 per month or £30 per year. We feel it's a very good deal, and hope you do too.
To take an annual subscription now simply click here.
And if you're looking for that extra gift for a friend or family member, why not treat them to a theartsdesk.com gift subscription?