Joe Orton Laid Bare, BBC Two review - charming look at theatre's irresistible upstart |

reviews, news & interviews
Joe Orton Laid Bare, BBC Two review - charming look at theatre's irresistible upstart
Joe Orton Laid Bare, BBC Two review - charming look at theatre's irresistible upstart
Talent and personality shine through the BBC's celebration of Orton's life and work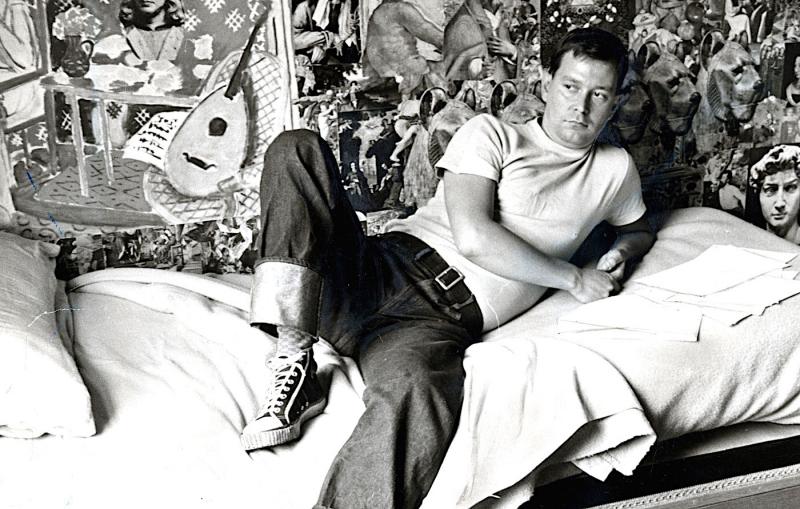 Joe Orton: razor wit and poetic eloquence
Laid Bare – it has a lurid implication which is all too suitable for Joe Orton's work. During a time where the straight-laced British struggled to ease into sexual liberation, Orton stretched acceptability to its very limits. Salacious acts had been going on behind closed doors long before the Sixties, but everyone hid behind a modest front.
In his brief career, Orton's
plays
challenged this hypocrisy with razor wit and poetic eloquence.
Despite the title, Joe Orton Laid Bare was not as scandalous nor revolutionary as his writing; indeed, it was a rather traditional piece of programming. The show comprised talking heads from family and friends, diary segments read by actor Bryan Dick, and selected works performed by a small cast. Not ground-breaking for a documentary on John Sullivan, never mind a writer as singular as Orton. But several aspects lifted it above the average bio-doc fare.
You can't help but notice the passion with which people talk about Orton. He was famously an engaging character, and friends and colleagues reflected on conversations, still enamoured with his personality. From the local librarian to the head of BBC Radio Drama, a smile grew across their faces as they reminisced, and you started to feel the draw of his magnetism flow through them. By the end of the 79 minutes, you too were in his orbit.
It felt heavy-handed to have Bryan Dick walk about London pretending to be the playwright himself
Laid Bare didn't waste time talking about Orton's upbringing; we jumped straight into him being jailed for defacing library books with rude images. Anecdotes lined up waiting to be told – secretly recording his mother behind a loaf of bread to inspire Entertaining Mr. Sloane; taking a stranger to department store toilets for a quick fool around; throwing his recently deceased mother's dentures at the cast of Loot. Not massive revelations, but all building up an irresistible image of the man behind the words.
As Orton's story was told, a cast including Antony Sher, Jaime Winstone and Freddie Fox threw themselves into new performances of his most famous works. It almost felt a shame to cut away from the rare treat of seeing his verse on the screen. Perhaps most special were the performances of Orton's unpublished works: a scene from his rejected Beatles script Up Against It, and a sketch entitled "Until She Screams", written purposefully to be as pornographic as he could imagine. What would he have thought of it being broadcast at 9pm on a Saturday on BBC Two?
Orton's partner and eventual murderer Kenneth Halliwell lurked in the background for most of the documentary, interviewees offering little detail of their relationship past disapproving mentions. However, the last 10 minutes did offer fascinating new insight into Orton's death. Several people blamed theatre producer Peter Willes – a man who constantly berated Halliwell, and even set him up with a psychiatrist to influence him. The implication is Willes hoped Halliwell would kill himself; no-one could have predicted he would take Orton with him.
Given the strength of Orton's personality and voice through the interviews and performances, it felt a bit heavy-handed to have Bryan Dick walk about London pretending to be the playwright himself. The diary readings offered some insight, but it was a pale imitation of the image everyone else had built up. An image of contradiction: at once a man of the moment, yet far ahead of the times.