Judi Dench: My Passion for Trees, BBC One review - an arboreal delight |

reviews, news & interviews
Judi Dench: My Passion for Trees, BBC One review - an arboreal delight
Judi Dench: My Passion for Trees, BBC One review - an arboreal delight
Into the woods for a deeply charming documentary journey through the seasons of the year, and Shakespeare
Thursday, 21 December 2017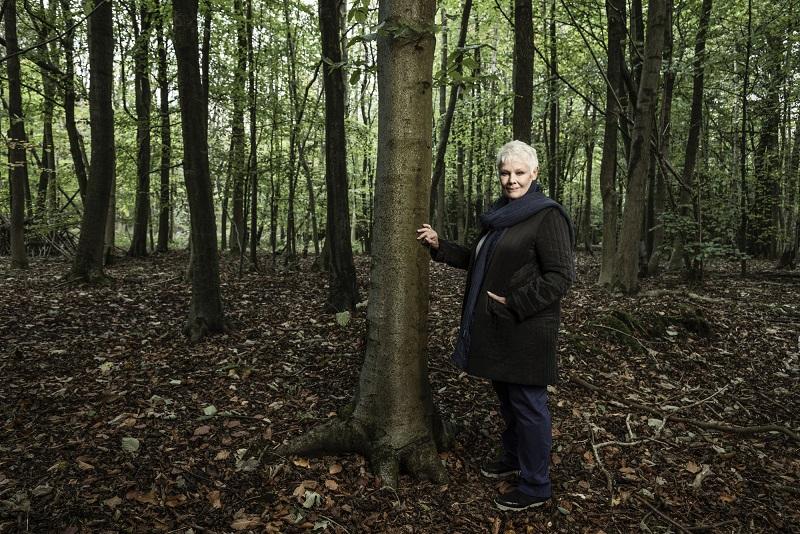 A lady and her trees
"I am going to find out how much my trees live, breath, and even communicate. I am Judi Dench, and I have been an actor for 60 years – but I have had another passion ever since I was a little girl: I have adored trees. My six acres are a secret woodland, and my trees are part of my extended life."
What a lovely introduction! In My Passion for Trees, we spent a year, condensed into an hour, with Dench in her Six-Acre Wood in Surrey. A national treasure speaking of national treasures, she was wide-eyed at the wonder of trees. Indeed, there are more trees on our planet than stars in our galaxy. Ms Dench is not above a subtle giggle either, making a face as she told us that her life now is trees – and champagne.
Arborglyphs are messages engraved into the bark of the trees: an ancient art
Dench plants trees for those who have died; her late husband Michael Williams is remembered by her favourite, an oak planted long ago; others grow for her brother, Ian Richardson, with whom she acted, and for Natasha Richardson (she was at drama school with Vanessa Redgrave, Natasha's mother). And for the living, too: there's one for her grandson, Sam, such new plantings somehow reminding her of those they commemorate.
Tony Kirkham from Kew told Judi, and us, that her county Surrey is the most wooded part of England, and that there are more deer in Surrey now than in the time of Elizabeth I. This was a programme that imparted masses of information, painlessly.
Winter is rest time for trees; no leaves, bark as arboreal insulation. Not all trees rest: the yew is very active, and has a kind of natural anti-freeze. It is also Europe's most ancient tree (a mere 140 million years, evidently). Yew leaves are poisonous to humans and they are found in cemeteries, where they can't harm the inhabitants. Tony took Judi to a Surrey graveyard which is home to a yew, 30 feet in girth, estimated at 1,500 years old, far predating the church and probably worshipped by Druids.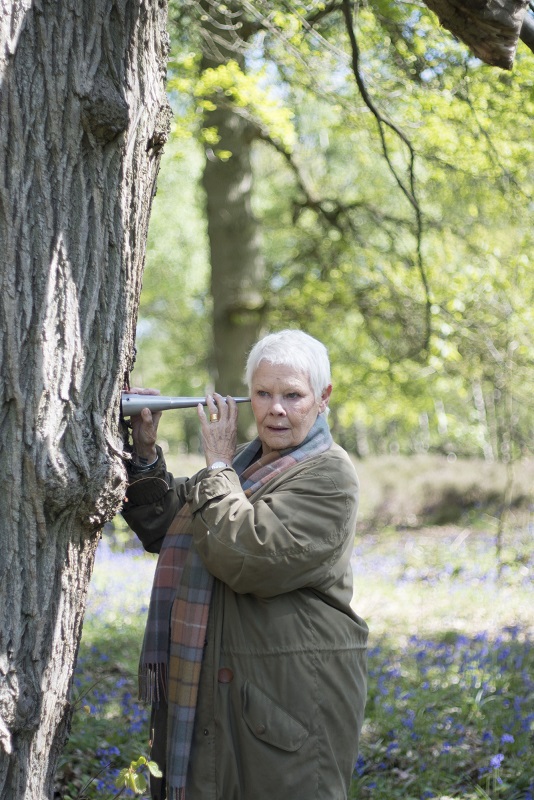 Spring came with time-lapse bluebells and daffodils bursting into bloom; bats, hedgehogs and dormice are the only British animals that hibernate, and their awakenings, along with wood ants building their nests, introduce the new season. (Dench the tree-whisperer, pictured right, by James Manisty)
We visited Oxford University's 40-foot-high office in Wytham Woods outside Oxford, and saw what defences trees have against their predators: hungry caterpillars, for instance. Pines fight against aphids by releasing a perfume that attracts ladybirds, which swoop on the aphids. There are wonderfully elaborate methods of pollination, bees, of course, the primary helpers – but so, it turns out, are squirrels, every buried seed they forget a new chance to grow.
Summer brought us to Judi's own favourite in her garden, a towering oak. Every inch of its circumference is a year, so Judi's oak is about two centuries old – just about when Wellington won Waterloo. Another scientist, Mat Disney, came in to estimate the vital statistics of her oak; the tree has about 260,000 leaves, the more to breath carbon dioxide and grow more branches, of which it already had some 12 kilometers worth (Mat's previous record had been nine). The oak's wood weighs about 25 tons – that much worth of carbon is absorbed.In between all this, the nation's favourite actress turned to her other passion, and recited seasonally relevant sonnets and speeches from Shakespeare. David Mills, her partner for the past seven years, is a conservationist, and they share a playful humour, tossing quotes from Shakespeare back and forth (Mills and Dench, pictured below).
Her memory is itself a marvel. In her 60 years of acting she has, she told us, appeared in more than 30 Shakespeare plays, so many set in woodlands: Ophelia was her first role, but alas not many trees there. In the 1950s it was As You Like It and the Forest of Arden. The Shakespeare expert Dr Charlotte Scott talked of how full forests are of romance. Arborglyphs are messages engraved into the bark of the trees: an ancient art.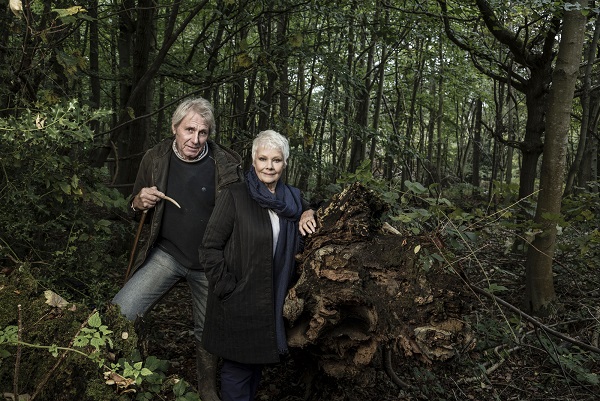 Archaeologist Chris Dobbs guided us to the greatest surviving wooden treasure of the Tudor age, the Mary Rose, commissioned by Henry VIII in 1509, and marking the birth of the Royal Navy. Its frame was made from 600 oak trees, their natural curving branches a gift to the boat-builders, and equivalent to 40 acres of woodland. Other fascinating touches in passing: the late great actor friend of Judi's, Robert Hardy – Henry V to her Catherine – was also, amazingly, the leading conservator of longbows, the machine-gun of the Tudor age, made from yew. Judi handled one of them, as well as a wooden nit comb.
Autumn arrived. Nothing really shuts down, instead a kind of woodland house-cleaning, the chief housekeepers the fungi, which recycle dead wood into nutrients for the trees. Threads of fungi link trees underground, and convey messages and information tree to tree.
Our guide Judi's favourite adjectives are "marvellous", "wonderful" and "mind-blowing". And so it was. And beautiful, too. If you want a soothing pause in this hectic time and a moment to escape from current news, take this journey. And hug a tree.
Dench plants trees for those who have died; her late husband Michael Williams is remembered by her favourite
rating
Share this article