The Last Kingdom, Series 3, Netflix review - idylls of the king |

reviews, news & interviews
The Last Kingdom, Series 3, Netflix review - idylls of the king
The Last Kingdom, Series 3, Netflix review - idylls of the king
Rousing Saxon chronicle goes from strength to strength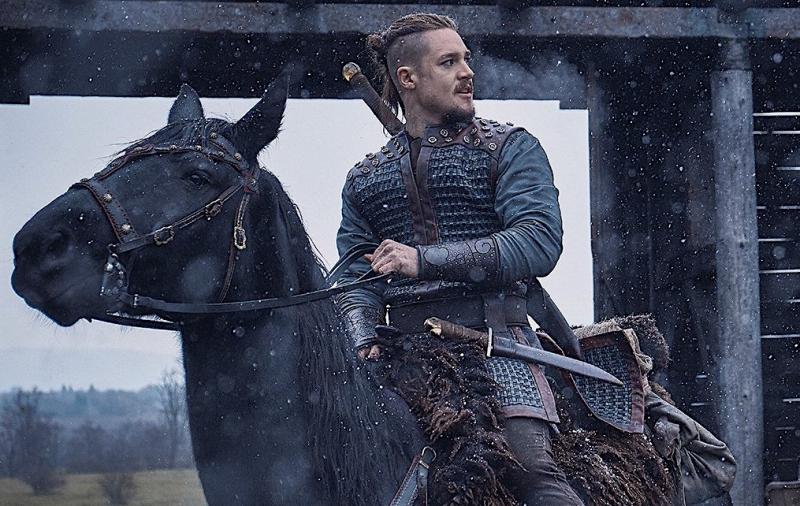 Heathen hero: Alexander Dreymon as Uhtred
Destiny is all. The first two series of The Last Kingdom debuted on BBC Two, but for series three it has been fully embraced by Netflix.
Global domination surely looms, since these latest exploits of Uhtred, the warrior who was born a Saxon but raised by Vikings, find the show hitting new peaks of throat-slitting, skull-crushing action and intense personal drama.
Mostly penned by lead writer Stephen Butchard from Bernard Cornwell's Saxon Stories, the action again takes us to a bleak and chilled ninth-century England (it's shot in Hungary). It's a land of mud, snow and woodland seemingly in the process of creating itself, where God's presence feels precarious and villagers are at the mercy of murderous Viking raiders. The arc of these 10 new instalments covers the long, agonising decline of King Alfred's health, while he tries to ensure that his fiercely-held vision of a Christian, Saxon Wessex as part of a stable English nation will survive him as his legacy.
Alfred (David Dawson, pictured above) still struggles to resolve his need for Uhtred, his indispensable battlefield supremo and military strategist, while experiencing an instinctive revulsion towards Uhtred the pagan worshipper of the Danish gods. The king tends to get superior and judgmental about those without true faith ("The simple mind of a Dane believes in signs," he snorts at one point), and he isn't helped by his shrewish, vindictive wife Aelswith (Eliza Butterworth), who never misses an opportunity to deplore Uhtred as an unreconstructed heathen and call for his head on a plate.
But Uhtred (Alexander Dreymon) has other concerns to preoccupy him. Chief among these is Skade (played by the unfeasibly-named Thea Sofie Loch Naess, pictured below), a bloodthirsty sorceress who contrives to hold him under a blood-chilling spell when she's not slaughtering helpless clerics. Skade gets plenty of screen time as she manipulates the appetites of not only Uhtred but a couple of hulking Viking chiefs too, notably Bloodhair (who soaks his hair in the blood of a newly-slaughtered horse before he goes into battle). Yet her pouty demonic-harridan shtick is a little too MTV to feel fully convincing, as if she just rode in from a Fields of the Nephilim video.
Far more compelling are the continuing stories of The Last Kingdom's principal characters. Ian Hart is splendid as Father Beocca, walking an awkward tightrope as confidant to both implacable king and headstrong Uhtred, but also apt on occasions to allow his own fiery temper to get the better of him in a most unpriestly way. The well continues to be poisoned by the wheedling and treacherous Aethelwold (Harry McEntire), Alfred's nephew who schemes constantly to beat Alfred's son Edward to the throne as the monarch's demise looms closer, but this time Aethelwold's luck is slowly running out. Fate has a varied menu lined up for Uhtred's adoptive brother and sister, Ragnar (Tobias Santelmann) and Thyra (Julia Bache-Wiig) – suffice to say that even Uhtred's broad shoulders sometimes sag under an ever-growing tonnage of burdens. At least he can count on a little light relief from his rogueish henchmen Finan (Mark Rowley) and Sihtric (Arnas Fedaravičius).
However, the Uhtred-Alfred relationship is at the core of the story, embodying the Danish-English dichotomy and ceaselessly pulled back and forth by the cross-currents of the besieged English natives and the relentlessly aggressive Norsemen. After they pair have survived a seemingly terminal rupture, there's an unbearably emotional scene when Alfred, reduced to little more than a whispering ghost by his consuming illness, at last admits that his achievements couldn't have been built without Uhtred's heroic efforts. Even so, he rather churlishly still hadn't included Uhtred in his Anglo-Saxon Chronicle. Both actors are surely due some award-winning action, but Dawson's portrayal of the king is magnificent in its clarity of focus and unrelenting intensity.