Line of Separation, All 4, review - handsome if soapy epic |

reviews, news & interviews
Line of Separation, All 4, review - handsome if soapy epic
Line of Separation, All 4, review - handsome if soapy epic
Deutschland 45? The division of Germany dramatised in three feature-length episodes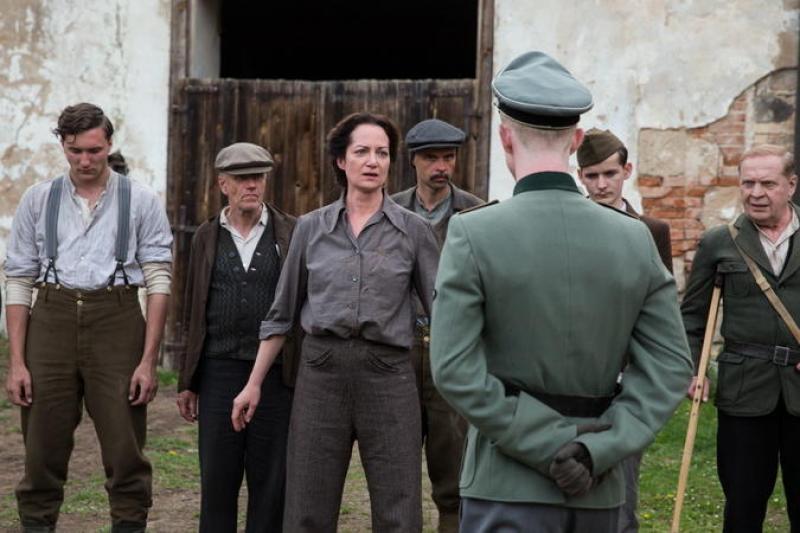 Countess von Striesow (Natalia Wörner) defies the SS in 'Line of Separation'
You don't see a lot of German drama imported to British television. France, Italy, Scandinavia, yes. But the biggest country in Europe is less of a player. The great exception – and it really was great - was Deutschland 83, a thrilling hit when shown on Channel 4. It was considered a flop in Germany, where it lost half its audience, but don't let that put you off if you haven't yet had the pleasure: it's still on All 4. Now the Walter Presents strand brings us Line of Separation, also on All 4, and you could be forgiven for thinking of it as Deutschland 45.
The overlap is partly one of casting. Jonas Nay, the elfin-faced double agent of Deutschland 83, is back, this time playing Friedrich Erler, a young refugee on the run from Berlin at the very end of the Second World War. He and his mother Liesbeth (Nadja Uhl) are accompanied by Lothar, a Jewish boy played by Ludwig Trepte, familiar as the errant son of the West German general. Neither seems to have aged but there's a reason for that: Line of Separation was aired in 2015, the same year as Deutchland 83. They will look a little older when the second series of each show arrive: both are due this year. (Ludwig Trepte and Jonas Nay, pictured below)
But there's another overlap. Both shows are about Germany's traumatic division. Line of Separation dramatises the moment when the victorious Allies met up in the middle of the Reich and carved the country in twain. In Germany the series was called Tannbach, after the brook which ran through a real village whose two halves ended up in different jurisdictions.
It's a crowded canvas. The main setting is the ancestral estate of Count Georg von Striesow (Heiner Lauterbach), who is lurking in the woods and wanted by the SS for deserting. His teenage daughter Anna (Henriette Confurius) discovers him when out riding and inadvertently triggers his exposure. The SS threaten death to every male in the village, including the column of refugees who have just trudged in from Berlin, unless he is handed over. The Count's wife Caroline (Natalia Wörner) throws herself in front of the firing squad but, in saving the men's lives, loses her own.
Soon the Americans are bearing down on the village, and the last Nazi loyalists are gunned down, all apart from the local SS officer whose mother feels deeply conflicted about his allegiance to the Reich. Others work out how to play the system. The Americans are reliant on a slippery local fixer called Franz Schober (Alexander Held) who has worked out how to save his neck and, up to a point, bury his Nazi past. Schober is the most intriguing character, and Held, whose face will be familiar from Downfall, gives the stand-out performance. "Sometimes I'm ashamed of you," says his wife Kathi (Johanna Bittenbinder), "how easily you shake things off."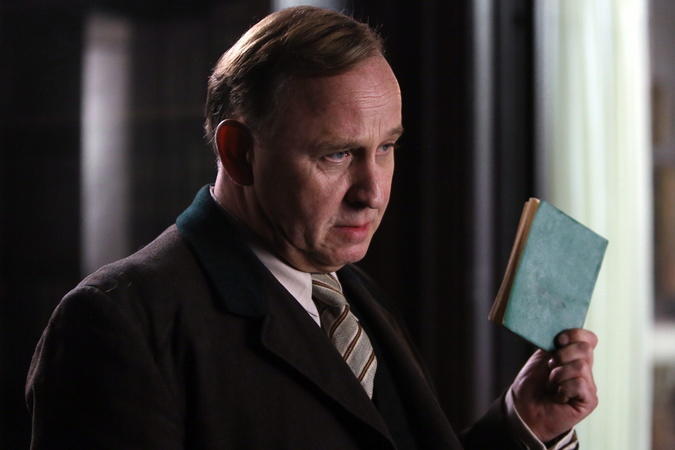 The first episode – each instalment runs to 90 minutes – is busy establishing a complex network of rivalries and alliances within the village and within families. The Americans are pragmatic good guys; the Soviets, who storm in at the end with a curt salute to the outgoing Yanks, are unremittingly brutal. Their first act is to gun down a family. In the most powerful scene, the villagers are summoned to a darkened room to sit in rows and watch genuine images of the freshly discovered Holocaust. "The Fuhrer never knew about this!" shouts an old retainer.
Based on an idea by Robert and Joseph Thayerthal, Line of Separation presumably itched at buried scars in the German psyche. To a British audience it plays out as a wartime soap opera on an epic scale with slightly too many pretty faces and well-nourished bellies to thrive as a documentary fiction.
Subscribe to theartsdesk.com
Thank you for continuing to read our work on theartsdesk.com. For unlimited access to every article in its entirety, including our archive of more than 10,000 pieces, we're asking for £3.95 per month or £30 per year. We feel it's a very good deal, and hope you do too.
To take an annual subscription now simply click here.
And if you're looking for that extra gift for a friend or family member, why not treat them to a theartsdesk.com gift subscription?