Lip Service: Series Finale, BBC Three |

reviews, news & interviews
Lip Service: Series Finale, BBC Three
Lip Service: Series Finale, BBC Three
Entertaining lesbian drama series deserves a second bite of the cherry
Tuesday, 16 November 2010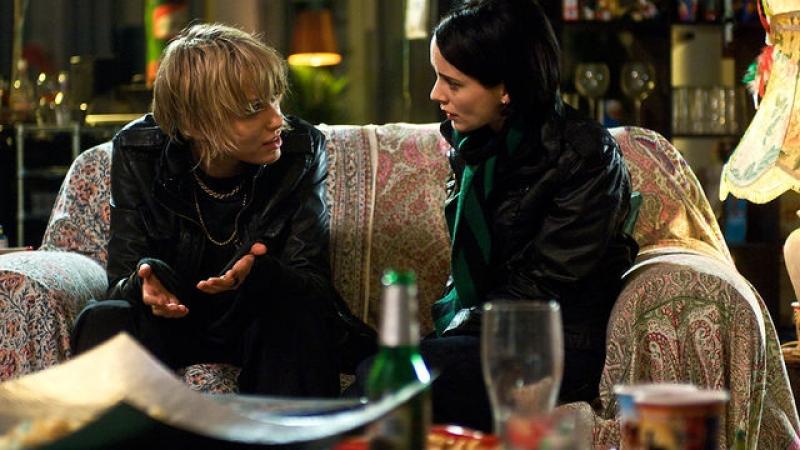 Ex-lovers: Frankie (Ruta Gedmintas) and Cat (Laura Fraser) get comfy on the sofa in 'Lip Service'
When The L Word, an American drama series following the interconnected lives of a group of lesbians in Los Angeles, first aired in 2004, much of the acres of coverage it attracted made disbelieving mention of the cast members' attractiveness, which is an implicit suggestion that lesbians are more usually at the back of the queue when good looks are being given out. Rather irritatingly, Lip Service, a drama series following the interconnected lives etc etc...
in Glasgow, and which was immediately dubbed "the British
L Word"
, garnered some of the same responses when it first aired last month.
Borderline homophobic-looksist nonsense aside, the L Word/Lip Service comparison was, at least, reasonable to make because the British show's main character, Frankie (Ruta Gedmintas), was a dead ringer for The L Word's Shane, and in the opening episode was all asymmetric haircut, pouty looks and emotionless sexual encounters, just like the American bad girl. But by the last episode of Lip Service, which aired last night, the British series (created and co-written by Harriet Braun, a writer on the late, lamented Mistresses) was very much its own beast and had developed into a rather more complex and entertaining drama than that first hour promised, with sleekly edited multiple plotlines, some nicely drawn characterisations and a lot of sly humour. Oh, and some hot girl-on-girl action each week, just in case you were wondering whether to buy the DVD.
Lesbian romps (for, in the tabloid world, all lesbian sex scenes are romps) are all very well, vicar, but what defines a drama is its storylines. Braun clearly didn't set out to make a hard-hitting drama (qv Mistresses), but has written something subtly political all the same; Lip Service could describe any group of individuals who interract in any social or work situation, but here most of them just happened to be gay. So we had an adoption mystery, a love triangle, a straight man who falls in love with his lesbian best friend, and another who cannot keep his pants on - the last of which produced possibly the best line of the series, as Frankie affectionately described Jay (Emun Elliott) as "a snatch hound". And she should know...
Last night Braun tied up some loose ends, while throwing in a few surprises. The philandering Jay didn't get to kiss and make up with his long-suffering fiancée (Cush Jumbo) and there wasn't an ooh-ah moment as the lovable but ditzy out-of-work actress Tess (Fiona Button) decided she wasn't gay after all and walked off into the sunset with lovelorn best mate Ed (James Anthony Pearson). Instead she got a lead role and hooked up with the fit neighbour she had been lusting after (Lisa Livingstone). But the ever present tension of the love triangle between ex-lovers Frankie and Cat and Cat's new girlfriend Sam (Heather Peace) was played out to the final scenes - and Cat got a double helping of cream, as it were.
Over the course of the series' six hours, some of the content was lazy - Frankie, who supposedly grew up in Scotland, sported an English accent that was never explained - and some storylines were signalled a mile off, a case in point being the wicked uncle (Tom Mannion) who turned out to be Frankie's father, while others popped up and then went nowhere (Cat's boss being a homophobe, for instance).
Braun cleverly left a few storylines open for a possible second series, which I understand everyone involved with the show is keen to do
But despite occasional clunky writing, Lip Service had committed performances from a notably quality cast; Laura Fraser (recently seen in Single Father) was, as ever, superb, Peace was a nicely nuanced Sam and Button, while amusingly unconvincing as a lesbian, showed she is a fine comedic actress - as can be seen currently in An Ideal Husband in London's West End. Gedmintas, meanwhile, just got better and better as the series developed, revealing Frankie's vulnerabilities at just the right pace in a role that apparently half the young actresses in Spotlight auditioned for. The producers chose well.
Braun cleverly left a few storylines open for a possible second series, which I understand everyone involved with the show is keen to do. Lip Service has attracted a creditable 500,000-plus viewers each week, with minimal pre-publicity, and a further 1.5 million hits on iPlayer (and has been sold to HBO in the United States), but no announcement has yet been made about its future. At this point it's worth mentioning Sharon Horgan and Dennis Kelly's terrific (and in its own way, equally groundbreaking) Pulling, which the corporation also broadcast on BBC Three - where anything with adult content is rather prissily buried - not realising what a superbly written and performed comedy it was. It became a sleeper hit and won great critical acclaim (not to mention a Bafta nomination) but they pulled the plug after two series. Let's hope the BBC have learnt a lesson.
In possibly the best line of the series Frankie affectionately described Jay as 'a snatch hound'. And she should know...
Share this article