Single Father, BBC One/ Thorne: Sleepyhead, Sky1 |

reviews, news & interviews
Single Father, BBC One/ Thorne: Sleepyhead, Sky1
Single Father, BBC One/ Thorne: Sleepyhead, Sky1
David Tennant returns to the BBC as traumatised widower Dave Tyler
David Tennant as Dave Tyler struggles to cope with bereavement in 'Single Father'
The American networks have so far been able to resist the stick-insectish charms of David Tennant, but the BBC would probably start up a new channel just for him if he asked them.
In this new four-parter, his comeback appearance after
handing over the keys of the TARDIS to Matt Smith
, Tennant plays Dave Tyler, a successful Glasgow photographer married to teaching assistant Rita (Laura Fraser). They have a ramblingly large house full of kids and a dog, and live one of those exuberantly chaotic lives that only exist in TV drama, where domestic duties and hectic leisure activities magically co-exist with flourishing careers. They're the kind of family you'd tip the
maître d'
handsomely not to seat you next to in a restaurant.
The Tylers had so much Really Aggravating Potential (or RAP) that it was probably just as well that their blissful state only lasted about 10 minutes. On her way to take an exam to get herself accepted for a teaching course, the bicycling Rita was killed by a police car which ran a red light and intercepted her at high speed. As she sailed through the air in beautiful high-def slow motion, her crushed bicycle lying forlornly on the tarmac beneath her, she mouthed "I love you". Her message was telepathically received by Dave as he was in the middle of a photo shoot.
After this, I couldn't decide whether Single Father was a piece of heartrending but insightful domestic drama, or a shameless parade of saccharine emotional blackmail. A plot like this taps so mercilessly into our worst anxieties - you can hardly avoid asking yourself how you'd cope if it happened to you - that your critical faculties are instantly forced onto the back foot. The horrible background music, sort of sub-rock desperately trying to sound expressive, frogmarched you unceremoniously to whichever point of the emotional compass the director had decided he was trying to convey in each scene.
Writer Mick Ford had at least made one interesting decision, which was to bypass all the usual paraphernalia of a shocking and violent death. There were no sirens, flashing lights, police cordons, panicky scenes in the ER or an ashen-faced surgeon coming out to say "We did all we could..." Instead, the action sped forward a couple of months to see how Dave and family were coping in the aftermath. So far he has had a violent spat with his sister Anna, is being harassed by the education authorities because his step-daughter Lucy is suffering an identity crisis and is skipping school, and he's about to have an affair with Sarah (Suranne Jones), his best mate's wife. And the "next week" trailer revealed that he's going to uncover secrets about the late Rita. But watching parts two, three and four looks like being an uphill struggle.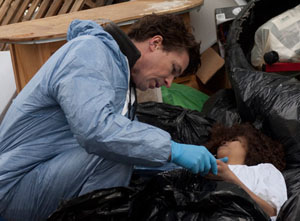 Sky1's much-trailed Thorne: Sleepyhead has been adapted from Mark Billingham's bestselling novel, which means it's a police procedural in which DI Tom Thorne (David Morrissey) is trying to catch a serial killer who's leaving dead young women littered around London's East End. The macabre twist is that what the killer really wants to do is leave his victims immobilised by "locked-in syndrome", where they can see and hear everything that's going on but can't move or communicate.
Despite the hype it's just another cop show full of corpses, but Morrissey feels authentic as the phlegmatic, low-key Thorne. There's fine support from the extra-terrestrial-looking Eddie Marsan as DI Tughan and Aidan Gillen (pictured above) as slightly berserk medical examiner Phil Hendricks, while anaesthetist Dr Jeremy Bishop (Stephen Campbell Moore) has obligingly set himself up as the potential villain with his bravura display of supercilious obnoxiousness and unreliable evidence. Credibility was stretched to breaking point, however, by the instant romance between Thorne and Natascha McElhone's glamorous neurologist. It was like Vinnie Jones getting off with Joanna Lumley.
The horrible background music frogmarched you unceremoniously to whichever point of the emotional compass the director had decided he was trying to convey
Share this article