Man Down, Channel 4 |

reviews, news & interviews
Man Down, Channel 4
Man Down, Channel 4
Promising start for Greg Davies's sitcom
Saturday, 19 October 2013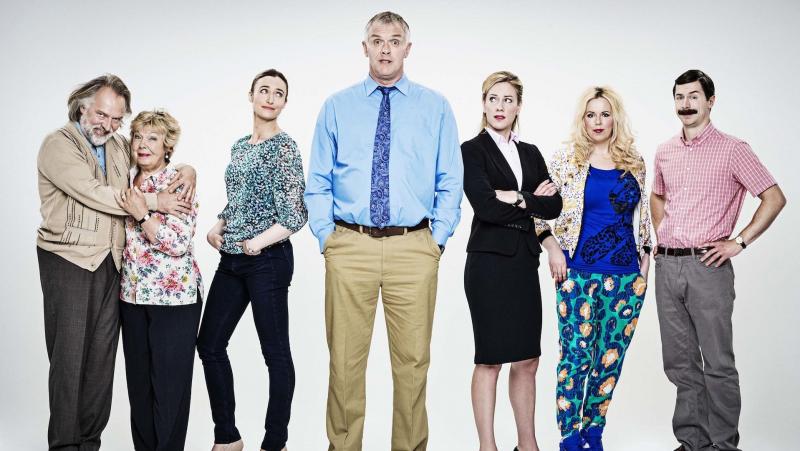 Greg Davies as hapless Dan, sorrounded by family and friends
Man Down opens with a tried and tested sitcom premise; middle-aged-and-going-nowhere-fast Dan is being dumped by his much more mature, high-achieving girlfriend, Naomi. She's tired of his juvenile daydreaming - could a hovercraft be powered by farts? - and the fact that he lives in a flat attached to his parents' house. And he still hasn't replaced a lightbulb that blew weeks ago.
But what follows deviates from that seemingly unpromising beginning to give us a half-hour of wonderfully silly, often slapstick comedy fused with a subtle decoding of male-female, adult-child relationships. If that second bit sounds a bit serious, don't worry, as Man Down has a very high laugh quotient from the start – the clever fart joke, obviously, but several funnies follow, both physical and verbal.
Dan, played by Greg Davies, a teacher turned stand-up, amazingly holds down a job as a drama teacher at a secondary school (shades of his cracking Mr Gilbert in The Inbetweeners) where most of his charges love him for his extraordinary storytelling, but whose nemesis may come in the form of the class swot (Madeleine Harris). He's dying inside and she senses it, and she's given some cracking put-downs. Out of school, he spends time with his equally dysfunctional friends from university, Jo (Roisin Conaty), a permanently out-of-work actor, and Brian (Mike Wozniak), an uptight accountant, the only one of them who actually graduated.
The first episode introduced all the main players efficiently while packing in some lovely vignettes. Dan and Jo's salsa routine - where he was dressed in crotch-hugging trousers and a too-tight ruffled satin shirt that barely contained his generous white belly - was sublimely funny, as was the sight of him driving around in an old banger with a broken driving seat leaning so far back that he drove with his arm hanging out of the rear window.
But Davies, a wonderfully talented stand-up who created Man Down and wrote it with additional material by Stephen Morrison and Sian Harries, doesn't keep all the jokes for himself. In the opening episode (of seven, directed by Matt Lipsey) there was a creepy local tailor (Perry Benson) who was making Dan new trousers to replace the ones he had inadvertently lost, and was a joyous creation worthy of The League of Gentlemen. He was clearly sick of plying his trade to his more, er, discerning customers and, talking about the work-experience boy from Dan's school, he said: "He's a good boy. He's normal. He's not into your rubber shorts, your plastic fists, your glory holes."
Dan tried to win Naomi (Deirdre Mullins) back by having Brian apply for a mortgage for him so he could move into his own place but, like so much in his life, the plan just fell apart. Dan, Jo and Brian got copiously drunk, there was a dreadful misunderstanding at the tailor's, meaning Dan had to leave the shop trouserless and clad only in Naomi's undies, and he left the garage where he had brought his vehicle to be repaired car-less.
Rik Mayall plays Dan's dad (apparently based on Davies's real-life father), who jumps out at him, like Cato in the Inspector Clouseau films, with annoying regularity. I'm a huge fan of The Young Ones, but found Mayall's performance entirely irritating. Other than that, though, Man Down is a sitcom with that pleasing but difficult-to-achieve combination - laugh-out-loud moments and truly touching scenes. A strong start.
There was a dreadful misunderstanding at the tailor's, meaning Dan had to leave the shop trouserless and clad only in Naomi's undies
rating
Share this article