Masters of the Pacific Coast: The Tribes of the American Northwest, BBC Four |

reviews, news & interviews
Masters of the Pacific Coast: The Tribes of the American Northwest, BBC Four
Masters of the Pacific Coast: The Tribes of the American Northwest, BBC Four
Fascinating revelations about the rich culture of America's little-known peoples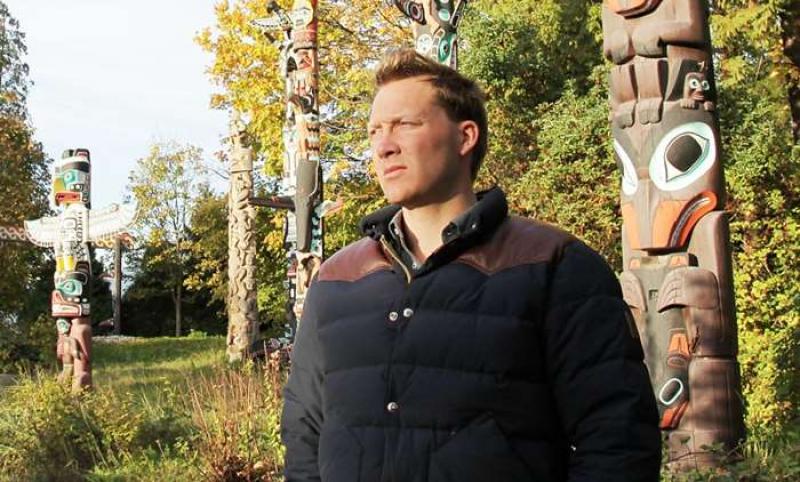 Don't call me Indiana Jones: Dr Jago Cooper in Reithian mode
The American northwest is gorgeous: endless lakes, limitless ocean, mountains, forests, overwhelming blue skies in deepest summer, mists and of course rain, in one of the wettest places on earth – 4 metres of rain annually. Here were hundreds of islands too, archipelagos in a land almost infinitely rich in resources, from the Alaskan Panhandle and British Columbia south to Washington State.
We were on an extended visit, on foot, canoe, kayak, speedboat and car, guided by the enthusiastically knowledgable Dr Jago Cooper from the British Museum. The landscape was punctuated by visiting archaeologists of tribal history and the current and varied populations of the various Indian tribes, from Tlingit to Haida. These were the tribes of long houses, huge dugout wooden canoes, whale hunts and totem poles. The most up-to-date archaeological research suggested that theirs is the longest continuous and surviving culture in the Americas, well over 10,000 years old.
Each tribe named their people after the animals they revered
No one knows whether their ancestors crossed over a land bridge between what is now Siberia to the westernmost lands of north America, or across the Pacific, when the ocean was much shallower than now. Dr Cooper favoured the watery version. Over 1,400 miles of Pacific coastline has been continuously inhabited ever since. And as recently as 1960, a storm at a place called Ozette uncovered a village that had been obliterated by a landslide hundreds of years ago: 40,000 objects were found, man-made from whalebone – harpoons, axes, hooks – and textiles, including rainhats – which comprised about 9 per cent of all the objects that date before European contact.
As Cooper pointed out, the encounters with Westerners of indigenous peoples, including Aztecs, Incas and many more, have been almost uniformly disastrous. The conquerors oppressed the natives, brought diseases to which there was no defence, and stole the land. Not so here. What was even more fascinating is that the material culture, remarkable art and hierarchical political systems with appointed leaders was not dependent on settled agriculture. Conventional received opinion is that settlements which led to a tipping point for the evolution of human societies were dependent on agriculture, eroding the hunter-gatherer survival modes of early man. Again, not so here.
As Cooper showed us, by going fishing and in a very short space of time catching two salmon adding up to 25 lbs of fish, the abundant resources available to the tribes were preserved – and still are – in smokehouses which ensured a healthy supply of maritime protein. A revelatory discovery was that of actual sea farms from thousands of years ago, constructions close to shore provided tidal pools that made clams and other watery creatures available on a continuous basis. It was indeed farming the sea; the saying was "when the tide is out, the table is set".
Each tribe of the hundreds that existed, and still do in some form or another, named their people after the animals they revered, and even consumed: they were people of the eagle, bear, and raven. And they went to war, and after killing the men of other tribes, enslaved the women and children. In the early 19th century it was estimated that some 15 per cent of the tribal population were slaves.
The programme did with an ease of manner what television in Reithian mode can do so well: deliver a plethora of unfamiliar facts anchored by the amiable charm of a scholarly presenter, made memorable by endless scenes of beautiful wilderness and occasional surprises. A seal popped up in the ocean behind our presenter, we did some whale sighting from a canoe, and we were also treated to the complexities and dangers of chopping down 500 year old cedars, the stuff of boat and home. The finest skill, the woodsman told us, was getting to go home alive out of the forest every day.
Still, there were plenty of unanswered questions: not even the curator of Vancouver's dramatic museum of archaeology seemed able to tell us, in demonstrating that totem poles embodied ancestral myths, why in that form, why families lived communally in the long houses, why were there so many tribal wars, what kind of trade took place over the centuries. But Episode 2, Survival, is next week, so more to come.