My Brilliant Friend, Season 2: The Story of a New Name, Sky Atlantic review – a troubling friendship deepens |

reviews, news & interviews
My Brilliant Friend, Season 2: The Story of a New Name, Sky Atlantic review – a troubling friendship deepens
My Brilliant Friend, Season 2: The Story of a New Name, Sky Atlantic review – a troubling friendship deepens
Painstakingly vivid serialisation of Elena Ferrante's masterpiece glows again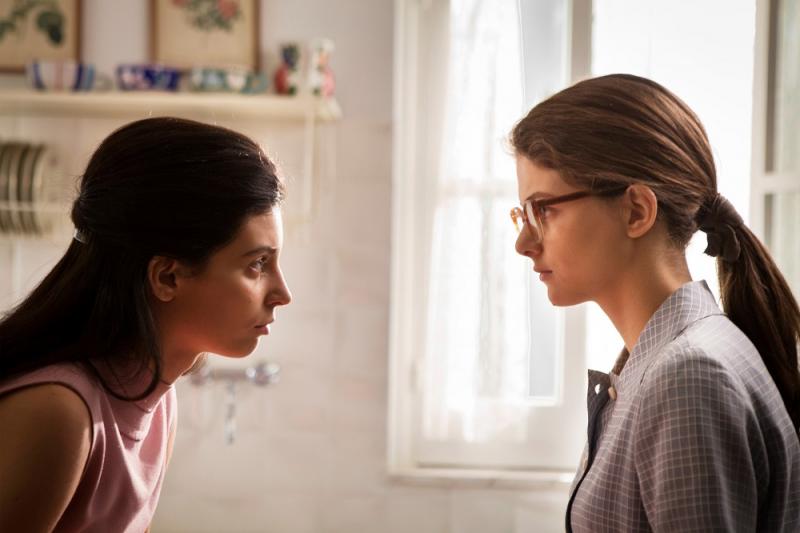 Lila (Gaia Girace) and Lenù (Margherita Mazzucco) on uncertain new territory
In her surprisingly self-revealing collection of essays and interviews Frantumaglia (Neapolitan dialect word for a disquieting jumble of ideas), the writer who calls herself Elena Ferrante often ponders the metamorphosis from novel to film.
"The real problem for a
director
," she writes, "is to find solutions, the language with which to get the truth of the film from that of the book, to put them together without one ruining the other and dissipating its force." Her trusted collaborator Saverio Costanzo achieved that in his fluid, poetic-gritty adaptation of
My Brilliant Friend
, the first of the so-called Neapolitan quartet of novels. As Lenù and Lila, clever girls fighting against the local spirit of tradition, violence and inertia, face further challenges, both from each other and from the world around them, it only gets richer in
The Story of a New Name
.
The language of cinema – and this HBO/RAI series is worthy of the highest accolade in that respect – can do much by itself. In a scene of almost hallucinogenic force, Lenù returns to the neighbourhood after a visit to her recently and disastrously married friend in an upmarket new development and looks at the older women in a different way (pictured below). Image does its work in telling us what she's thinking before some of narrator Lenù's lines reinforce the message as precisely as only the written word can: these women "had been consumed by the bodies of husbands, fathers, brothers, whom they ultimately came to resemble." The balance is perfect.
Film also lends a different perspective. Keeping the narrative to a minimum, Costanzo's freedom, for the most part, from the authorial presence allows us to understand more clearly how similar Lenù is to her uncompromising and less fortunate "other half". Without the text to guide us, we see how she can be similarly closed and silent, how in equal measure the opening-up to warmth, love and humour irradiates the formerly sullen faces.
Both actors, Margherita Mazzucco as Lenù and Gaia Girace as Lila, give the subtlest of performances, but it's inevitable that attention is most riveted by Lila's many transformations. Dressed up for a party given by Lenù's middle-class intellectual teacher, her beauty shines like Audrey Hepburn's Eliza Doolittle at the Embassy Ball of My Fair Lady. This, though, is real life; the outcome is not what we expect and the way the one friend turns on the other on the drive back with Lila's husband Stefano (Giovanni Amura, pictured below with Mazzucco and Girace) is unforgettable and troubling. Costanzo holds the balance – Lenù has not behaved entirely well, either. We are allowed to make our own judgments without being told how we should react.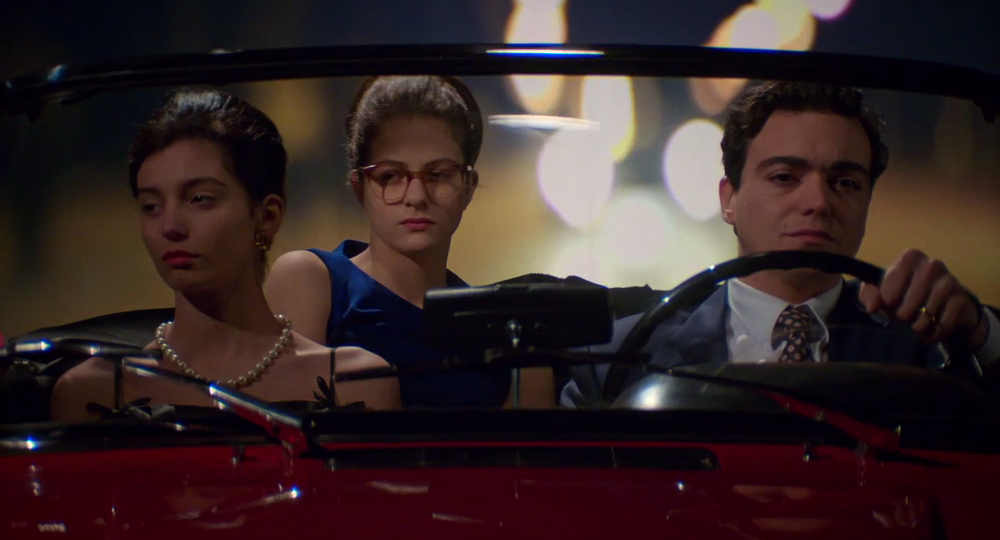 There's a tease in the filming of the way that Lila's wedding photo hanging in the classy shoe shop gets recomposed, creatively remade by her as collage – we wonder if we're going to be allowed to see it, and we do, though its life is short. By the end of the first four episodes, we're back in Ischia, where Lenù's first stint in My Brilliant Friend ended queasily, and this time it's worse. No spoilers, but let's say that Episode Four, which brings Lenù's big love Nino Serratore (Francesco Serpico) to the beach, still keeps us guessing, and that it ends in a couple of disconcerting dream or half-dream images.
Production values are unremittingly high, though street dressing as we move out from the neighbourhood more frequently is never just for show – the details are telling. All the characters are perfectly cast, faces striking, especially those of the loan-shark, camorra-ist Solara family whose actions determine most of the disasters or plot twists. The music by Max Richter, whose every note when pushed to the foreground in his successful work as a leading composer strikes me as vapid and derivative, is perfectly modulated for discreet underscoring here, even if it's not needed, and the period sounds are always well chosen. From the new credit imagery, home-movie style, we're told that we will be leaving Naples: the big change will come in this series, having taken up in Episode One immediately after the unhappy wedding party at the end of My Brilliant Friend (Season One). You know you can trust Costanzo and his accomplished cast to make every modulation perfect.
Opening up to warmth, love and humour irradiates the girls' formerly sullen faces
rating
Explore topics
Share this article