Pompidou, BBC Two |

reviews, news & interviews
Pompidou, BBC Two
Pompidou, BBC Two
Few laughs in Matt Lucas's almost silent sitcom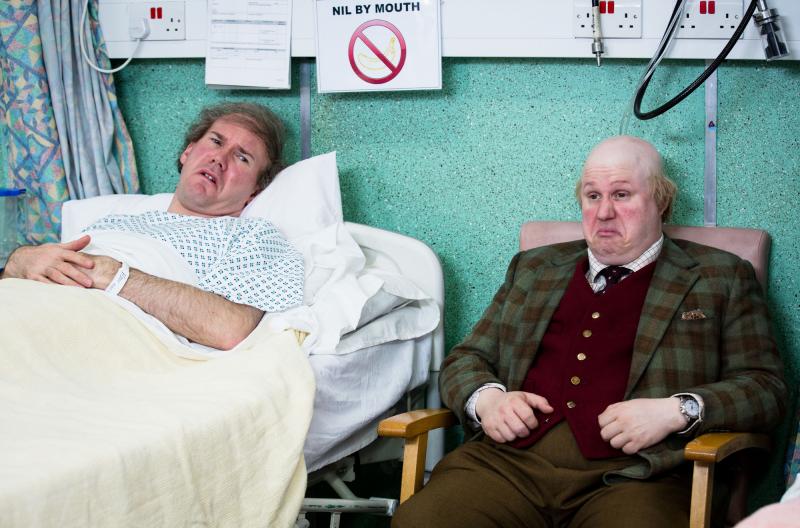 Alex MacQueen and Matt Lucas as Hove and Pompidou
Judging by its early-evening slot and diddly-dee theme tune, Matt Lucas's latest project is aimed at family audiences – far removed from the wonderful ribaldry of Little Britain with his comedy partner David Walliams - something to stick the kids in front of while the adults snooze off their Sunday roast.
Lucas (who directs and writes with four other credited writers) is Pompidou, an eccentric aristocrat, and Alex MacQueen (The Thick of It) is his faithful butler Hove. Pompidou has fallen on hard times and now no longer lives in the grand house at the top of the drive but in a dilapidated caravan with his dog, a beautiful Afghan, Marion (played brilliantly by puppeteer Andy Heath), who wears spectacles and reads self-help books. Apart from the occasional few words, there is no dialogue as such (surely the five writing credits are an in-joke); the characters communicate in a mixture of grunts, gestures and indecipherable nonsense language. In fact the only character to speak clearly is a bird.
In the first episode Hove found there was only a solitary cocktail sausage in the fridge and, when the otherwise elegant Marion snaffled it off the plate, he and Pompidou decided to go fishing and hunting for their food, during which the talking bird flew into Hove's mouth. After the entirely predictable scene in which Hove landed fully clothed in the fishing lake, it was off to hospital to have the bird removed, where some tired old comedy – strict nurses, Pompidou changing into a hospital gown behind a screen and then throwing over an inordinate number of garments, Lucas pretending to be a surgeon and losing his watch inside Hove's belly – was doled out, little of it to much effect.
There were, to be fair, a few neat visual gags – such as a sign asking "Do you have OCD?", which Pompidou straightened before he walked past it, a blood-pressure cuff inflating his sleeve rather than constricting his arm – but not nearly enough.
Each week, we're told, Pompidou and Hove get into a another scrape – so it's a sort of Jeeves and Wooster meets Mr Bean; only, on this first showing, without the charm and wit of either. Maybe I'm a hundred years too old for it, but I think youngsters would struggle with Pompidou's lack of both laugh-out-loud moments and the well-timed slapstick that a mummer show needs.
It's a departure for Lucas – normally a comic I like a lot – but one that I'm not planning to follow over the next five episodes.