Ripper Street, BBC One |

reviews, news & interviews
Ripper Street, BBC One
Ripper Street, BBC One
Matthew Macfadyen becomes the latest detective to battle with the Ripper's legacy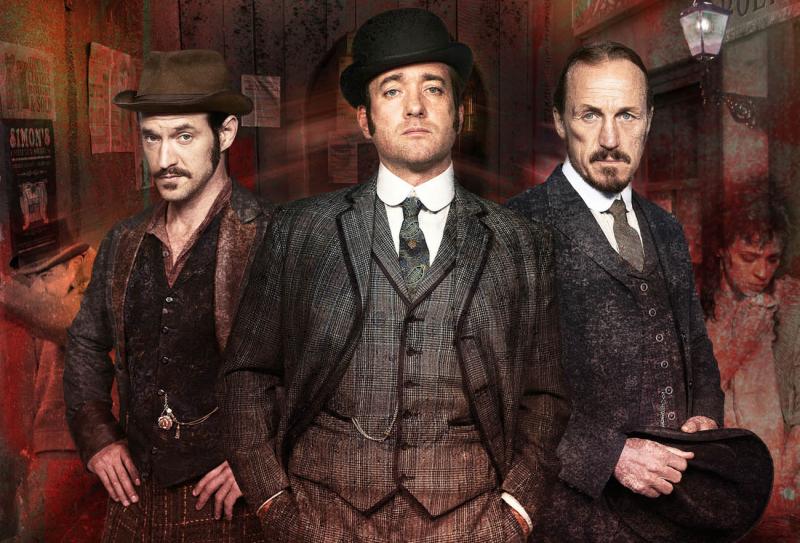 Matthew Macfadyen (centre) with his trusty sidekicks Adam Rothenberg (left) and Jerome Flynn
Perpetually reborn in movies and TV series, Jack the Ripper rides again in Ripper Street, which is set in Whitechapel in 1889, in the aftermath of the much-mythologised murders. Except this time, the subject isn't the Ripper himself so much as the dread and hysteria he left in his wake, which shrouds the murky streets like poison gas.
We got the message in the opening sequence, when sightseers on a tour of notorious Jack the Ripper landmarks stumbled across a murdered woman, her body grotesquely slashed and mutilated in the old familiar ways (pictured below). Instantly, the neighbourhood started going demented with fear, and tremors of alarm ran through the police officers of Whitechapel's H Division. Detective Inspector Edmund Reid (Matthew Macfadyen) worked on the original murders, and the prospect of them starting again is his worst nightmare.
Fortunately he has some capable and determined assistance on hand. Detective Sergeant Drake (Jerome Flynn) is big, rough and ugly, an officer quite happy to go undercover and take a battering as a bareknuckle fighter to help bring down bent boxing promoter Joseph Smeaton. Then there's Captain Homer Jackson (Adam Rothenberg), a former surgeon in the American military and an ex-Pinkerton detective (you can tell there's a BBC America dimension to this production). The cool and laconic Jackson also has an interesting relationship with whorehouse-madame Long Susan - played by the suddenly ubiquitous MyAnna Buring (pictured below), startlingly transformed from her below-stairs turn in Downton Abbey last week - though we'll have to wait for full details to emerge.
Devised and written by Richard Warlow, a veteran of Mistresses and Waking the Dead, Ripper Street successfully suggests the turbulence and squalor of the East End near the close of the 19th century, thanks to some subtly archaic quirks in the dialogue and use of Dublin locations which work better than you'd expect. It also seems to have borrowed some of the turbo-Victorian éclat from Guy Ritchie's Sherlock Holmes films. It doesn't have their vastly elaborate sets or super-slo-mo digital effects, but it does have something of their hectic pace and neurotic energy, and a not dissimilar soundtrack of souped-up electro-folk music.
Macfadyen steps up into the role of Reid with a stubbly physicality and strident assertiveness you might not have expected from him, and his action-man dimension was given full vent as he and his sidekicks found themselves plunged into a sinister underworld of pornographic snuff movies, orbiting around the louche and perverted Sir Arthur Donaldson (Mark Dexter). Themes of voyeurism and media sexploitation also lent the piece a recognisably 21st century feel, with the sordid tabloid reporter Best (David Dawson) brusquely fingered by Reid for daubing the scenery with Ripper-like slogans to whip up popular panic.
Reid himself tried to bring a calming gravitas to the palpitating populace, appealing for restraint and an end to kneejerk Ripper-mania when there was no supporting evidence, though he believes in giving his men leeway for some robust policing. Drake, for instance, expressed himself with great freedom while doling out a savage beating to the sordid Smeaton (Geoff Bell), who found himself tangentially implicated in Donaldson's web of vice. Some say torture doesn't work, but it did here. I didn't go into Ripper Street with great expectations, but this punchy and atmospheric first episode comfortably exceeded them.
The detectives found themselves plunged into a sinister underworld of pornographic snuff movies
rating
Explore topics
Share this article