Roadkill, BBC One review - David Hare pokes under the floorboards of the Conservative party |

reviews, news & interviews
Roadkill, BBC One review - David Hare pokes under the floorboards of the Conservative party
Roadkill, BBC One review - David Hare pokes under the floorboards of the Conservative party
Hugh Laurie plays an ambitious government minister with a shady history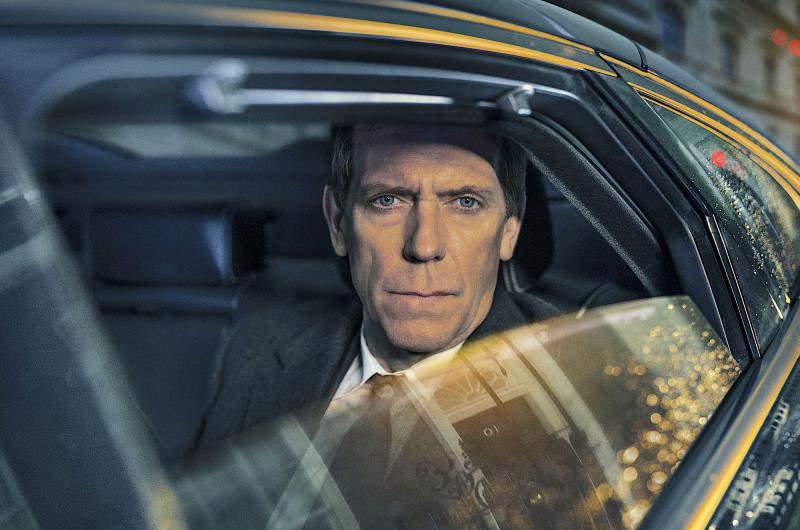 Dodgy: Hugh Laurie as Peter Laurence, minister on the make
A lifelong socialist who has regularly written about the Labour party, playwright David Hare admits that in his career he has "rarely looked closely at the appeal of Conservative values".
A lifelong socialist who has regularly written about the Labour party, playwright David Hare admits that in his career he has "rarely looked closely at the appeal of Conservative values". On the evidence of the first episode of his new political thriller Roadkill (BBC One), the reason for that would be because he finds Conservative values repellent, judging by the swamp of sleazy allegations which threatens to drown his protagonist,Tory Transport Minister Peter Laurence. Nor is Prime Minister Dawn Ellison's tone of sarcastic contempt (delivered with relish by Helen McCrory, wearing various shades of blue) likely to endear her to many.
Hare apparently intended the Laurence character to be charming and gifted with the popular – or populist? – touch, but played by Hugh Laurie, he comes over as a shifty chancer well aware that he's only ever a few steps ahead of a devastating nemesis. His regular slots on a low-rent talk radio station called Alltalk suggest faint echoes of Nigel Farage.
The story began with Laurence celebrating his victory in a libel case against a newspaper, which had accused him of exploiting his political connections for financial gain, though his triumphant glow was soon being whittled away from all sides. A phone call out of the blue alerted him to the fact that, while he thought he had two daughters, he may in fact have three, with the third one possibly an inmate in a women's prison. Apparently Laurence has difficulty remembering how many sexual partners he had during his wild years in the 1990s, which gives Hare room to pull all kinds of weird-looking rabbits out of his authorial hat (pictured below, Helen McCrory as the Prime Minister and Olivia Vinall as Julia Blythe).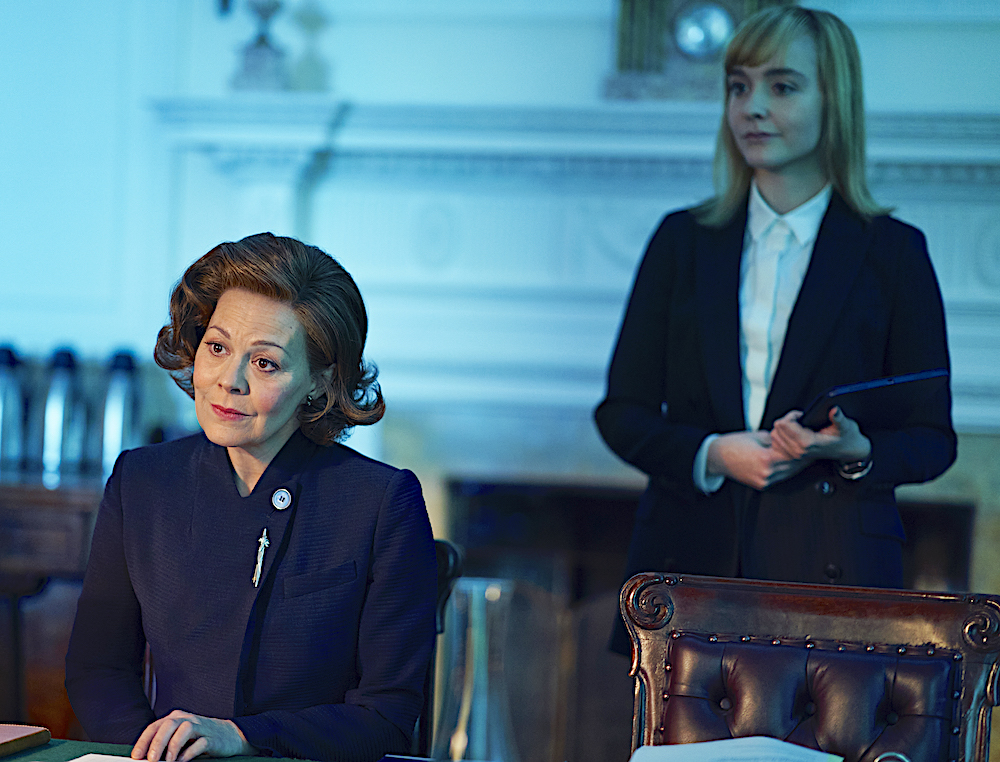 This sort of revelation can quite easily derail a political career, so it was odd that our pre-tarnished hero not only visited the prison to speak to the surly Steff (who was acting as the mystery daughter's interlocutor), but then lied about it to the PM, even though he must have been recognised by the prison staff and inmates. More ominous still, Laurence's assistant Duncan (Iain De Caestecker) warned his boss not to sack his office manager "because she knows what you did – what we did." Duncan seems like the last guy you'd trust to get rid of that smoking gun.
So what did Laurence do? According to investigative journalist Charmian Pepper (Sarah Greene), he paid a clandestine visit to Washington DC in 2015, for the purpose of "privatising the NHS", the worst imaginable offence in Labour's Big Book of Tory Crimes. However, he was saved by the fact that his diary said he was in New York at the time, which is where the newspaper's defence came unstuck. But seriously – relatively junior minister pops across the Atlantic and sells the NHS, with its 1.4 million staff and £100bn budget, to (presumably) a bunch of American corporations? Did he do this before or after lunch? No doubt we'll learn in due course that Laurence is also making a fortune from the illicit import of American chlorine-washed chickens.
Clouds were gathering over Laurence even before we began to glean details of how he's being stitched up by some of his supposedly closest allies and how his daughter Lily is about to make a scandalous appearance in the press (social media doesn't seem to have happened yet in Hare's politico-universe). What was curious was that PM Ellison seems to regard Laurence with intense suspicion, yet still wants him in her cabinet.
Roadkill is extremely earnest and, despite diligently shovelling in echoes of real-life events, obstinately unconvincing. Hare's natural home is the theatre, and his work for TV has a habit of not ringing true. We can only hope this may improve.