Robbie Williams, Netflix review - tormented superstar bares his soul |

reviews, news & interviews
Robbie Williams, Netflix review - tormented superstar bares his soul
Robbie Williams, Netflix review - tormented superstar bares his soul
Gruelling rockumentary explores the price of fame
Wednesday, 08 November 2023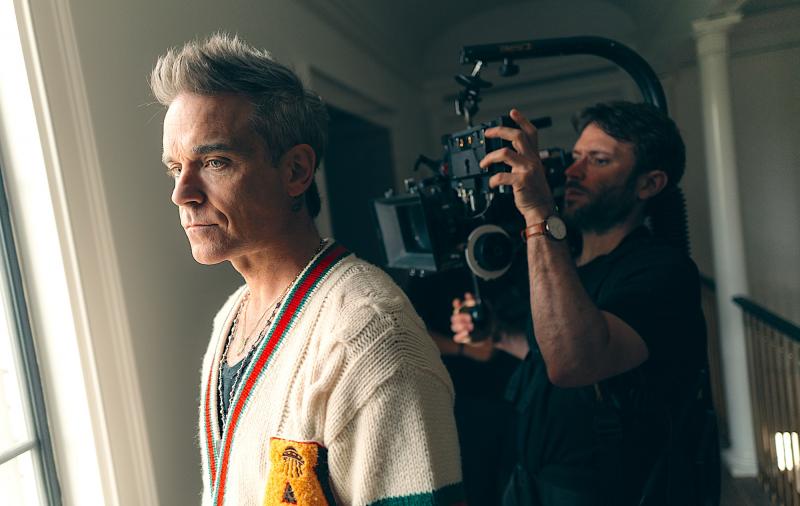 Tears of a clown: Robbie Williams
If you thought being a pop star might be fun, this four-part voyage around the tortured soul of Robbie Williams may convince you otherwise. He has sold 75 million records and historic numbers of concert tickets, scored 13 Number One albums and seven Number One singles in the UK, and has a shed full of gongs including 18 Brit Awards.
But even so, now three months short of his 50th birthday, he still seems to feel that it could suddenly all end tomorrow, or possibly even this afternoon.
"Nobody graduates from childhood fame well balanced," he comments, having first been blasted into the spotlight as a 16-year-old member of Take That (he was the youngest). The band's frantic schedule and ordeal by fan-mania triggered Williams's manic vodka-and-cocaine habit, while he became consumed with resentment that Take That's career seemed to have been designed principally as a vehicle for chief songwriter Gary Barlow. We see him confessing to his young daughter that he wanted to take revenge on Barlow "by having the career that he was supposed to have."
What sets this apart from other rock-docs is that it has been constructed largely from a huge stash of privately-shot footage amassed over a 30 year period, from recording studios, hotel rooms, gigs, planes, automobiles and holiday hideaways, much of it (allegedly) previously unseen by Williams himself. The narrative framing device is the present-day Williams viewing this material on a Macbook and giving his reactions, which feel spontaneous and are frequently painfully self-lacerating. At one point, he wonders aloud if he should really be "watching all this historic stuff… but Pandora's box has been opened."
Williams claims that "instinctively I am a loner", which has tended to cause relationship problems. For "loner", some might prefer to substitute "egomaniac". His close personal and professional partnership with Guy Chambers, who helped mastermind all his most enduring hits including "Angels", "Millennium" and "Let Me Entertain You", foundered when Williams decided "I needed full control, as much as possible". He admits that scenes of himself, Chambers and his wife and Williams's then-girlfriend Geri Halliwell on holiday in the Mediterranean capture a rare moment of happiness in this often gruelling saga.
The film throws vivid light on the paradox of the solitary individual in the eye of a fame hurricane. The star is surrounded by people but has never felt lonelier, and we see it all come to a head when he plays a pair of dates at Roundhay Park in Leeds in 2006. This was part of his vast Close Encounters tour, on which he spent most of the year touring around the world. He was 90 days into the campaign when he found himself in Leeds and about to have a nervous breakdown.
Shots of him pacing neurotically backstage, as if he's about to walk out in front of a firing squad, vividly convey the sense of what it takes to become the centre of attention for 90,000 fans and live up to their expectations, right there in that moment. He wanted to abort the second show, though was apparently talked out of it by his management explaining that the costs would bankrupt him. Talking about it afterwards, he looks like somebody who's been subjected to sadistic electric-shock treatment. "I'm letting you know I'm in pain, I'm in real pain, cos I'm shit scared again," he babbles.
As he says himself, the film is "a tough watch", and you have to wonder if somebody, somewhere ought to have convinced Williams to become a bus driver or a pub landlord rather than a showbiz phenomenon who was almost lured to his own destruction. He was diagnosed with depression in his early twenties, and has been plagued with drug, alcohol and self-esteem issues. But fame is a drug in a class of its own, and Williams's own estimation of himself is "I'm a singer, I'm a songwriter and a born entertainer."
There's certainly a streak of the cheeky-chappy, music-hall entertainer in him, and he has a good one-liner about his hit "Rock DJ" – "I want to write 'Karma Police' but I'm writing 'Karma Chameleon'" – but he's a classic victim of tears-of-a-clown syndrome. By the time he met his wife-to-be Ayda Field (pictured above), after he'd been undergoing treatment for alcoholism, he'd reached the conclusion that "it would be best if I passed away". Yet, though he kept giving her the brush-off, Ayda somehow came to the conclusion that Robbie was her soulmate, and (long story short) they now have four children. He's probably as happy as he's capable of being.
I needed full control, as much as possible
rating
Explore topics
Share this article