The Shadow Line, BBC Two |

reviews, news & interviews
The Shadow Line, BBC Two
The Shadow Line, BBC Two
Hugo Blick's confident conspiracy thriller knows where it's going
It's got more derivations than a dictionary. The Wire has been mentioned in dispatches, as have British conspiracy dramas such as State of Play and Edge of Darkness (in which something is rotten etc). And talking of Denmark, it comes along with The Killing obsessives doing cold turkey. Even its creator has cited the guiding hand of cynical, labyrinthine Seventies crime thrillers – Flight of the Condor and The Parallax View. Put them all together and have you got a series which exists entirely in the long shadow cast by narratives which have passed this way before? Or can The Shadow Line be its own thing?
Either way, it arrived last night shouldering a heavier weight than most cop shows at the start of a shift. Part of that is to do with the cast, top-heavy with telly pedigree. But it also is a product of the all but unique arrangement by which Hugo Blick is writer, director and even producer too. Television doesn't have much truck with auteurs the way it used to with Potter and Plater and Bleasdale. And yet more than any of the above would ever have done, Blick has made almost every decision going in the seven hours this conspiracy thriller will take to deliver a denouement that, the runes suggest, promises to give with one hand and take away with the other.
For the moment, those brows which got themselves all pre-knitted in anticipation of cat's cradle plotting can unfurrow. For now. The story so far is linear enough. In a daringly long opening scene, two coppers found a body belonging to Harvey Wratten, a drug lord who had just been let out of jail on a royal pardon and promptly got himself shot in the car which came to collect him. While the police, led by DI Johah Gabriel (Chiwetel Ejiofor, pictured below), started hunting for a culprit, they intuited that Wratten would have been planning to set up anew behind an innocent frontman.
We know but they don't yet that the frontman is fruit'n'veg'n'smack dealer Joseph Bede (Christopher Eccleston), whose task it is to hold the fort in the sudden power vacuum, keep Wratten's fist-swinging nephew (Rafe Spall) from making a spectacle of himself and locate Wratten's old associate (as he's vamoosed we haven't seen him yet, but there's a framed snap on his son's sideboard of Antony Sher).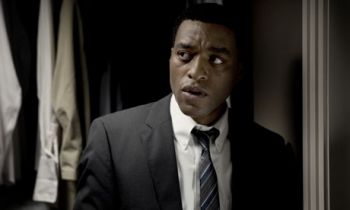 At least that's the view of the surface narrative. Truffle underneath and there is other stuff bubbling busily (even biblically if you pay any heed to those evocative names Blick has given his two main characters). Ejiofor's copper is back from leave after recovering from a shooting which left a bullet lodged inoperably in his brain. Eccleston's wife (Lesley Sharp) is suffering from incipient dementia. Plainly Blick has not just planted these two plotlines side by side because they'll look nice together on the mantelpiece. By the end of the first episode, Ejiofor, who claims to recall nothing from the incident which invalided him, finds a powerful memento mori in his walk-in wardrobe in the form of a briefcase full of banknotes. As we watch his memory return, we will meanwhile see Sharp's disappearing.
At this point, with such diagrammatic placement of matching metaphors, we could use a side order of obfuscation. And maybe a bit of humanity. Everyone thus far seems inclined to talk knowingly, even metatextually, as if channelling some deeper awareness of their reincarnated roles in some crime commedia dell'arte. Spall is a splendidly loopy villain, Kierston Wareing a metal-breasted detective in leathers who ramps up the hatchet-faced aggression, David Schofield a bent copper from the (very) old school, Tobias Menzies one of those snarky crime hacks you want to impale on his own ballpoint. The created world feels somehow so familiar, the dialogue spoken so winkingly, that I half expected Danny Dyer to walk into shot clutching a copy of early Pinter.
Yet at the heart of the drama are two performances of carefully contrived stillness and it's on these more than any other that the camera will be keeping an eye. Eccleston's angular northern mug, so often given over to lashings of angry passion, has found an intriguing new use for itself as a poker face. You wouldn't have him down as a villain, which is of course the point. As for Ejiofor, who carries the sorrow of the world in his eyes, he looks a bit too sensitive for police work at this stage. But Blick, who made his name training a single mounted camera on Rob Brydon and Joanna Lumley, doesn't cast actors without knowing exactly what they can give.
It radiates confidence and purpose. It seems to know what it's doing and where it's going. The test for The Shadow Line will be in its own ambition. Not just in the plot whose complexity, it is confidently promised, will convert your brain into mincemeat, but also in the empathy it will ask its audience to bring along. Audiences are used to villains whose worldview they don't share. Last night Eccleston looked mortally upset when a doctor confirmed his wife's diagnosis. On the other hand he's planning to profit from the sale of heroin. How short our supply of sympathy will remain is the question. Or a question. There will be a stack of others.