The South Bank Show: Benedict Cumberbatch, Sky Arts
The South Bank Show: Benedict Cumberbatch, Sky Arts
A guided tour of Cumberbatch's blockbuster 'Hamlet'
Thursday, 15 October 2015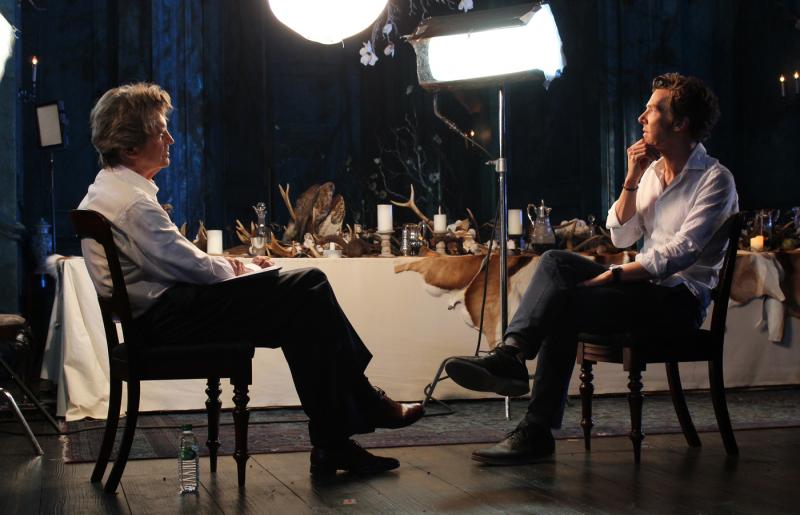 Please don't interrupt, Lord Bragg: Benedict Cumberbatch gives it maximum Dane
It's huge, it's just huge, said Benedict Cumberbatch, struggling to express the scale of the challenge that playing Hamlet presents.
As Lord Bragg reminded us, Cumberbatch is the lead in the middle of the fastest-selling theatrical event since records began, thanks to his charisma and his worldwide fanbase. It is, Bragg told us, the largest role in Shakespeare: 1,500 lines. There was a clip of Orson Welles, declaiming that it is the only play by a genius about a genius.
In this 40-minute discussion set out on the stage of the Barbican theatre, the glittering candle-lit table for the feasting court behind them, interviewee and interviewer went through a handful of the play's defining scenes. It was like an accessible masterclass, as we were beguiled by snippets from the performance itself.
Be quiet sometimes, Lord Bragg, and listen
We first saw Cumberbatch in his red uniform – the character is playing at being a soldier – beginning the most famous soliloquy of all. Then there was his appearance, dressed totally in black in contrast to the colourful opulence of the royals and the feasting courtiers, painfully acknowledging his mother's remarriage to his uncle only two months after his father's death. There was the interchange with the Ghost, the one-way conversation with Yorick's skull, the play within the play, the confrontation with Gertrude, the duel with Laertes.
Why do Hamlet now? Cumberbatch adduced some of the Hamlets he had seen, from Mark Rylance and Simon Russell Beale to Rory Kinnear and Sam West, and there were film clips of Laurence Olivier and Richard Burton. Age had something to do with it, and life experience and fatherhood, although he had previously thought it might be better to be childless when you came to play Hamlet: he has perforce changed his mind about that.
He suggested that Hamlet was not gender specific, and moreover is transgenerational. The Ghost who urges Hamlet to the act of murder is traumatised by war and is laying a burden on a generation that has not experienced war directly. It is the younger generation, though, who die in Hamlet, from Ophelia to Hamlet himself. The war with Norway had taken its toll on Denmark, and the kingdom was corrupt. Cumberbatch showed us that Hamlet's role, with his assumed madness, was to disrupt the court, and Shakespeare's intent was to turn imagination into reality.
He remarked on Shakespeare's playfulness too, laughing about the playwright's self-inflicted dilemma of more or less abducting Hamlet to England, there to be (Claudius hoped) murdered. How was he to get his tragic hero back to the Danish court for the dénouement? The magician that is Shakespeare provided the playful answer: good luck and opportunity in the form of pirates providing transport for a royal captive, who would have thought it?
There was one vignette when Cumberbatch visited a drama class at Langdon Academy, East Ham, and the class rose to the occasion in a highly original communal delivery of "To be or not to be". The class itself was a dream of ethnic mixes in harmony, Cumberbatch and the blond school teacher the only visible Caucasians.
Bragg was an empathetic interviewer, only once losing it, when he kept over-riding Cumberbatch in order to give his own interpretation of the ghost. The ever-polite Cumberbatch struggled to point out that if the ghost was expressive of trauma after war, everyone had something of Hamlet in him, as all of us might have suffered bereavement and grief. Hamlet reminded us of the potency of how present and raw a recent absence can be. Be quiet sometimes, Lord Bragg, and listen; also, astute as you are, do stop dyeing your hair.
Good-humoured and courteous, sharply intelligent and utterly charming, Cumberbatch gave us an exhilarating view of an actor in thrall to the theatre and this role. This was the nearest many of us will get to the sold-out run at the Barbican, and it was a glimpse more than worth having.
The Ghost who urges Hamlet to the act of murder is traumatised by war and is laying a burden on a generation that has not experienced war directly
rating
Explore topics
Share this article