Spartacus: Blood and Sand, Bravo |

reviews, news & interviews
Spartacus: Blood and Sand, Bravo
Spartacus: Blood and Sand, Bravo
Gladiator classic reborn as sex-and-slasher potboiler
Andy Whitfield as Spartacus, taking on the Roman Empire
I always liked that line in the 1960 Spartacus movie when Spartacus's lover Varinia (Jean Simmons) is bidding a silent farewell to the crucified rebel gladiator.
"Tell da lady no loidering," growls the Roman sentry standing guard nearby. I can't tell you whether the line will appear in this new and lurid rehash of the Spartacus legend, though if it does it won't have quite the same Bronx ambience about it since most of the accents are from the Antipodes, the series having been shot in New Zealand. It also arrives tooled up with all available digital technology, and whatever it lacks in plot and characterisation is compensated for by lashings of cartoon-like ultraviolence and pneumatic softcore sex. The producers (who include Sam
Evil Dead
Raimi) have set out to woo the digital generation reared on computer games and "graphic-novel" movies like
Sin City
and especially the Spartans-in-peril slash-opera,
300
. Throw in some bleeding chunks of Ridley Scott's
Gladiator
and a sprinkle of
Ben Hur
and you're good to go.
The story goes like this. Thracian warrior Spartacus - actually he doesn't have a name until he's given one by his Roman captors at the end of episode one - unwisely teams up with the Romans on the understanding that in return they'll help him and his comrades to crush their enemies, the Getae. The Romans don't think twice about double crossing the Thracians, who angrily desert to defend their homes against the rampaging Getae. The bloody-minded Romans come after them and everybody ends up in chains, being whipped and looking exceedingly bearded and unwashed. The women are despatched into slavery while the lads are forced to become gladiators, hacking or being hacked for the amusement of the great Roman public.
Every relationship or situation has been lifted from the Bumper Book of Classical Clichés, then lavishly airbrushed. Spartacus (Andy Whitfield) is the warrior-hero who yearns only to hang up his sword and settle down to start a family with his wife Sura (Erin Cummings), a silicon-enhanced temptress who looks as if she stepped from the swimsuit issue of Sports Illustrated. Spartacus himself is a broad cliff of pecs, abs and biceps, and conspicuously much more handsome than his boozing, swearing and thoroughly oafish fellow Thracians.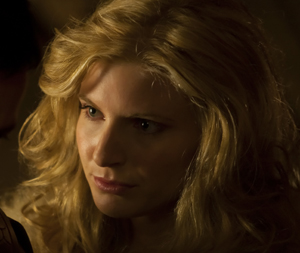 Sparto's chief adversary is the Roman Legatus, Glaber (Craig Parker). He's a bitter and bloodless fellow, engaged in a campaign of relentless career advancement in which he's egged on by his wife Ilythia (Viva Bianca - no, really). He speaks in an English accent - 'nuff said. Senator's daughter Ilythia
(pictured right)
is a spoilt wild child who gives us our first blast of full-frontal nudity, though apparently she runs into stiff competition in later episodes from Lucretia, played by Lucy Lawless, alias Xena: Warrior Princess. Lucretia is married to Batiatus (John Hannah, looking a little bit spindly and Scottish in this company), who runs a gladiator school and decides that Spartacus is a good investment.
I think we all know how this is going to end, but there's an ocean of gore bobbing with severed heads to cross before we get there. The look of the show is consciously synthetic and hyper-real, often impressively so, as in the scene where the Thracians march off to battle against a backdrop of seasons speeding past in heavy rotation. The city of Capua is recreated in full CGI splendour, while the battle scenes inside the local coliseum are masterpieces of slash-and-spurt. When the deplorable Glaber stacks the odds against Spartacus in order to have him slaughtered with maximum public humiliation, The Spart ripostes with a symphony of savagery, climaxing with the hacking off of one assailant's legs. As the luckless victim tries to drag himself away across the sand, Spartacus plunges a trident into his back, sending a thick curtain of blood slooshing across the screen.
Some say Spartacus is "a guilty pleasure", others claim it's "so bad it's good". I may be forced to watch a few more episodes until I can make my mind up.
Explore topics
Share this article