SunTrap, BBC One |

reviews, news & interviews
SunTrap, BBC One
SunTrap, BBC One
Austin Powers meets Tim Vine meets a script of breathtaking flimsiness
Bradley Walsh and Kayvan Novak: two dimensions in technicolour
Gravelly, Winstone-esque banter about the trauma of putting down the sawn-off and having to stop for red lights. Poor taste in swimwear and the chunkier kind of jewellery. We know what to expect from a sitcom about life on the Costa, on the run. Which makes SunTrap, BBC One's new take on the genre, highly adventurous.
Unfortunately, having torn up the rulebook, what we're left with is not a brilliant new approach, but a fistful of fragments, albeit highly coloured and diverting in patches. As fugitive tabloid reporters (the series' title tips the wink about who's in the Beeb's sights here) Woody (Kayvan Novak) and Brutus (Bradley Walsh) bump into one another up on the Costa, the credits have scarcely finished by the time Woody has persuaded Brutus to get scamming again.
Yet the scenarios these loveable rogues get drawn into would shame most village pantos. Much of this first episode was spent searching for a fraudster's lost parrot. This entails some excruciatingly wooden writing, all of which is scaffolding to launch Novak into position for a succession of his logic-chopping punchlines. And that's really all the show has to offer. Despite some sizeable names in the cast list, it's a vehicle for Novak's quickfire dialogue. In a puppet sketch show such as Fonejacker, where Novak made his name, it can be amusing. But it doesn't really work here.
The only convincingly 1980s feature is the sexism of the characterisation
Part of the problem is that Novak doesn't really act. He manoeuvres vocally into position with the dexterity of a frigate aligning herself for a broadside. As he cycles through his range of increasingly wacky alter egos like Grant Schapps on speed, he has a recognisably fixed "I can't concentrate on my lines and pretend to be another person" expression, staring straight ahead, concentrating on the lines he has to deliver. His trademark tongue-twisters are as difficult to listen to as they are to speak, which means that even if they're funny, they kill the pace and realism of the drama. The writers should read some Chandler to see how crime, comedy and plausibility can be combined.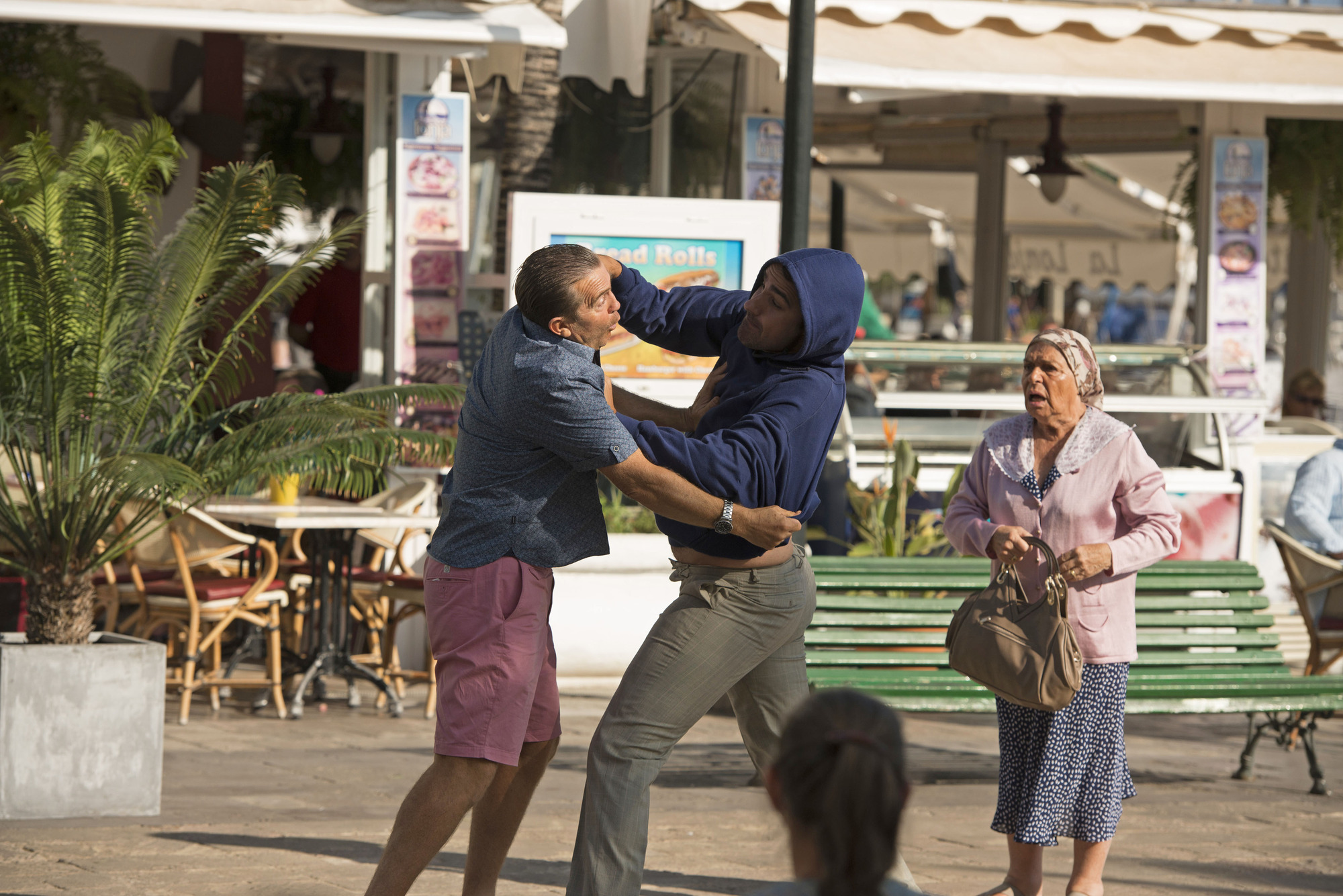 Neither the plotlines nor characterisation offer much in support. A psychopathic Cockney crook with a parrot on one arm and a pneumatic moll on the other is as original as it gets, and the ragbag of stereotypes and coincidences bolted on subsequently give none of the performers anything substantial to work with. It's supposed to be a parody of 1980s series like Magnum, but needs to be so much sharper than this to take steady aim. The only convincingly 1980s feature is the sexism of the characterisation. The women in SunTrap are either femmes fatales in skintight dresses or harridans, such as Lorenza, Brutus' bar's delightful phlegm-shooting, chain-smoking cook (standing right in the photo above). Nice one, chaps. (The writers and director are, unsurprisingly, all men.) And in another symptom of this programme's bizarre crisis of identity, it's not shown until the audience who would tolerate its disjointed slapstick to wait for the occasional clever line – 13 year-old boys – are mostly in bed.
When, in utter bemusement, you Google "SunTrap", the first result, from a comedy guide site, refers to David Nobbs' 1980 series The Sun Trap, which was, the guide says: "a massive disappointment. The show ran for only one series and had some of the lowest audience figures ever recorded for a BBC One sitcom". Nothing like repeating the good ideas, is there, BBC? There are interesting things, still, to be done with the gangster-on-the-costa scenario. Just watch Ray Winstone in Sexy Beast. There are funny things to be done with Kayvan Novak, as long as he's not required to do much actual acting between gags. But "SunTrap" is neither of them, and worse still, it seems to have little idea what it does want to be.
As for the roster of surprisingly heavyweight talent, such as Jack Dee the vet, Clive Swift the undertaker, and Tracy-Ann Oberman the wronged wife, we can only hope they had a nice sunny holiday filming this, because they'll be using the new right-to-be-forgotten laws to have SunTrap deleted from their CVs pronto. That's if the show's ever in danger of being remembered in the first place.