Tales of Television Centre, BBC Four |

reviews, news & interviews
Tales of Television Centre, BBC Four
Tales of Television Centre, BBC Four
Stars and staff recall the inner workings of one of Britain's most iconic buildings
The doughnut-shaped TV factory promised 'unlimited budgets, liquid lunches and nooky in the basement.'
"It's like Big Ben. It's like the Houses of Parliament. It's like St Paul's," observed Susan Hampshire, reflecting on the iconic properties of Television Centre, the BBC's 52-year-old nerve centre. Steady on, Susan, you thought, let's not overdo it.
But that was before we'd seen some of its most long-serving and frankly terrifying employees, Paxman, Attenborough and Bakewell among them, getting all misty-eyed over this unprepossessing lump of concrete and glass, and mourning its imminent demise.
The much-loved doughnut-shaped "TV factory" that gave us Morecambe and Wise, The Two Ronnies, The Good Life, Doctor Who, Top of the Pops, Fawlty Towers, Blackadder and thousands of other shows that helped shape the nation's formative years is soon to be sold off, a moment at which even Nigel Havers, that beacon of old-school, stiff-upper-lip Englishness, admitted would reduce him to tears.
Bag a parking space out front and you had the keys to the city
So perhaps we could forgive former Blue Peter editor Richard Marson and the film's director, a little sentimentality. For him and his contributors, the dismantling of this hallowed building was clearly akin to stripping out a childhood home, albeit one crammed with thousands of wayward relations and a large collection of polystyrene Doctor Who monsters. While on one hand, Marson's film was a self-indulgent exercise with assorted luminaries looking back on the good old days of unlimited budgets, liquid lunches and nooky in the basement, on the other it provided a unprecedented opportunity to poke around the nether regions of a fascinating institution.
BBC HQ was, according to those who worked there, a place in which class divisions were demonstrated by which canteen you frequented, and a land of unyielding hierarchy (bag a parking space out front and you had the keys to the city). Then there was its unfathomable layout, so labyrinthine that the former director general Greg Dyke was once forced to call his secretary to send out a search party to retrieve him. With the help of terrific archive footage, Marson effortlessly captured the bubbling activity, from helicopters landing in the car park to Roy Castle conducting a record-breaking tap dance with 500 teenagers, and tension of life in what was essentially a giant film set.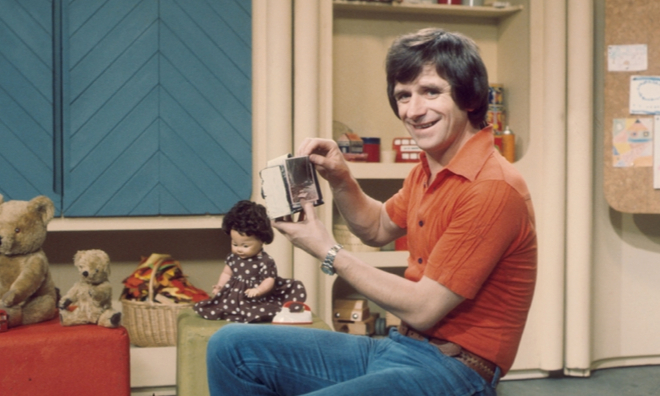 Although Tales of Television Centre was essentially a love-letter to his workplace, Marson wasn't saving Aunty's blushes. There was eye-opening testimony from backstage cogs such as Biddy Baxter and Clive Doig, the latter recalling the light-fingered production staff who once stripped a dining table on a Regency-themed TV set of its silver knives and forks, carefully replacing them with stainless steel cutlery from the canteen.
Equally startling were the tales of presenters' indiscretions. Barry Norman confessed to arriving at the Film '72 studio three sheets to the wind after an unexpectedly long lunch, while Blue Peter's Sarah Greene owned up to boffing her soon-to-be-husband Mike Smith in the dressing room with Wogan next door. Johnny Ball (pictured above, sans jazz cigarette) rather ungallantly blew the whistle on the presenters of Playschool who indulged in a cheeky spliff before filming the annual nativity, though claimed not to have touched the stuff himself.
You could see why so many presenters and actors are sad to see "TVC" go. On this evidence, in the days before health and safety, human resources and budget monitoring, a shift at the BBC was like a Saturday night at Studio 54. They sure don't make 'em like they used to.