Television 2000-9: TV in the Age of Uncertainty |

reviews, news & interviews
Television 2000-9: TV in the Age of Uncertainty
Television 2000-9: TV in the Age of Uncertainty
Can innovative TV drama help to make sense of an uncertain post-9/11 world?
Thursday, 24 December 2009
Anna Torv as Agent Dunham in Fringe, battling impending catastrophe
If reality TV became a mass-audience opium for a world turning bleaker and nastier, what we might as well call unreality TV has been fulfilling a related role while following a different trajectory. In a world that has never been quite the same since 9/11 opened up a big crack in it, some of TV's most compelling creations have been the ones which have dared to tamper with perceived reality in subtle, disturbing ways. We all felt that the earth had moved in some indefinable fashion, and we've been struggling ever since to understand exactly how. Jim Morrison's line, "the future's uncertain and the end is always near", feels horribly apposite.
You'll be overjoyed to hear that I have no plans to deliver a lecture on 10 years of science fiction, but the paradigm for this "what the hell happened?" school of programming is surely Lost, the enigmatic plane crash saga which kicked off in 2004. I lost the plot, in a perfectly literal sense, somewhere in series two, exasperated by the way the writers seemed to be making it up as they went along merely to have something to keep feeding to their audience, but there's a lingering resonance in the show's central idea. The notion that a random, tragic event lies at the hub of a network of connected lives and patterns of events stretching forward and backwards in time is both scary and reassuring. It's like jumping into a void while knowing that something, somewhere understands the plot, even though you don't even know there is one.
In the few months since we launched The Arts Desk (on 9/9/9, portentously enough), this sense of a quest for answers has continued to crackle through the telly-ether. FlashForward (5) is another version of the transformative-cataclysm scenario, in this case a simultaneous glimpse into the future by the entire global population. A shot of a helicopter crashing into a tower block in the opening episode was a less-than-subtle hint at its 9/11 provenance. After a slow start, the series has steadily gathered momentum as the full ramifications of foreseeing the future - and the puzzle of whether efforts to change the outcome themselves form part of an unchangeable fabric - begin to bite down hard on the protagonists.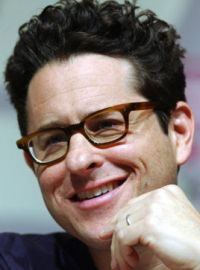 In Fringe (Sky1), like Lost a creation of envelope-pushing writer/producer J J Abrams (pictured right), a specialist FBI team wrestles with shape-shifting assassins and phenomena that transcend the known boundaries of science. Always looming over the action is the threat of catastrophic invasion from a parallel universe in which the attack on the Twin Towers never happened, yet a skilful cast is still able to keep the show rooted within a believable, character-driven framework.
It will not have escaped your notice that all these series are American imports. Banging on about how the Americans make the best TV drama has become a cliche, but while it's true that American TV also creates acres of unspeakable dross that mercifully never cross the Atlantic, there's not really much of an argument about this. We have The Bill, they riposte with the symphony of character interplay and microscopically-intense detail that is The Wire. We make Holby City, they bring us the singular brilliance of House. The BBC's attempt to jump aboard the time-shift bandwagon produced the anticlimactic Paradox, and when the broadcaster only makes five episodes of a new series, you have to question how much faith they had in the idea to begin with.
Of course, British actors have much to thank US television for, with the likes of Hugh Laurie, Joseph Fiennes, Jack Davenport, Robert Carlyle and Tim Roth enjoying starring roles in major series. But why is nobody in Britain writing, producing, and above all imagining the kind of sustained, absorbing work that would keep our plentiful home-grown talent in our own backyard? We can't let the Americans keep the Apocalypse all to themselves.
Explore topics
Share this article