theartsdesk in Hay: Books Etcetera |

reviews, news & interviews
theartsdesk in Hay: Books Etcetera
theartsdesk in Hay: Books Etcetera
Burgeoning bookfest goes multimedia
Even more remarkable is that you can't get a signal on an O2 mobile phone for miles, and the sense of entering a mysterious dimension where the written word is still revered and into which pestilential 21st-century gadgetry has not fully penetrated is rather exciting.
It probably won't last. Festival sponsor The Telegraph had set up a stand packed with iPads on which you could have a go on their new iPad app (it'll cost ya), and a presentation by John Mitchinson of his new Unbound project, a website where writers can put up a chunk of a work in progress and pitch for financial support from readers, may indicate the direction of travel for the publishing industry. It's a model which has already been exploited effectively by musicians of a self-supporting bent.
And as in most other spheres of human activity, celebrity culture has invaded Hay, a trend exemplified by Mariella Frostrup's chat with Hollywood's own Rob Lowe. No hiking boots for Rob, who arrived by helicopter and was whisked out the same way in time to watch Manchester United's fateful Wembley clash with Barcelona.
In between, he lapped up the fawning attentions of an excitable, largely female crowd (questions lobbed gently at the erstwhile Brat Packer included "Are you free later?" in Welsh), while La Frostrup fed him lines to tee up anecdotes from his memoir, Stories I Only Tell my Friends. Some of these were quite funny, and the one about how Francis Coppola cut all his best scenes from The Outsiders without bothering to tell him was a painful lesson in Hollywood realpolitik, but if you want all the really obscene and outrageous bits you'll have to buy the book. Which is as it should be, I guess.
Actually, that was a bit unfair to Mariella, whose interviews are often cheeky and not very reverential. At a recording of one of several episodes of her Book Show for Sky Arts - and I'd better confess right here that I was in Hay as a Sky Arts guest - she teased pop-star-turned-international-physicist Brian Cox about the absurd number of spectacular locations that pepper his TV programmes. Was he, she queried, perpetually worried about his hair and make-up as he prepared to shoot all these glamorous scenes? Brian remained very calm, and explained that when you're standing next to a lake of boiling lava in Ethiopia in temperatures touching 40 degrees, your hair is the least of your concerns. Well, that's what he said, anyway.
What you got was less than what you saw in Matthew d'Ancona's encounter with David Miliband (pictured left), a man who doesn't even have a book to plug, though perhaps he's working on an update of his evergreen classic, Reinventing the Left, now that he has time on his hands. Sunday Telegraph columnist D'Ancona disappointingly opted to be facilitator rather than interrogator, allowing Miliband to rehash some of his favourite lecture topics such as the retreat of the centre Left in Europe, his concerns about the world's "shift from resource plenty to resource scarcity", how the Tories' ferocious will to hold on to power should not be underestimated (Labour, presumably, having no interest in being in power)... It was like being trapped in an I Speak Your Fate machine.

I was thinking of hanging one of those airline signs saying "Wake me for meals" round my neck. Maybe he'd confess to being locked in a bitter and violent feud with his brother Ed? Don't be silly. "I try to look forward rather than back," said Miliband archly. "In a public forum the answer is no." Which I took as a weaselly way of saying "but in private I loathe the little bastard". His entire performance seemed pumped full of self-regard and a presumption of superiority, and I found myself vaguely reminded of failed US presidential candidate John Kerry, who also never seemed to grasp the notion of politics being "the art of the possible".
For a bracing corrective to spin and professional blandness there was photographer David Bailey (pictured right), in Hay to talk about his book of photos of British troops in Afghanistan. Quizzed by GQ editor Dylan Jones, who was with him on the trip to Camp Bastion in Helmand Province, Bailey was perplexingly vague and chaotic, forgetting names, dates and places, at times seeming to think they'd been with American troops in Bosnia. He looked raddled and stubbly.
But in between, he managed to make some shrewd points about photography in general and his own in particular, describing himself as someone who "makes" pictures than a "taker of photographs". Why, he wondered, was photography always considered as one amorphous lump, as opposed to other forms of art where you'd have portraits, landscapes and still life?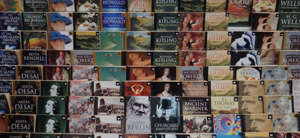 Bailey hates bullshit, especially the kind that surrounds the fashion industry, and talking about himself seems to cause him appalling anguish. He described the Helmand book as "the least interesting [one] I've ever done", but he regards it as a success because it has raised £300,000 for Help for Heroes (not for "Walking with the Dead", as he malapropistically put it). His contempt for Tony Blair's warmongering - though not for the soldiers - caused one irate audience member to express his disgust and walk out. Or maybe it was Bailey's memorable comment about Tracey Emin that did it: "We should parachute her on the fucking Taliban."
Dannatt has a brain like a three-dimensional digital chessboard, capable of evading even the sharpest of questions
There was an altogether more studied performance by General Richard Dannatt, the former Chief of the General Staff whose book Leading from the Front detonated several explosive devices under the lies, delusions and incompetence that have bedevilled Britain's military excursions in recent years. Dannatt recalled how he'd been determined that there would be "no drift and muddle" on his watch, and his political provocations had clearly been planned with the kind of audacity with which he'd robbed a bank in Bosnia which was still funding some of the warring factions. Dannatt has a brain like a three-dimensional digital chessboard, capable of evading even the sharpest of Nik Gowing's questions.
Going to all these very interesting talks meant I kept missing all the wild Hay parties, like the one where philosopher AC Grayling was seen throwing shapes to the sound of the Black Eyed Peas, though I did manage to infiltrate the Artists' Party at Richard Booth's Bookshop. This allowed bystanders to inspect an assembled fleet of media dowagers under full sail, including Polly Toynbee, Allison Pearson and Rosie Boycott, the latter celebrating her 60th birthday. Meanwhile I glimpsed the Floyd's David Gilmour in the throng, but before I could accost him about making that difficult 34th album, he'd vanished.
Mustn't grumble. Paul O'Grady's chat with Sandi Toksvig (pictured above), ostensibly about his second volume of memoirs The Devil Rides Out, ascended like a giant balloon into a lurid universe of anecdotes, escapades and true confessions about his various jobs - from working with disabled kids to "prostitute walker" - and included some great yarns about his mother. There was one where she visited the butcher's to buy some liver, which she considered expensive: "I'm only making a casserole, not doing a bloody transplant." If they ever make a film of him, said O'Grady, he'd want himself to be played by Pat Coombs and his ma by Peggy Mount.
Nigella Lawson's fascinating talk has been widely remarked upon, not least for its assertion that baking is a feminist statement, but the whole performance amounted to a sort of psychological journey signposted by culinary textures and aromas. She's not very well travelled, she claimed, but has compensated by voyaging widely among the continents and archipelagos of food.
Evidently her childhood was hard-going - she "wasn't suited to being a child" - and the early death of her bulimic mother prompted her to fight back by embracing food in all its opulent fulsomeness. Nigella would have no truck with painful dieting and frugal self-denial, which would have stopped her progress to Domestic Goddess-hood in its tracks. Her slightly peremptory manner with questioners struck me more as a kind of obsessive-compulsive reaction rather than the rudeness of which she's sometimes accused. A culinary shrink could write an encyclopedia about her.
All of which made Henning Mankell's bravura display seem exactly that - it was brilliantly planned, philosophically wide-ranging and delivered with actorish expertise, and encompassed everything from classical literature to apartheid and Israel's treatment of the Palestinians. Though, in retrospect, perhaps he could have told us a bit more about his famous detective, Kurt Wallander.
Rather more spontaneous was Neil Jordan's chat about his novel, Mistaken (Neil Jordan meets his public, pictured right). He agreed that since he became known as a film-maker, very few people realise he began his career as a short-story writer. He has now published five novels, the writing of which, he admitted, he finds much more difficult than making a movie. Lately he has been preoccupied with making The Borgias for America's Showtime network, starring the likes of Jeremy Irons and Joanne Whalley, which is scheduled to pop up on Sky Atlantic in July. Brilliant! ...if you can get Sky Atlantic.
Share this article