True Stories: Rwanda After Genocide, More4 |

reviews, news & interviews
True Stories: Rwanda After Genocide, More4
True Stories: Rwanda After Genocide, More4
A harrowing documentary about the aftermath of genocide in Rwanda
Wednesday, 05 January 2011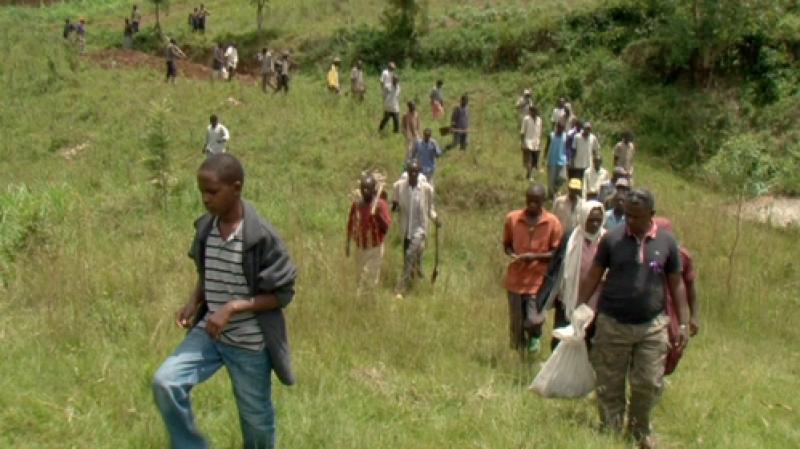 Is this closure? Jean-Pierre Sagahutu carries the remains of his disinterred father in a plastic bag
In 1994 half a million Rwandan Tutsis were slaughtered over a period of six weeks. Among them were the four brothers and two sisters of Jean-Pierre Sagahutu. His mother was raped before she too was killed. His father, a doctor, was intercepted on the way to the hospital and, when he was unable to pay a fine at a roadblock, was pulled from his car, hit over the head with a blunt hoe and taken to a ditch where his body was dumped.
Rwanda, to which three million refugees have returned as the economy has tripled, is known as the great success story of Africa. But as this riveting film suggested, success is built on a lot of unmarked graves.
"Rwanda After Genocide" was broadcast on More4 as part of the True Stories strand. Last year at the Tribeca Film Festival it was premiered under the title Earth Made of Glass, after the words of Ralph Waldo Emerson's which it takes as its epigraph: "There is no den in the wide world to hide a rogue. Commit a crime, and the earth is made of glass." The reality for the Rwandan génocidaires, as they are known in French, is more complicated.
In a manner similar to the Truth and Reconciliation Commission in South Africa, but without anything as formal or structural to help the country along, Rwandans are still having to learn to live with one another, the bereaved and the guilty. Deborah Scranton's documentary told of one grieving man's attempt to find closure in a country where Hutu perpetrators are reluctant to step forward and own up to their participation.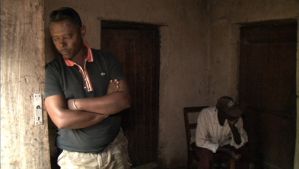 Sagahutu, a successful media fixer in Kigali who drives a shiny big four-by-four, knew no more about his father's death than that he had been killed at a roadblock. The film followed him as he repeatedly visited the area looking for answers. He'd question people he encountered by the road, only to be met with the same answer. "I was sick then," said an old woman who claimed to know everyone in the village. "How can I know what happened? I was at home." One young woman eventually admitted to fear of intimidation from her Hutu neighbours if she squealed. But two names were delivered up and, in an extraordinary scene, Sagahutu went to confront his father's murderer (pictured above), a thin wiry man who sat in a corner and spilled the beans and even agreed to show him where the body was dumped. "It was being said that the Tutsis were evil," the murderer explained. In mitigation, he said that his own Tutsi wife was murdered too.
The film investigated the idea that it is difficult for local wounds to heal while international guilt goes unacknowledged. Running alongside Sagahutu's private quest, Scranton gave airtime for Rwanda's President to push the idea that the French Government, at the very least, had foreknowledge of the coming genocide and did nothing to prevent it. While France eventually intervened as a peacekeeper, it was claimed that this was a cover to return to the country and furtively prosecute continuing slaughter.
Was it ultimately a flaw of the film that it was unable to present any proof of this? A clip of the French ambassador smirking on camera when pressed by a British reporter certainly didn't look good. Various documents were floated across the screen to suggest that France knew all about the Tutsi arms build-up. We met a member of the presidential staff, a woman well known in Rwanda for her role in bringing about the ceasefire, who in 2008 was arrested in Germany and deported to France to face charges that she had a part in the genocide. This was a smokescreen, alleged the President, to mask France's own guilt.
The only compelling support for any of these claims was located in the person of the President himself. Paul Kagame, to whom Scranton secured a remarkable level of access, radiates integrity and dignity in the manner of a more famous African president. "I really feel it is my duty to put the record straight on some issues," he told Scanton. "I sometimes believe there is a kind of cover-up. We have a proverb which says that the truth will pass through the fire but will not burn."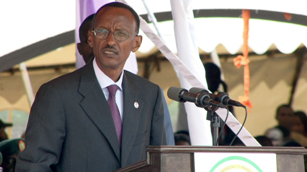 A tall professorial man (pictured left), he quietly explained that Hutus and Tutsis had got along for thousands of years until Rwanda's Belgian colonisers came along and started measuring and classifying its tribal inhabitants like Nazi eugenicists and divisively putting the words Hutu and Tutsi on national ID cards. As a freedom fighter with the RPF, the Tutsi army, even at the time Kagame had the foresight to realise that reconciliation would one day be necessary. He asked his men to stop taking him to inspect yet more scenes of slaughter. "The more of that you see", he explained, "the more it will impair your judgement."
This was not quite an investigative documentary, and there will be no conclusion to the larger narrative. Since the film was completed, President Sarkozy has agreed that France made "serious errors of judgement" but accepts no deeper wrongdoing. Wikileaks has turned up diplomatic documents offering further evidence to incriminate the French. But even as her President pursues the murky truth about the malign influence of outside agencies, within Rwanda the path to reconciliation is the only way forward, however great the demands it places on citizens. Thus Scranton cut together footage of Kagame lighting a flame on a new national monument as Sagahutu buried the remains of his father. His son, a boy who knows no difference between Hutu and Tutsi, looked on.
Whether he will inherit his father's rage and sorrow only time will tell. But he was forced like the rest of us to watch his grandfather's loose bones being disinterred from their unquiet grave. In the film's most ghastly shot, a row of villagers attacked the rich red Rwandan earth with hoes, the very implements which only 15 years earlier, once upon a time, were used for hacking humans. This is presumably what is meant by harrowing.
Watch the trailer for Earth Made of Glass